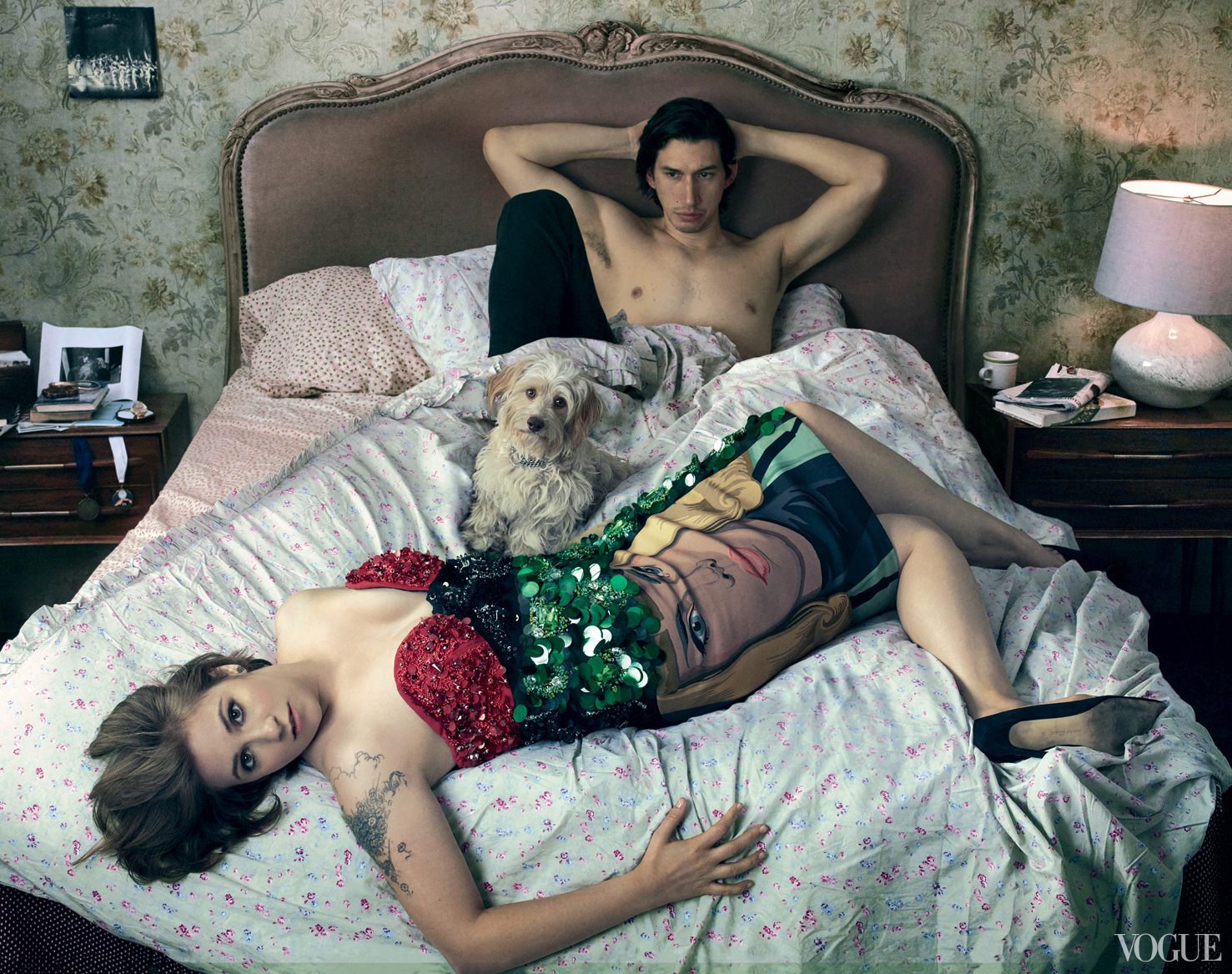 As we discussed last week, Lena Dunham covers the new issue of Vogue Mag. The Annie Leibovitz photoshoot is pretty bad – it's not that Lena looks particularly rough or anything, it's just that there didn't seem to be very much imagination with the styling, and Lena looked very retouched in all of the shots. The retouching was so noticeable that Jezebel offered $10,000 for the original, un-retouched Leibovitz photos, just so they could make a point about how much a magazine like Vogue will Photoshop anyone and everyone. Well, within a few hours of the "bounty," someone coughed up the original images, which you can see here.
There was a lot of discussion about whether Jezebel was unintentionally body-shaming Lena or whether we, as a society, should just accept that these magazine editorials are not "real" and maybe it's kind of dumb to use Lena as a unintentional poster girl for that kind of message. There was a lot said over at Gawker Media about it, but I kind of saw where Jezebel was coming from and what they were aiming for. I wouldn't have paid $10,000 though. If I had that kind of money to spend editorially, I'd put a bounty out for naked Benedict Cumberbatch photos.
Anyway, Lena was asked about the Jezebel thing and her answer was… interesting.
On tour in Paris on Friday, the actress/director/writer/voice of her generation told Slate France:

"I understand that for people there is a contradiction between what I do and being on the cover of Vogue; but frankly I really don't know what the photoshopping situation is, I can't look at myself really objectively in that way. I know that I felt really like Vogue supported me and wanted to put a depiction of me on the cover. I never felt bullied into anything; I felt really happy because they dressed me and styled me in a way that really reflects who I am. And I felt that was very lucky and that all the editors understood my persona, my creativity and who I am. I haven't been keeping track of all the reactions, but I know some people have been very angry about the cover and that confuses me a little. I don't understand why, photoshop or no, having a woman who is different than the typical Vogue cover girl, could be a bad thing."

[As for the apparent paradox between the spirit of Girls and the spirit of Vogue, Dunham replied:]

"A fashion magazine is like a beautiful fantasy. Vogue isn't the place that we go to look at realistic women, Vogue is the place that we go to look at beautiful clothes and fancy places and escapism and so I feel like if the story reflects me and I happen to be wearing a beautiful Prada dress and surrounded by beautiful men and dogs, what's the problem? If they want to see what I really look like go watch the show that I make every single week."
There's a problem here, and it's the same problem we encountered with the Mindy Kaling-ELLE situation. I feel like both Mindy and Lena are saying, "Well, I think I look great in this photoshoot so nevermind all of the body-positive stuff I've said in the past, yay airbrushing and superficiality," and that we should believe that's the end of the story. If Lena is happy with her Vogue, good for her. If Mindy is happy with her separate-but-equal ELLE, good for her. But pardon me if I still think it's out of whack for the magazines to practice editorial sizeism and racism with THE WAY they shoot, style and retouch their images. And that's on the magazines – I really don't believe that Lena or Mindy or whomever should be the target of the criticism.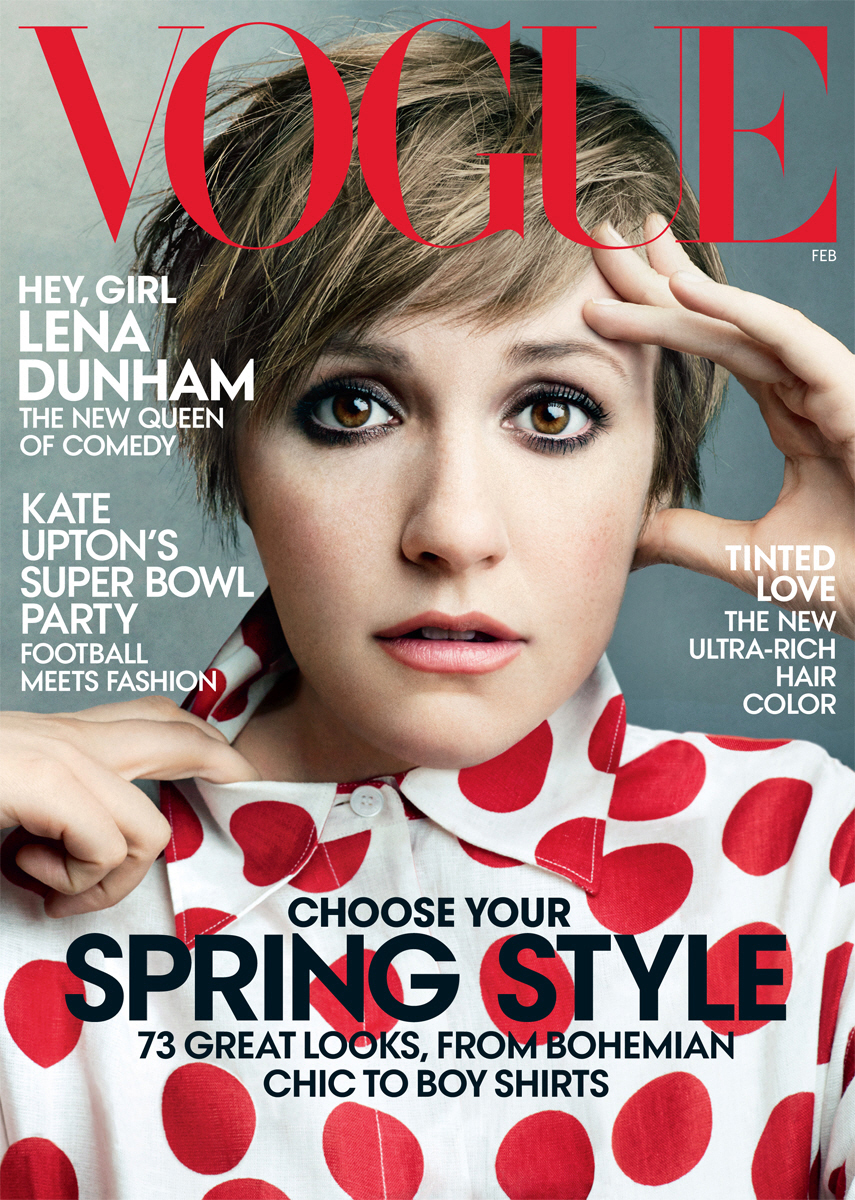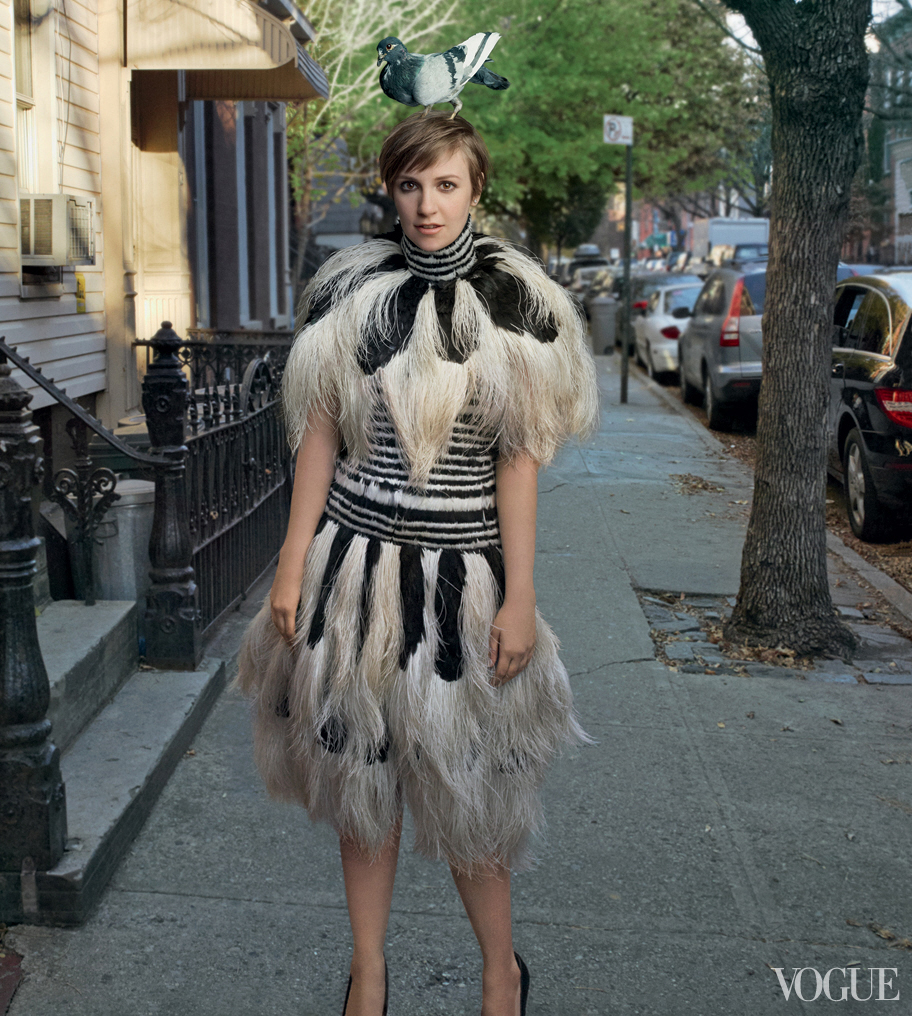 Photos courtesy of Annie Leibovitz/VOGUE.