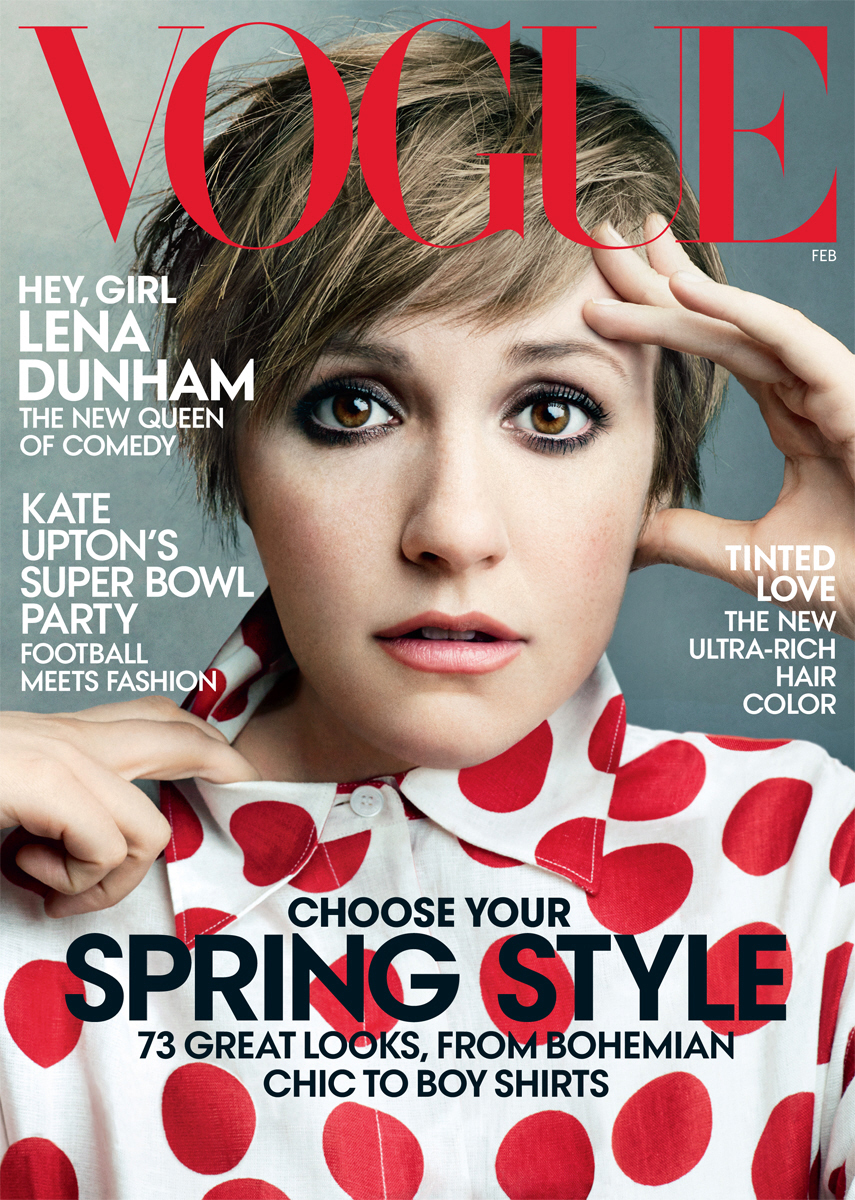 Lena Dunham covers the February issue of Vogue. Again, when a magazine "has" to put an average-sized woman on the cover, they generally go with a headshot so the general public won't be SHOCKED and appalled by a larger-than-size-zero woman on the cover of a magazine. Even though I feel like I should hate the cover shot, I don't. It's kind of cute and retro, it reminds me a bit of the mod cover shots of the 1960s. The Annie Leibovitz photo shoot is kind of blah though – Adam Driver poses with Lena for some of the shots, and I swear, he looks like he hates her in at least one of the photos.
You can read the Vogue article here – I'm only halfway through the piece because I can really only tolerate/like Lena in very small doses, but it seems like a pretty typical breathlessly sycophantic Vogue article. This is how Vogue describes Girls:
Since Girls launched in 2012, the 27-year-old Dunham has become to comic television roughly what Bob Dylan was to sixties folk: She's not the first person to wield her form and her subject (middle-class postcollegiate life), but she does it with such unmatched skill, charisma, and vision that she's now the genre's uncontested master, the standard other people strive to reach. After the show won the Golden Globe for its first season, networks rushed to fill their slots with Girls-like sitcoms. Young people chase small-screen careers the way that they previously dreamed of movie-house immortality. Dunham's ability to speak for a hyperconnected generation rich in entitled ambition but poor in practical know-how has carved a trenchant cultural portrait; in her shadow, TV comedy has started seeming relevant again—and very cool.
For the love of God. I'm not one of those Girls-is-the-root-of-all-TV-evil people, but we don't need to compare it to BOB DYLAN. Enough. Anyway, here are some quotes from Lena:
Sex scenes & nudity: "There was a sense that I and many women I knew had been led astray by Hollywood and television depictions of sexuality. Seeing somebody who looks like you having sex on television is a less comfortable experience than seeing somebody who looks like nobody you've ever met."

Her on-screen relationship with Patrick Wilson: "Critics said, 'That guy wouldn't date that girl!' It's like, 'Have you been out on the street lately?' Everyone dates everyone, for lots of reasons we can't understand. Sexuality isn't a perfect puzzle, like, 'He has a nice nose and she has a nice nose! She's got great breasts and he's got great calves! And so they're going to live happily ever after in a house that was purchased with their modeling money!' It's a complicated thing. I want people ultimately, even if they're disturbed by certain moments, to feel bolstered and normalized by the sex that's on the show."

Meeting her boyfriend: "I'd been like, If I never date again in my whole life, I'll be fine with it! I want to work and rescue rabbits and be a notable eccentric!" she says. "I had a whole romantic idea about singledom, and then, of course, that's the moment when you meet someone that you really care about."

Her private existence: "I have a really great private existence, almost more like a memoirist or a columnist would, and less like an actor would," she says. "Which I enjoy, because I can't overstate how much I hate leaving the house." Dunham sees her apartment as an extension of herself: She couldn't undertake bold feats of self-disclosure in public—the stories of her sexual history, the portraits of her family life, the nakedness—if she didn't have it to return to. "No one would describe me as a private person, but I actually really am," she explains. "It's important for me to have a lot of time alone, and to have a lot of time in my house by myself. My entire life sort of takes place between me and my dog, my books, and my boyfriend, and my private world. To me, privacy isn't necessarily equated with secret-keeping. What's private is my relationship with myself."

LA: Dunham spends several weeks each fall in Los Angeles, where both Apatow and Konner have families: It is easiest to do video editing for one season, and brainstorming for the next, on the West Coast. "I like Los Angeles, but more than two weeks and I start to get a very sad feeling," she explains. "You eat well there, and you take hikes, and my dog"—a rescue pet named Lamby—"loves it, but ultimately it's not the right place for me." In most contexts, she still feels like a Hollywood outsider. "I went early on to a party at a really famous person's house. They had a private chef there making pizza, and I remember the dog was wearing a bow tie. Every time I looked around, it would be like, Is that someone I know from camp? No, that's Ashton Kutcher. It was such a weird scene. I remember thinking, I don't feel at home here, and no matter how long this is my job, I will never feel at home here. And if I do start to feel at home here"—her brow furrows—"someone should really worry about me."

Her teenage years: Even in high school, though, she found good company in books; the young Dunham was a fan of Philip Roth, Anne Sexton, and Sylvia Plath, whose confessional style struck a chord. She came to regard candor as a powerful inventive tool: one that offered the energetic release of an uncorked bottle but also created a bond between artist and audience. It promised something better for her, too. "I had really bad OCD. I was really lonely at school. I felt a lot of shame," she explains. "Seeing what I thought was people lightening their own load, or lifting their own burdens, by writing about them or singing about them just made the world seem more open."
Ugh, okay, I just skimmed the whole piece. It's a whole lotta Lena, so I wouldn't recommend reading the whole thing unless you already like her and think she's some kind of genius. I guess that's my big problem: it's not that I dislike or disagree with Lena about most things, it's that I can't stand how everyone treats her like she's the most creative and interesting person of her generation. She's not. At all. And that's not on her, that's on her fans and the professional culture people who have promoted her and talked her up to this point.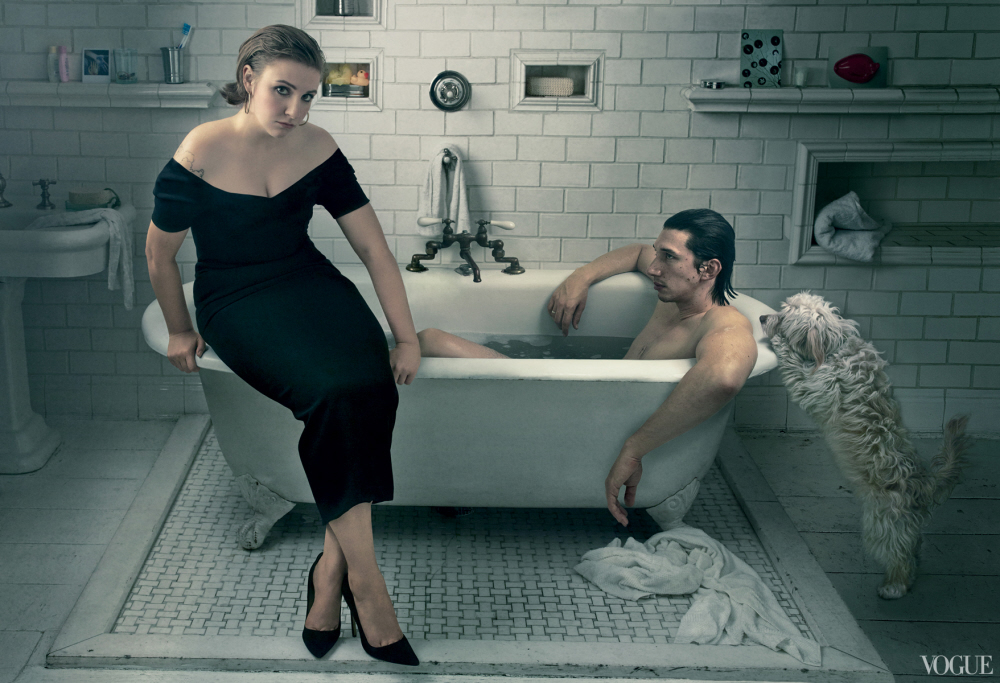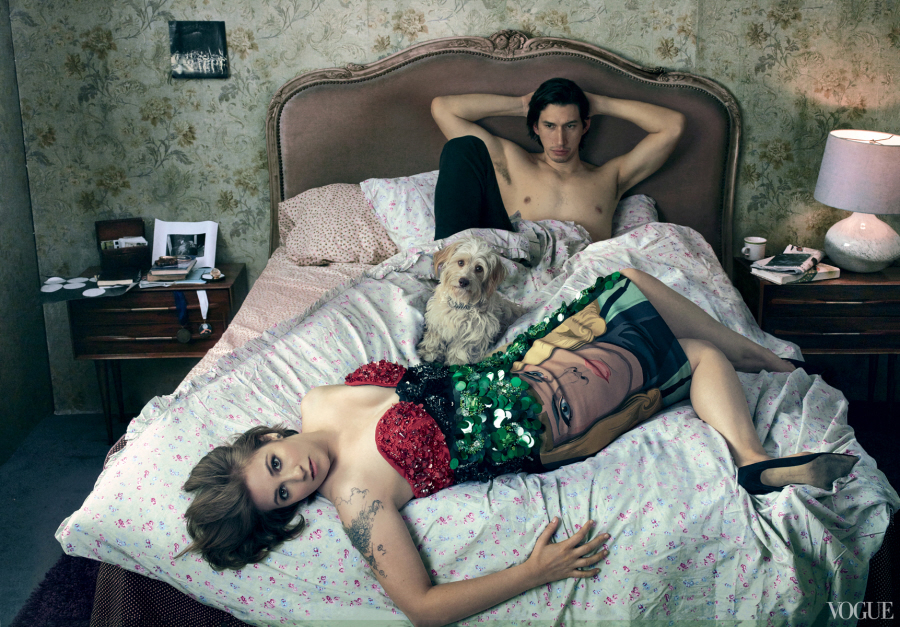 Photos courtesy of VOGUE/Annie Leibovitz.