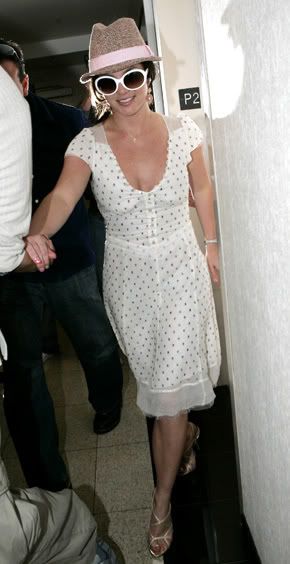 Britney Spears is reportedly pissed off at Kevin Federline for monopolozing her children now that she's out of rehab. Kevin is still not allowing her unsupervised visits with the boys, and she is said to be upset that they can't go back to her place and get watched by one of the nannies:
Britney Spears' 28 days in rehab hasn't solved all her problems. Insiders say she is still having issues with her soon-to-be ex-husband, Kevin Federline. Chief among their troubles is her desire to have their sons back. Although Kevin and the boys, 18-month-old Sean Preston and Jayden, 6 months, have visited Britney since she returned home, Kevin won't let them spend unsupervised time with their mom. In fact, he even kept the boys with him when he traveled to Las Vegas to celebrate his 29th birthday. "She was devastated after Kevin brought them over, but took them with him when he left," says an insider. "She feels lost and wants her babies with her. She's been crying nonstop."
[From the In Touch website, no permalink available]
There's another story in this week's print edition of In Touch that Kevin and Britney's divorce is settled, and that he's going to make out fine.
If In Touch is to be believed, K-Fed won't just be getting a mere $1 million settlement as was reported earlier.
You may have heard this already, but it's news to me, probably because I'm not that great with numbers and remember several different stories about Kevin's divorce deal.
K-Fed is said to be getting:
Half of the sale of their Malibu house, est. $5 million
Cash: $2 million
Half of Britney's earning's during their marriage, est. $10 million


---

Grand Total of K-Fed's Divorce Package: $17 million [Information from In Touch weekly, April 2, 2007, print edition]

Kevin can live well off that amount for the rest of his life if he keeps his love of bling and fancy cars in check.

Meanwhile Britney was back at the Century City, CA hospital she visited on Sunday. She is said to have seen "dentist to the stars" Dr. Bill Dorfman yesterday, who has an office there.

She stayed at the hospital for either two or four hours depending on which account you believe, and her manager attributes it to the same dental problem that was said to have prompted the first visit. With all the cokes she consumed in rehab, it's not surprising she is having problem with her teeth. She must not have kept much food down, though, because she somehow managed to lose ten pounds.