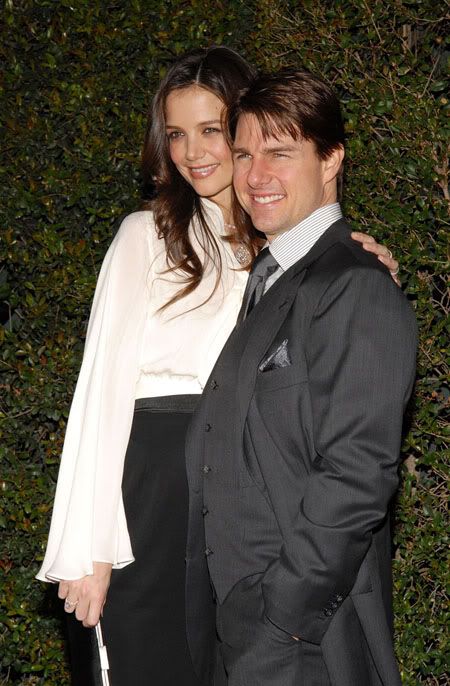 Katie Holmes is finding her rented mansion with her mother in-law unbearable. Tom's sister and her two children also live with them, and it's said to be too much for the new bride to handle. Now Tom is purchasing a new estate with several separate houses, and it should provide Katie some much-needed space:
The problem [with Katie Holmes' five month marriage to Tom Cruise], friends say, is that Tom's mother, Mary Lee South – who has been living with the couple since they got married – is always around.

"Katie has been dealing with this for several months now and it's starting to wear on her," says a pal. "No woman wants her mother-in-law looking over her shoulder, no matter how great the mother-in-law is."

Mary Lee, 70, used to live in Florida, but she moved to LA – and into her son's Beverly Hills home – after divorcing her second husband, Joseph South. But she's not the only person sharing Katie and Tom's home. Katie told Harper's Bazaar in March, "We live with my sister-in-law [Cass], her two sons, my mother-in-law and our kids. There's always something going on in this house."
[From In Touch print edition, April 2, 2007, via Samie's Effluvia]
The article goes on to say that the whole mixed brood will be moving into a new estate that features three houses. Katie will still be living close to her in-laws, but at least she'll have some space.
In Touch quotes an insider who says "She accepts his kids Isabella [14] and Conner [12], but she has a real problem with all the added family."
Katie and Tom were seen visibly upset at each other at one of Connor's basketball games, and considering that his mother and cousin were with them, there could have been some sort of issue with the family.
There's a rumor that Katie Holmes is pregnant after one of Tom's people ordered a custom nursery from exclusive boutique Petit Tresor. She certainly looks like she's got a bump in the HQ versions I've seen of these photos.
Katie is rumored to be planning a children's clothing line along with her BFF, VIctoria Beckham, who recently moved to LA. People hope to see Katie in Victoria's new reality series to air on NBC, but it is thought that Tom is discouraging her from playing second fiddle to Posh on the show.
Pictures are of Tom Cruise being honored at Mentor LA's Promise Gala on March 22. The organization is run by Tom Cruise's partner, Paula Wagner.