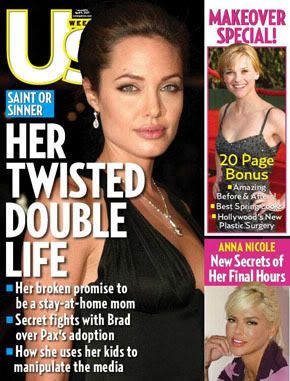 The press is turning against Angelina Jolie and pointing out the sort of half-fibs she's been spouting in the wake of her adoption of a three year old boy from a Vietnamese orphanage. Angelina was quoted by a Vietnamese paper as saying that she looked forward to staying home with her children. She said "I will stay at home to help Pax adjust to his new life. I have four children and caring for them is the most important thing for me at the moment."
News outlets were quick to report that Angelina's booked film schedule wouldn't leave her much time to stay with her four children. She has several projects lined up and is due to start filming in Prague in April.
Angelina also apologized to Pax for bringing him into the media maelstrom that greets her every time she steps out in public. She said "Photographs and press coverage will make him upset. I'm very worried about that. I would like to say I'm sorry for bringing this into Pax's life."
Quite a few people were calling Angelina a hypocrite after she turned around and sold exclusive pictures of her children to People magazine and Hello! in a deal thought to be worth $2 million. It's possible she was trying to satisfy the public's interest in her newest child, and thought that she was giving people glossy posed photos in exchange for some privacy in her day-to-day life.
Now comes news that Angelina flew to Chicago alone last Friday to do screen work for her new film, Wanted. She may have been in and out within a day, but still that's not really staying at home with the kids now is it?
Liz Crokin reports in her Red-Eye column that [Angelina] flew to the Windy City without Brad Pitt and the family Friday to do screen testing for her new flick "Wanted," according to a set source. The sexy actress is scheduled to shoot most of the scenes for the action movie in Prague within the next few weeks. However, the source said she is expected to film in the Windy City later this summer.

"She'll be filming a lot of action scenes in cars," the source told me. While she was here, Jolie test-drove some Dodge Vipers that will be used for the film. The Chicago Film Office could not be reached for comment on Sunday.

When Angie films on location she usually brings the whole family to her movie set. Does this mean we can anticipate Brad, Maddox, Zahara and Pax sightings galore, Liz asks.
Of course women should work outside of the home if they want, and Angelina has a unique job that lets her spend as much time as possible with her kids. She should be careful what she says to the press, or at least clarify her statements. She should have said "I will stay at home at first to help Pax adjust to his new life." It's worth noting that we haven't seen any pictures of Angelina since she returned to the states, and you know that the paparazzi are stalking her every day. She must have made good on her promise to at least shelter Pax from photographers initially.
US Weekly is running a cover story this week titled: "Angelina: Her Twisted Double Life" and they say she's fighting with Brad and that her children need more stability in their lives.
There's certainly nothing wrong with the way that Angelina is carrying on with her work commitments, but it seems like too much too soon given her pledge to put her children first.
Here are some pictures of Angelina and Brad in New Orleans that are older, but new to me. [via]