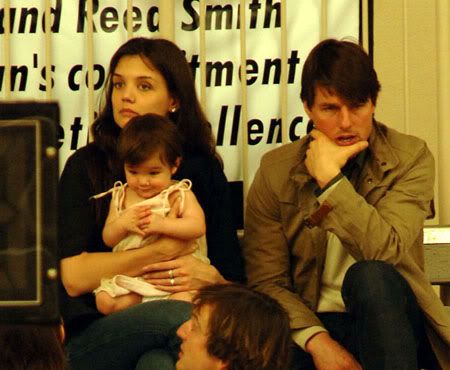 Baby madness nearly a year behind her, Katie Holmes is making the brave move to try and kickstart her career. She's had lots of publicity … has more name recognition than ever, but not much recent work … unless towering over her leathery chimp sidekick Posh Beckham counts as work, or scribbling escape plans on bits of paper in her corner of Fortress Cruise. That last bit is of course just a rumor … most scientists believe she is well enmeshed in Celebrity Stockholm Syndrome and has long since begun identifying with her captors: and that's a long list of captors – ol' TC hisself, the press, la paparazzi, Scientologists, guarunteed A- list fame, a (just under) ten years marriage contract, high-end rhinoplasty, The Beckhams, the tabloids, nightmares of Dawson Creek Reunions, etc etc … I mean if the world is your captor — aren't you essentially free in a globe sized prison?
Katie has some more specific ideas … she wants to get her kit off in a new flick … and jump start the career with a nice bit of the never-fails nudie show. Mr. Tom he ain't so happy.-
Rumorficial reports
Katie is going to Shreveport , La with her 10-month-old daughter to film her next movie, Mad Money. Sources say that she planned this to "break free from her controlling husband Tom Cruise." In order to control his wife he is planning to go with her to Shreveport and will be on the set every day.

The reason why Tom wants to attend the set is to interfere with the nude scene that Katie has with a young co-star Adam Rothenberg in her new move. He already talked with producers of the movie and told them why the movie would be better without the nude scene. However, industry sources say that the nude scene could really boost Katie's career as an actor. Although, due to the low budget of the move Tom will have the last word since he has a lot of money and connections.

Such unfortunate decision on his part could jeopardize their relationship, because Katie is trying to continue her slowed down acting carrier and she is very persistent about it, sources say.
Of course it's the ultimate sign of how deeply ingrained Cruise backlash has become that everyone now roots for Katie Holmes to make a break for the hills. That's a movie we'd all like to see:
The Scene: An abandoned California landscape just outside the L. Ron Hubbard Center for Theta Beta BooYakka Studies
Over the edge of a hill we see a beautiful young mother, scrambling desperately, adorable baby clasped to her heaving bosom. The baby is oddly calm, with a Japanese toupee perched oddly, yet attractively, on its little head.
[We hear the growing thwock thwock thwock of what is perhaps helicopters just off screen]
Suddenly in the foreground the Battlefield Earth Ships rocket into sight. Our heroine reels backwards.
Cut to inside the spaceships: Two evil Psychlo Warlords in full Battlefield Earth, nail fungus Rasta gear. They cackle Scientologically as they steer the ship
Travolta : Don't Worry Tom … Kelly tried to escape in the early days — but as all can see — her career and spirit have been crushed under my constant supervision …
Cruise: (under his breath) …and under your fatty pork cracklings chin
Fade to Black …

Coming to Theaters Summer 2007