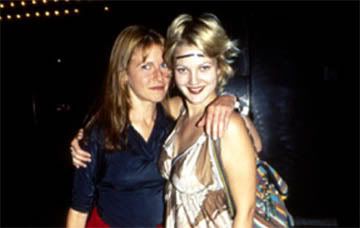 Putting the prat back in Pratt … and giving it a girlish twist (and even a slap and a tickle for added effect) — Jane Pratt – who really did brighten up the teen magazine landscape with her Jane magazine back in the 90s – is taking the low road with some Howard Stern inspired revelations. Jane Magazine … we hardly knew ye … whou would have thought it would come to this.
You really can't top the Us magazine rhymeage that they broke the story with :
Jane Pratt, the former editor of Jane magazine, claims she got it on like Donkey Kong with actress Drew Barrymore. Pratt — who was a frequent guest on Howard Stern's show back in the day — recently announced on her new radio show, "One of my dreams is to return to Howard's show and tell him the truth about Drew Barrymore and me."

She says that years ago, Stern asked her on-air if she had ever had sex with a woman. At the time, she answered "yes," but then demurred when he asked if it was someone famous.
"It was someone famous," she confessed on her show. "I did have sex with Drew Barrymore."

No word on when the event took place (perhaps in Drew's "f–king nudist bird" years), although Barrymore did appear on the cover of the debut issue of Jane back in 1997. A rep for Barrymore had no comment.
It seems an oddly press whorish move for Pratt who always had a rather classy, chirpy profile and persona … but perhaps moving into orbit of Stern and Sirius strips any and all of that off a person. I mean who dreams of a return engagement to Howard Sterns show … isnt it pretty much the a gladiatorial challenge for your self-esteem — if you make it off that show humiliated but with tatters of your self-respect still visible you've achieved a personal best.
And speaking of Personal Best — was this a May-December Girl on Girl Romance – a la Mariel Hemingway and Patrice Donnelly in the movie of the same title … let's hope so. I guess we'll have to keep tuning into Pratt's show to find out more locker room details. I wonder if that was the point all along. Us Magazine seems to think so too
Either way, Pratt is presumably no longer making it with ladies, famous or otherwise. She now has a four-year-old daughter with her longtime boyfriend.

So is this just a case of name-Drewping? Of course, this juicy announcement of 90s she-sex agreeably coincides with the debut of Pratt's new Sirius Satellite Radio show …