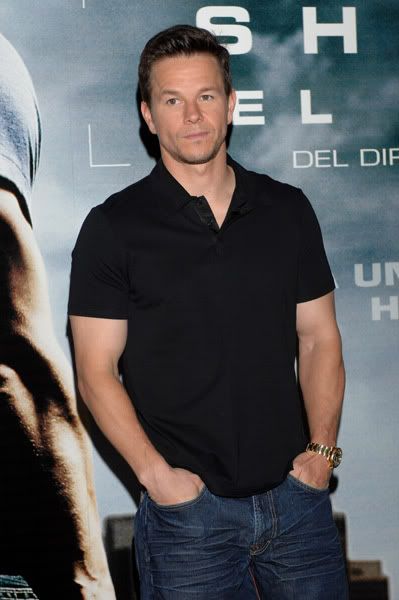 35 year-old Mark Wahlberg stars as the kick-ass hero in the upcoming action film Shooter. The film is not getting great reviews and some say it's confusing, although other critics note that it delivers good mindless action.
Wahlberg has come a long way from his juveline delinquent past. He was one of nine children growing up in Boston, and says he was left to get into trouble by his parents, who worked hard just to put food on the table. He left school in 8th grade and ended up serving 45 days in an adult prison at the age of 16. He was convicted of beating two Vietnamese guys in order to steal some beer one of them was carrying. It sounds like he hit one guy with a stick and then accidentally blinded another in one eye while trying to escape from the cops one the scene. The attack was said to have been racially-motivated, which Wahlberg denies.
As a result of going to jail, Wahlberg turned his life around and embraced Catholicism. He was visited by a kind religious woman in prison, who gave him some rosary beads which he cherised. Wahlberg used to wear the beads around him neck, and once they wore out he got a tattoo of the beads with a cross on his chest as a reminder. He is now a devout Catholic and goes to church frequently.
Wahlberg sounds like a family man and clearly adores his children. He spoke in a recent interview about changing his one year-old son's poopy diaper and playing horsie with his three year-old daughter:
"I changed a big poopie diaper this morning," gloats the father of two. In a sec, he proudly divulges diaper-changing details, blow-by-blow.

"My son had woken up, so I went down to get him and smelled that big bomb … "

This same morning, as he does every week, the Oscar-nominated (for "The Departed") actor attended 8:30 a.m. Mass at his Beverly Hills church. Yes, bad boy rapper Marky Mark, who used to strip to his skivvies and grab his crotch onstage, is a devout Catholic with body ink as proof.

"I have a rosary tattoo around my neck," says Wahlberg, 35. "It goes all the way down to there."

He's a charmer, this one-time Calvin Klein underwear model who as a teen took out a man's eye and went to prison for it. In an interview in a hotel room, he amicably chats about everything from his hell-raiser youth in working-class Dorchester, Mass., to the charity he founded for at-risk kids, to his 3-year-old daughter Ella's preoccupation with pretending she's a pony.

"She goes neighhhh, neighhhh," says Wahlberg, imitating a horse. "She wants me to be a mean cowboy and drag her around on a leash."
The former boy bander also has a foundation for inner city youth, called The Mark Wahlberg Youth Foundation, which is run by his brother, Jimmy. The nonprofit has raised over $1 million for youth groups.
In his free time, Wahlberg enjoys playing golf and has a driving range on the Beverly Hills estate where he lives with his two children and their mother, his girlfriend model Rhea Durham.
Wahlberg will soon be starring in another film with fellow DILF Matt Damon called The Fighter, and has just been announced as the star of M. Night Shyamalan's upcoming thriller, The Happening.
There's something really appealing about this working class guy who is now a Hollywood actor and buff father of two.
Many thanks to Viv for some of the background for this article. Pictures [via]