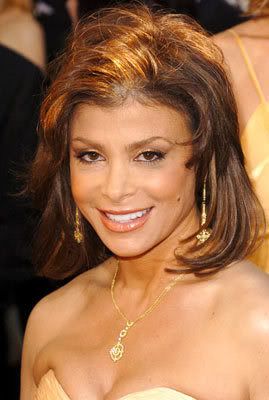 Slurry American Idol judge Paula Abdul is said to have a nervous tic that causes her to pull out her hair. She's been tugging at it and leaving bald areas on her scalp.
The troubled star is so anxious over the show's frantic pace she's developed a nervous habit of tugging at her long locks, which is causing her to pull out clumps of hair. The situation has gotten so bad that Paula's been visiting a Hollywood dermatologist for hair-restoration treatments, sources say.
[From The National Enquirer print edition, April 2, 2007]
Abdul has blamed her loopy behavior on complex regional pain syndrome, a neurological disorder that causes burning pain throughout the body. She has denied being addicted to drugs for "recreational purposes" but seemed to be, uh, splitting hairs in her statements about it. She claims to not drink, but never said she doesn't take medication for her neurological condition.
It's not that surprising to think that she's pulling her hair out along with all her other issues.
The Enquirer goes on to quote experts who say that Paula's disorder leads to hyperactivity, which could explain the hair-pulling.
People who suffer from complex regional pain syndrom say it's completely debilitating and that if more people understood the condition they wouldn't be so quick to condemn Paula for taking drugs for it.