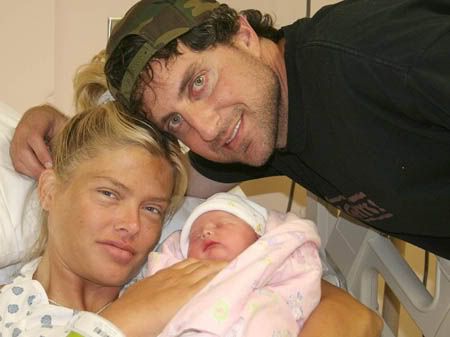 Lawyer Howard K. Stern has delayed the inquest into the suspicious death of the son of his lover, recently-deceased Anna Nicole Smith. He claims that it's impossible to get a jury that doesn't know the story and have pre-conceived notions about it, considering the widespread press coverage. The investigation will be put on hold for at least two weeks, and Howard's lawyer is trying to get it permanetly closed.
Howard's actions seem to indicate some form of guilt. A witness claims to have seen him flushing away some tablets found in Daniel's pants after he died and Anna was supposedly overheard screaming "you did this!" shortly before staff were summoned to an unresponsive 19 year-old Daniel. A coroner hired by Anna claims that Daniel died of a drug interaction from the effects of several prescription medications, along with the heroin susbsitute methadone, which Anna was addicted to and was not prescribed to Daniel. The National Enquirer claims that actual toxicology reports were tampered with, and that results showed ten times the amount of methadone in Daniel's system than was reported. This would mean that his death was not an accident and could only have been the result of suicide or foul play.
Daniel was said to have consulted a private investigator shortly before he died. A California PI spoke to In Touch and said Daniel talked to him about concerns over his mother's relationship with Howard. The man says Daniel felt that his mother was being kept a "virtual prisoner" by Howard, and was worried that she was on so many drugs while pregnant. I guess it's convenient for Howard that Daniel died before he could do anything about it.
Still, Howard is a creepy lawyer and on the off chance he's not directly responsible for Daniel's death he probably just wants to get more time to figure out how to get his hands on the most cash possible.
Howard has also filed an appeal in the paternity case by Larry Birkhead for Anna's daughter, Dannielynn. Howard has custody of the infant and his appeal will delay the announcement of the DNA results. The next hearing in that case is scheduled for April 3rd.
How long until this guy's actions catch up to him? I don't think he's blameless in Daniel or Anna's death. Daniel's death could have been a weird accident, but it seems like he needs to be held responsible for something. He's an enabler and a user. I'm not so sure he murdered Anna at this point, but he certainly made it easy for her to get as many drugs as she wanted. I'm still predicting some kind of suicide when he realizes the gig is up.