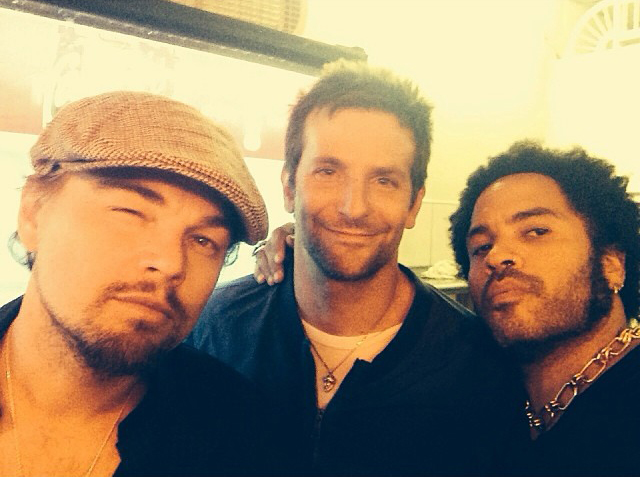 I'll be perfectly honest and admit that I really wanted to write about Lenny Kravitz a lot and about Bradley Cooper and Leonardo DiCaprio a little bit. We rarely have a reason to cover the devastatingly smooth Lenny, so I'm grabbing onto this and refusing to let go. This post isn't so much a story as a celebration of Lenny's Facebook account, which is one of the hidden gems of social media. Lenny posts all sorts of photos to Facebook. You want retro Lenny with his dreads? Check. You want shirtless Lenny taking a nap on a private jet? You got it. You want Lenny and his famous pals mugging in various ways? That's fun too. The latest Lenny photo is captioned, "At Joe's Pizza NYC with Leo and Coop." Mind = blown.
Who knew Lenny was pals with modelizers Leo and BCoop? I guess Bradley qualifies as a modelizer these days. God only knows Leo earned his membership card over a decade ago. Maybe Lenny just popped into Joe's Pizza for a slice, and Leo and BCoop were already sitting together in a corner booth. I hope that's the case because Lenny has no need to hang with the p*ssy posse. Lenny possesses so much charisma that he never needs to try and attract da ladies. Nope. I imagine Lenny could teach Leo and BCoop some tricks, but Lenny is above such nonsense. Or so I hope. Lenny doesn't need moves, right? Lenny doesn't need pickup lines either. He simply exists in all his perfection. Leo and BCoop know it too. You know the way Jonah Hill gazes at Leo in adoration? That's the way Leo and BCoop must look at Lenny.
I'm including a few more goodies from Lenny's Facebook page. This is also an excuse for me to post a photo of Jennifer Lawrence trying to pick Lenny's nose. Crude, I know. Lenny doesn't seem to mind. There's a few pictures of Lenny with his father and young Zoe. I also couldn't resist including a non-Facebook photo of the scarf that ate Manhattan. Rowrr.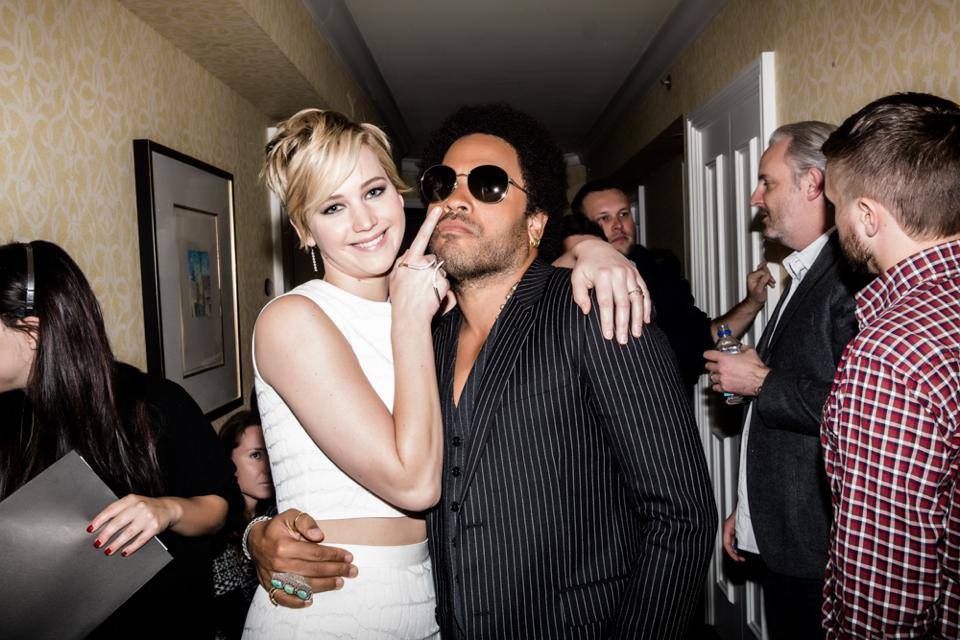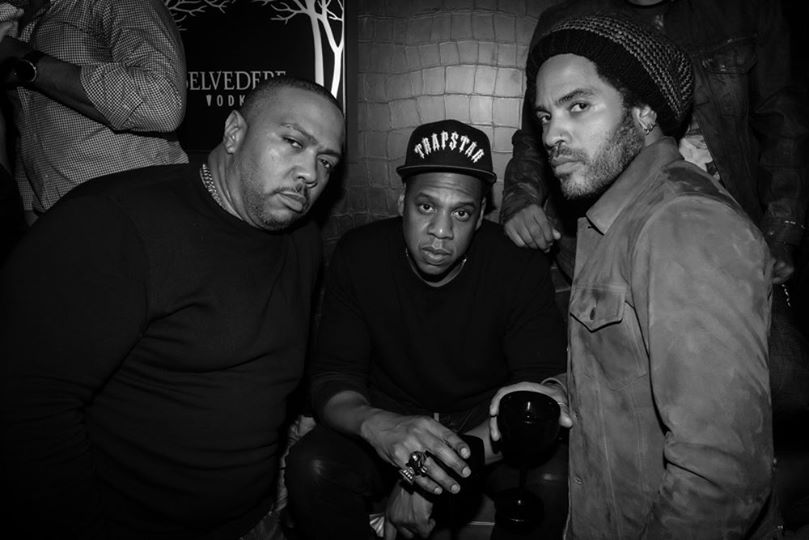 Photos courtesy of Fame/Flynet & Lenny Kravitz on Facebook