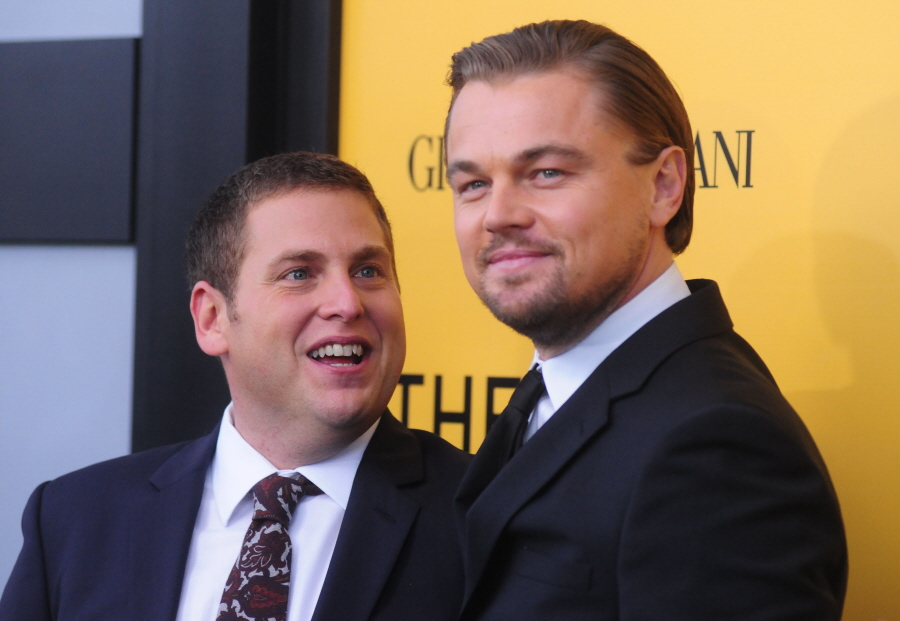 Jonah Hill stared into the face of the man he called a friend. Jonah felt his chest tighten with longing, desire, fear. "Is this love?" he asked himself. "Is this wrong? If it's wrong, why does he feel so right?" Oblivious to the flashing lights, oblivious to the cacophony of shutters, screaming voices and the WHOOSH of heat and emotion coursing through his body, Jonah continued to stare up at Leonardo. "If he looks at me by the time I count to ten, then I'll know he feels the same way," Jonah told himself. "One… two… three…"
These are photos from the Wolf of Wall Street premiere in NYC a few nights ago. Obviously, this was the happiest day of Jonah Hill's life, coming just ahead of the time Brad Pitt and Angelina Jolie came to his birthday party. Believe it or not, this post is not about Jonah though. I meant to write about Leo! I don't know what's going on with Leo these days. Is he still with Toni Garrn? Did he try to hook up with a newly single Miranda Kerr? Or is Jonah Hill all that Leo needs these days? Well, the Enquirer claims that two of Leo's closest friends are just 11 months away from ponying up $500,000 to Leo after his "no-commitments, bro" modelizing ways have meant that he's not a husband and father by the age of 40.
Leonardo DiCaprio's two best buds – notorious gamblers Tobey Maguire and Ben Affleck – are suddenly sweating because Lea's thisclose to collecting $500,000 on a bet they made years ago.

Said one pal: "Tobey and Ben, both high-rolling gamblers, bet Leo $250,000 each that he'd be married and a dad by the age of 40. Leo took the bet and went on to date a string of supermodels (Gisele, Bar, Erin) but never got serious enough to tie the knot. Now, with his 40th just 11 months away, Tobey and Ben are sweating big-time about coughing up a staggering quarter of a million bucks each!"
[From The Enquirer, print edition]
"Do you love them more than me?!" Jonah sobbed to Leo. "Why would you make that bet with THEM and not me?!"
Anyway, is this a thing? I could see it being a bet amongst Leo's friends, but would they bet THIS much? I would think a gentleman's bet of $10,000 would do the trick because, seriously, who needs to spend $250,000 betting on Leo's crotch? Also – what kind of idiot looked at Leonardo ten years ago and thought, "Oh, he'll settle down eventually"? NO ONE. No one thought that. Leo will always be Leo. He'll always be this way.
What happens if Leo marries Jonah? Will Ben and Tobey still have to pay up?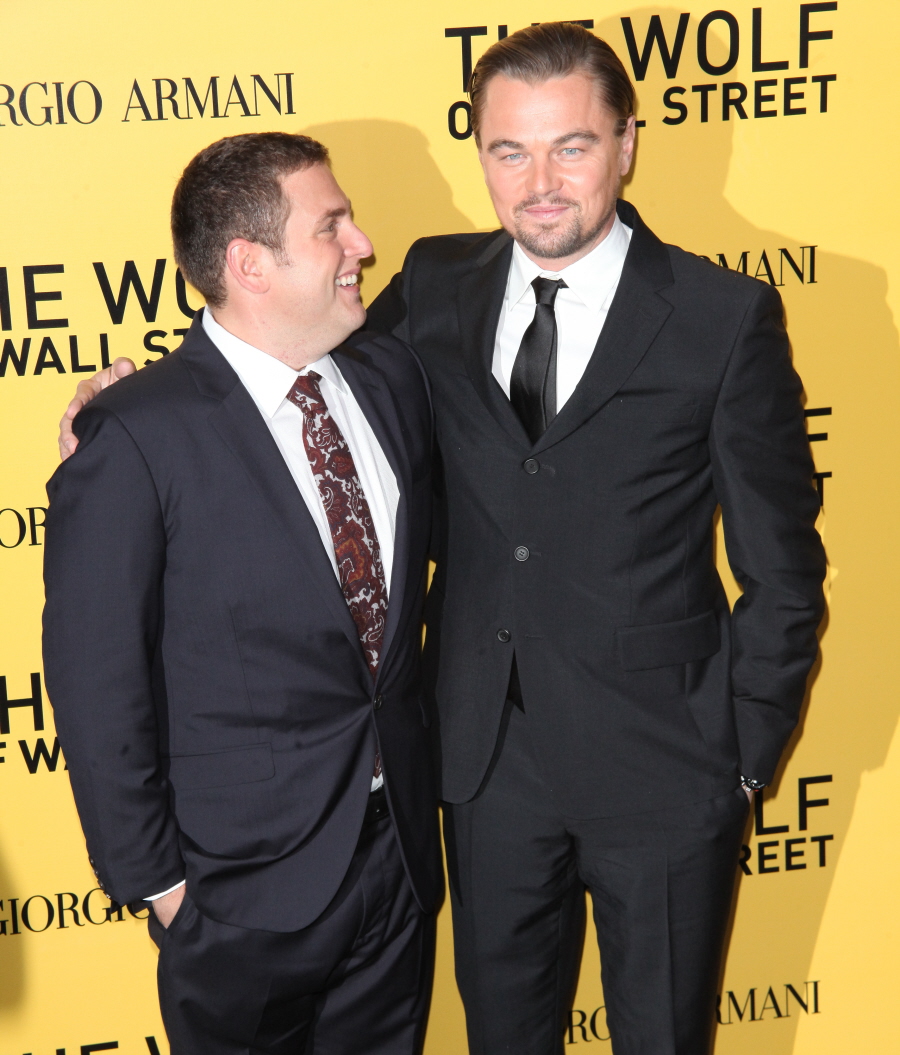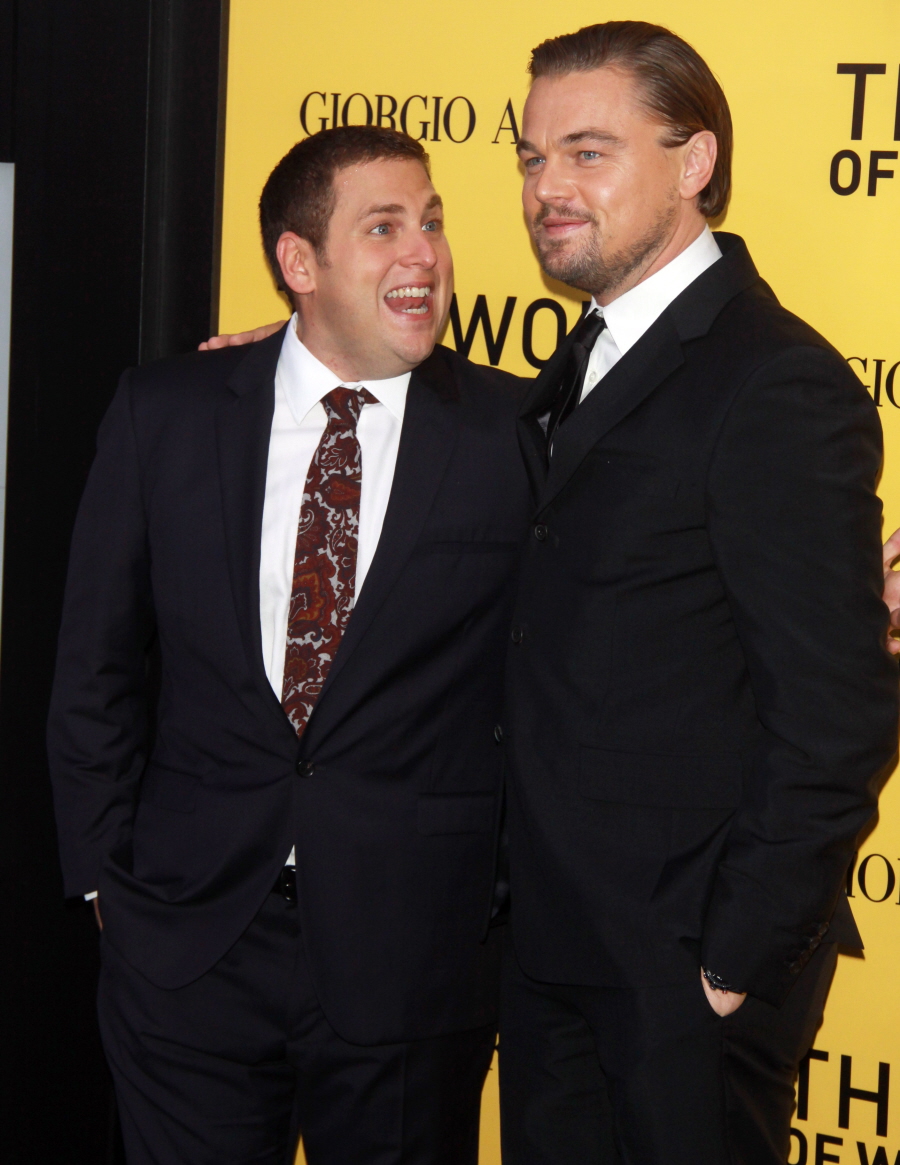 Photos courtesy of WENN.