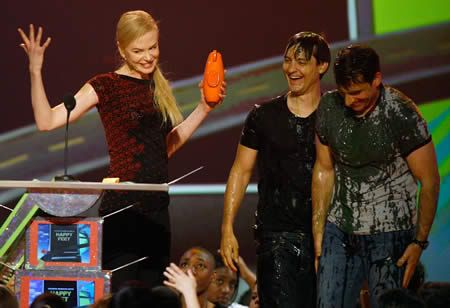 The Nickelodeon Kids' Choice Awards hosted by Justin Timberlake were messy fun. Movie, television and music stars like Tobey Maguire, Steve Carrell, Hilary Duff, Mandy Moore, Rihanna, Jessica Alba, and Gwen Stefani were in attendance.
Here's a link to a video of Tobey Maguire and Steve Carrell getting slimed as they present favorite animated movie. The award went to Happy Feet, which was accepted by Nicole Kidman. She removed her jacket before hugging the messy presenters. Kidman was at the ceremony with her two children, Isabella and Connor.
Other winners at the 20th Annual Kids' Choice Awards included:
Movies:
Favorite Movie: The Pirates of the Caribbean: Dead Man's Chest
Favorite Female Movie Star: Dakota Fanning
Favorite Male Movie Star: Adam Sandler
Favorite Voice from an Animated Movie: Queen Latifah/Ice Age: The Meltdown
Favorite Animated Movie: Happy Feet

Music:
Favorite Music Group: Black Eyed Peas
Favorite Female Singer: Beyoncé
Favorite Male Singer: Justin Timberlake
Favorite Song: Irreplaceable (Beyoncé)

Television:
Favorite TV Show: American Idol
Favorite Television Actress: Miley Cyrus as Hannah Montana
Favorite Television Actor: Drake Bell/Drake & Josh
Favorite Cartoon: SpongeBob SquarePants

Sports:
Favorite Athlete: Shaquille O'Neal

Other:
Favorite Video Game: SpongeBob SquarePants: Creature from the Krusty Krab
Favorite Book: Harry Potter (series)
And here are pictures of the attendees. [via] and [via]
If Nicole Kidman is pregnant, she sure isn't showing yet. I'm not liking Jessica Alba's hair. The color looks a little drab on her.