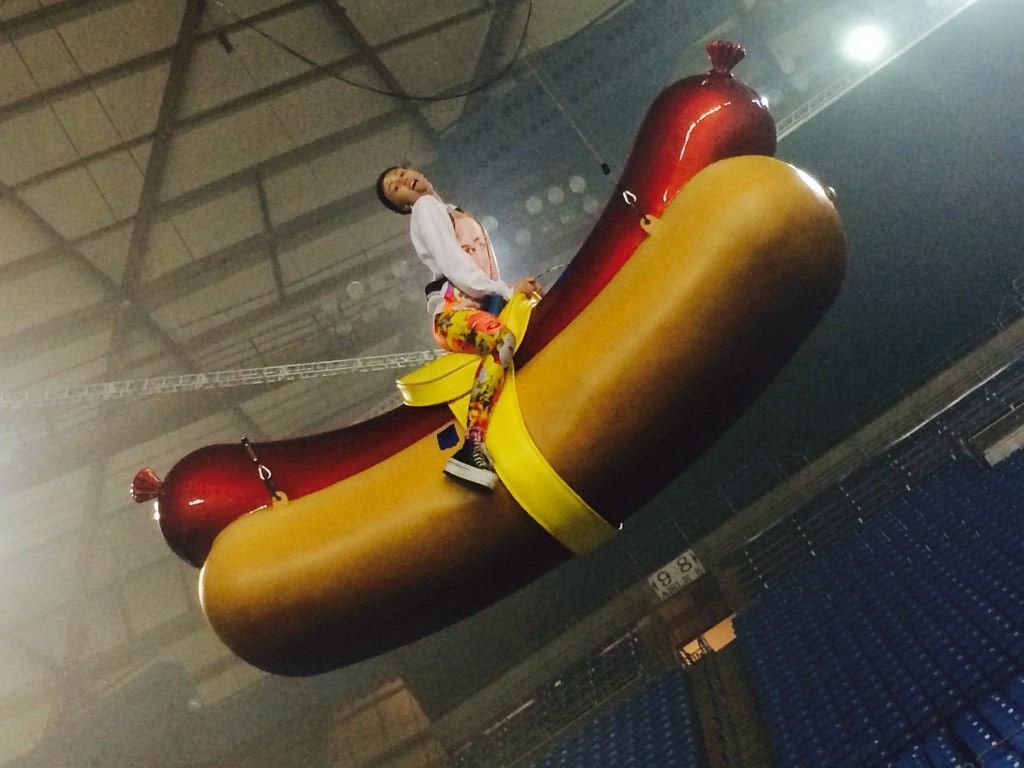 Miley Cyrus is about to go on tour, y'all! Here's a photo of her riding a giant hotdog during her Bangerz tour rehearsals. I still can't believe she's scoring $500,000 per show. Live Nation is going to lose so much money on this deal. Miley is selling this tour hard. She's been worried whether people will show up, and she should be concerned. Miley already gave the cow away for free, you know? Not that she's a cow. I meant she's already shown her whole body for Uncle Terry and all of VEVO.
Miley hits Vancouver for her first tour date on Friday. I just checked some ticket sites, and there are plenty of tickets left for the taking. No one wants to spend their Valentine's Day watching twerking teddy bears. Oh well. Miley is still pimping her wares. She did an interview with Fuse TV, which is now hosted by her sister, Brandi Cyrus. Yep. Here are some highlights:
Please buy tickets for your kids: "I want to make things look high-end, like something you would see on Madonna's tour, but just make it feel a lot more young. Even though parents probably won't think this, I think my show is educational for kids. [Brandi laughs.] They're going to be exposed to art most people don't know about. People are taught to look at things so black and white, especially in like small towns. I'm excited to take this tour to places where [art] like this wouldn't be accepted, where kids wouldn't learn about this different kind of art, so it's really cool."

She's done with boyfriends: "So I'm like kind of nervous to perform in front of my friends and stuff. It's dope that my friends actually want to come to my show and not just going to my show because they're my friend, but it makes you like nervous. I'm not inviting any boys. Boys are banned from life."
[From Fuse TV]
Miley also talks about how her show will feature an acoustic section "to make people look past the shock value." Speaking as a semi-fan of Miley's recent Unplugged episode, that's a decent idea, but it won't work in an arena setting. I do have to laugh at Miley thinking her show will be "educational" to young children. She's trying to court her former Disney fans, but her argument is weak. Perhaps before the internet, Miley could make a case for small towns being less exposed to "art." Now even the smallest crevices of Oklahoma have seen Miley riding her wrecking ball. I mention Oklahoma because I live here, and Miley probably doesn't understand why she's bothering to stop by Tulsa on her tour. She probably thinks we're all rodeos and teepees.
Miley is also the latest star to field a viral prom invite. She politely declined the young man's invitation but did invite him to visit her backstage when she hits his Arizona town.
Here's a video clip of Miley's Fuse TV interview. At one point, Tish walks in and goes groupie for the boys of Motley Crue. Watch out, Billy Ray.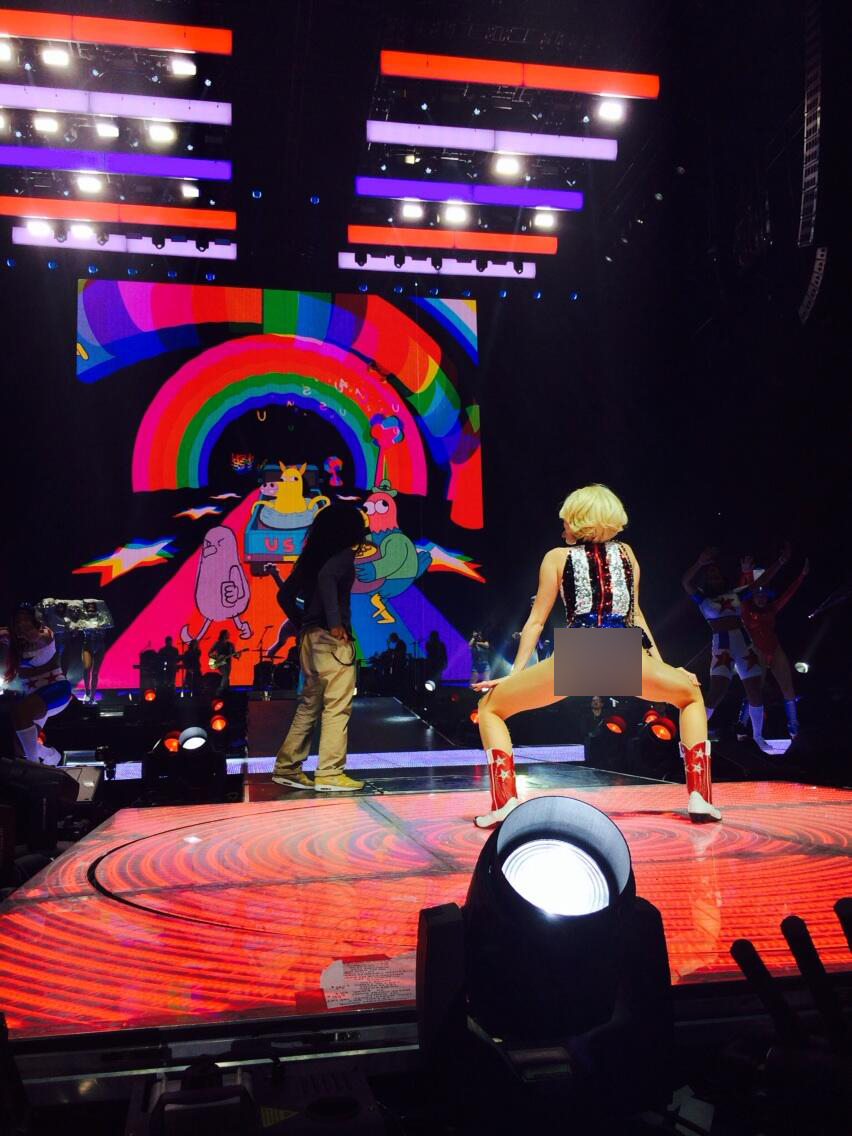 Photos courtesy of Miley Cyrus on Twitter & WENN