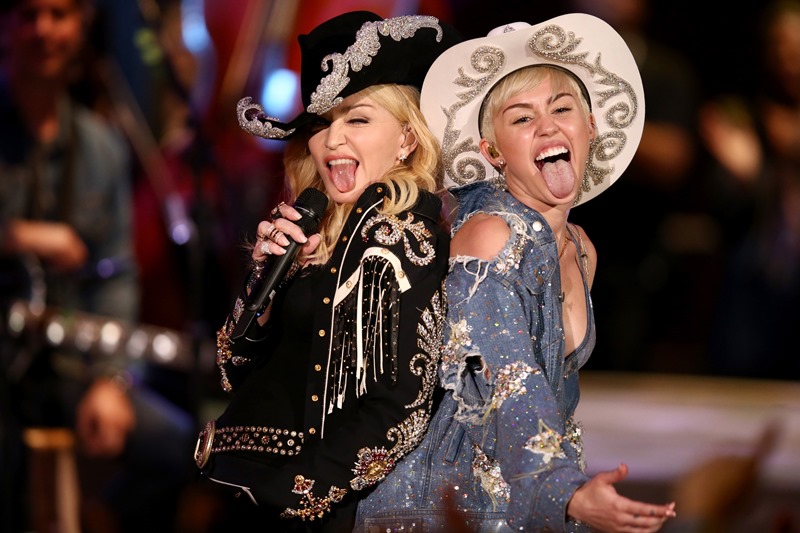 We talked yesterday about how Madonna joined Miley Cyrus onstage for Miley's "Unplugged" episode. The general consensus was that Madonna was only looking for attention. Even moreso than Miley. The special aired last night, and … it wasn't bad at all. I mean, Madonna sounded terrible when she sang (no question), which made Miley look good in comparison. The stripped down stage production also suits Miley more than her usual grand spectacle of crying emoji cats and sand dunes. The reviews coming in are also surprisingly good (Time magazine loved the show).
Even though Miley twerked on a (fake) horse and grabbed her crotch a few times, her voice sounded better than it has in a long time. Miley embraced her country roots although I'm not sure if she was simply making fun of them: "I tried to bring a little bit of Nashville here tonight." The horse and Miley's checkered red cowgirl outfit and bobbed wig are probably a good indication that Miley is having fun with all of us. Whatever the case, this show was a welcome change from Miley bending over to show us her lady parts. She also shared a great rapport with her audience by joking how she feels like she's "at karaoke" and how "there's nothing I can complain about. Well, I can't be stoned when I perform – that's a little something to complain about." See? Miley's making fun of herself.
Let's get the worst of the show out of the way right now. Madge joined Miley onstage for a medley rendition of "Don't Tell Me/We Can't Stop." Miley grinds her crotch against Madonna's booty and adds a few spanks for good measure. Madonna needs a permanent vacation.
Madonna doing the Miley tongue is something I never needed to see, but I won't let it ruin everything because Miley sang Dolly Parton's "Jolene." Remember Miley's backyard sessions? This is somehow even better.
I wish always Miley showcased her talent like this instead of relying on her stunt queen routine. MTV has several more videos up on its site if you want to watch more. Just for kicks, here's the "Do My Thang" number. This poor horsey.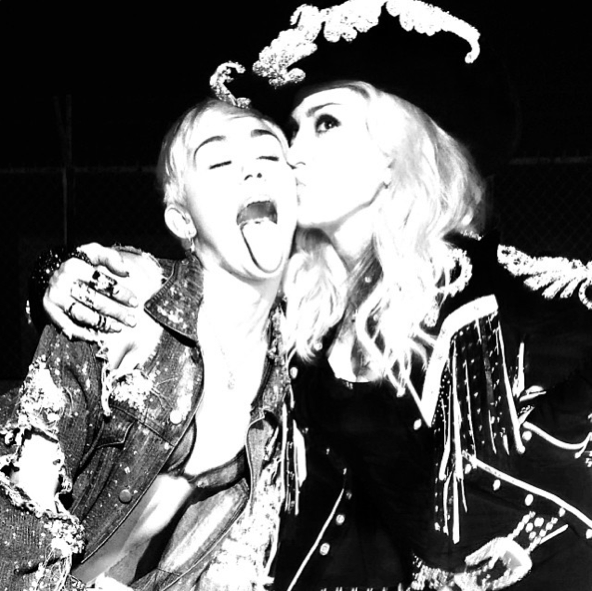 Screencaps courtesy of MTV; photos courtesy of Miley Cyrus on Twitter