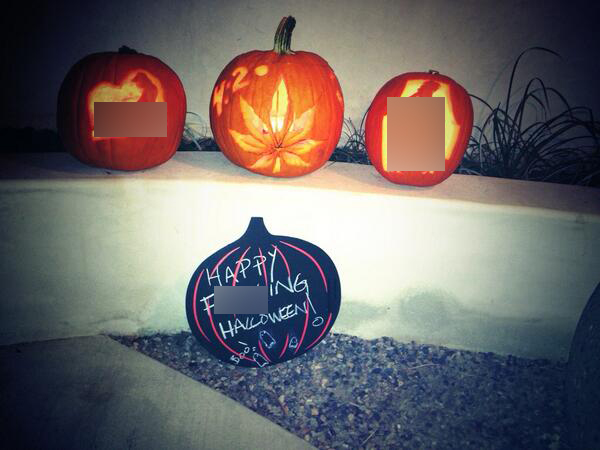 As promised, a whole lot of celebrities dressed up as Miley Cyrus for Halloween. Fortunately Miley (after carving some obscene pumpkins) decided to don the duds of someone other than herself. She dressed up as Lil' Kim. Last year Miley went as Nicki Minaj, and this year's costume is only slightly less tasteful. Notice that in neither instance did Miley pile on the blackface like Julianne Hough. Good thing.
Miley tweeted up a storm over her purple wig and the costume itself. Yes we are blurring the pasty-adorned boob! Some of you have been asking about the blurring lately. This is a SFW gossip site, and we also have to comply with our advertiser's guidelines. Why did we start blurring Miley's tongue? Because people were complaining about having to look at it all the time. Miley did keep her tongue in place while wearing this costume. Small mercies, folks.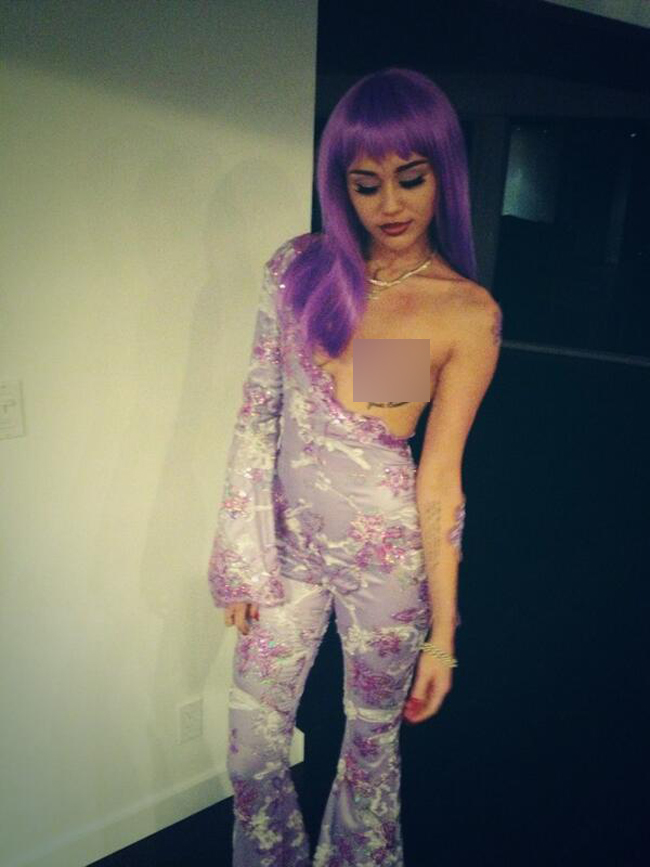 If you want to see something truly disturbing, Miley's assistant/BFF/enabler, Cheyne Thomas wore her VMA leotard as a costume. I used to think the guy was semi-cute, but no longer.
On the career front, Miley is still raking it in at unexpected levels:
* Live Nation has agreed to pay the Tongue $500,000 per evening on her upcoming US tour. Live Nation is going to lose money on this deal, right? That's what AEG Worldwide thinks and why they didn't match Live Nation's bid. Miley's already twerked for the world and gotten naked already. She can't top that for a live show. The European tour is still up for grabs.
* This week's issue of the Enquirer has a tidbit in their gossip section about the multimillion dollar Super Bowl commercial offer extended to Miley. Wonderful Pistachio wants to pay her even more than they paid PSY last year. He got $3.8 million for 30 seconds. Insanity.
* This week's issue of In Touch has a huge cover story on the "emotionally fragile Miley," who has "crumbled." The story is based upon the fallout of Miley "hooking up" with four guys in one weekend. These dudes include Mike Will Made It, Theo Wenner, some random "skater-looking guy," and Cheyne Thomas (which I've already laughed at because I'm pretty sure he's gay). I see a little bit of truth in this story:
Struggling with the emotional fallout of being dumped by fiancé Liam Hemsworth this summer and the constant criticism from haters who have made her the national punch line, [Miley Cyrus is] turning to destructive behavior like nonstop partying and random hokups — and now friends fear the "Wrecking Ball" singer is on the verge of emotional collapse. "She doesn't have many real friends and is constantly messed up," says a source who knows Miley from the LA club scene. "She never wants to go home, never wants to be alone and doesn't want the party to end. Adds an industry insider: "The way Miley has been acting is a cry for help."

"She's been acting erratically and has a screw-it attitude," says a source close to the once-innocent Hannah Montana star. "Everyone is worried now that Liam is gone. She's a mess without him."

Miley publicly insists she's moved on and recently claimed to be having "the best time of my life." But sources say privately, she can't stop crying. "She was so in love with him and really took it hard," says a second source close to Miley. "She's been going out a lot, trying not to think about Liam."

Ironically, Miley drove Liam away with her increasingly desparate grabs for attention, including her infamous VMA act. "She was happy focusing on Liam in the beginning, but she's narcisssistic," says an insider close to the Cyrus family. "She eventually turned her attention back to her image. She's obsessed with who's talking about her, what they're saying and how she looks. Liam couldn't care less about any of that."

Now that he's out of the picture, Miley has been seeking approval from other men. "She's always looking for male attention," says the insider. "It's uncomfortable to be around." Says the source: "She's partying to mask her true feelings. And she's really unhealthy — she barely eats. She monitors what everyone says aoub ther and lets that influence her opinion of herself," says the source. "If she continues acting out at this rate, she could be headed straight for rehab. It's sad."
[From In Touch, print edition, November 11, 2013]
Eh. I don't see a problem even if Miley did "hook up" with four dudes in one weekend. At least she would sort of know who these guys are … as opposed to randomly making out with everyone at a club. Okay I take it all back. Four guys in one weekend is way too much, and I'm not even talking about a slut-shaming angle. I'm talking about the potential STD factor. Gross.
Here's more wiggy goodness (a natural looking brown one … not unlike Miley's own hair color) and (in the gallery) a horse. That's a real horse, right? Not a statue. The crazy photo filters made me look twice.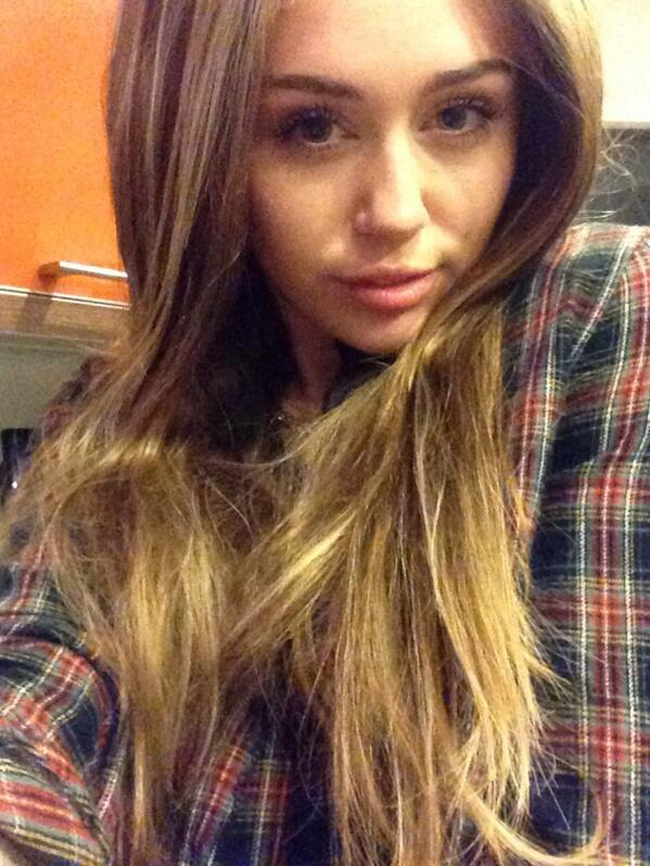 Photos courtesy of Miley Cyrus on Twitter