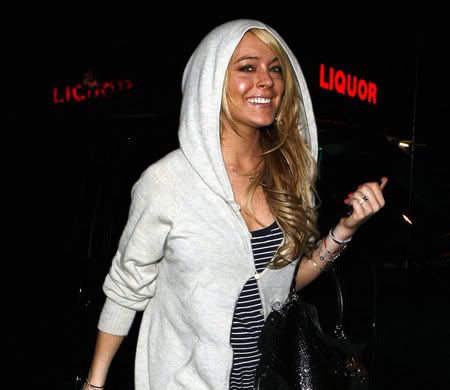 Lohan's mom Dina told Harper's Bazaar in a recent interview "If you can button it and clip it when you're in your 40s, you're going out." That doesn't bode well for poorly-rehabbed Lindsay, who still isn't legally permitted to drink in the US as she doesn't turn 21 until July. One would expect Lindsay to get all this partying out of her system in the next year or two, but given how her mother still enjoys acting the fool it's unlikely. Dina has shrugged off Lindsay's problem and seems to suggest it's part of being young.
It's doubtful Lohan will change unless she has a major accident, which unfortunately seems possible the way she's going. Lohan has been spotted out driving drunk several times this year, and was never given a breathalyzer after grazing a paparrazo with her car in New York about two weeks ago.
Lindsay is seen out at DJ AM's birthday party at Mezzanine in San Francisco on Friday 3/30. At least she's wearing pants and a shirt that isn't see-through. DJ AM, formerly known as Nicole Richie's on-and-off arm candy and Mandy Moore's brief boyfriend, is now dating Canadian Supermodel Jessica Stam.
Update: images removed by request of photo agency.