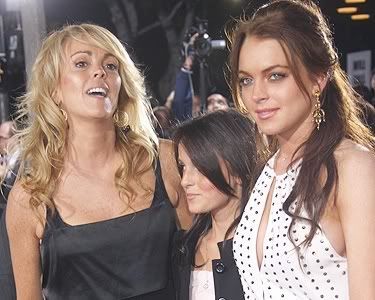 Lindsay Lohan's mom Dina gave an interview to Harper's Bazaar in which she reveals exactly why her daughter is so screwed up. She confirms all the crap we've been saying about her for a while – she revels in the spotlight and acts like a buddy to her daughter, essentially allowing her to do whatever she wants.
Not only is Lohan's mom entirely neglectful of her parenting duties, she basically sanctions her daughter's behavior, thinks it's "cool," and emulates her.
At one point she calls either prescription or illegal drugs "candy," saying that "In that world, they give you things like candy. Hurt your ankle? 'Let's give her something.'"
Lindsay did hurt her ankle and if she's calling pain medication or cocaine "candy" there's something wrong there.
Dina also says that Paris and Britney are "the Trumps of the little world" and that "you can't blame parents for the kids."
"I'm living the American dream, and you can go . . ." she exclaimed after Harper's asked her what she would say to critics of her parenting techniques.

In the interview in the April issue, the 44-year-old Lohan described how she's more like a sister to her fire-haired daughter – going out to clubs with her and even wearing her old Prada jacket and Jimmy Choo boots.

"If you can button it and clip it when you're in your 40s, you're going out," she said as she put her hand in the air to solicit a high-five from the Harper's reporter…

The elder Lohan said she sometimes introduces herself as her daughter's personal assistant. She even once lied about her identity to George Clooney.

"I don't want them to know I'm her mom," she said. "It's a whole 'nother demographic. People just go dark."

She also had plenty to say about the other panty-less members of the "Bimbo Summit" – Paris Hilton and Britney Spears – who have spent many nights table-dancing and tossing back libations with her daughter.

"Some of these kids are just lost," she said.

But not so lost that we shouldn't worship them, apparently.

"They're the American dream," she also said. "They're the Trumps of the little world, these kids…"

She also whined about the way the press has been treating her and her daughter, who has been in rehab and AA meetings.

"We're just so misunderstood," she said, adding that her cocktail-tippling daughter is not an alcoholic.

"Noooo! She is just a 20-year-old who had to reel it in," she said, apparently forgetting that the legal drinking age is 21. "And she's from an addictive personality genetically. And in that world, they give you things like candy. Hurt your ankle? 'Let's give her something.' "
She said people were being too hard on Britney and we should "cut her some slack." If people cut Britney any more slack she might have seriously hurt herself instead of just shaving her head bald and freaking out. She needed to go to rehab.
Lindsay went to a revolving door rehab and came out to drink and party that very night. Sure 20 year-old kids are going to have fun, but she's headed for even more trouble and it looks like her mom wants to go along for the ride. I wonder if we'll be seeing panty-less pics of Dina next. Indeed, she got felt up while out to dinner at a restaurant just a couple of months ago.