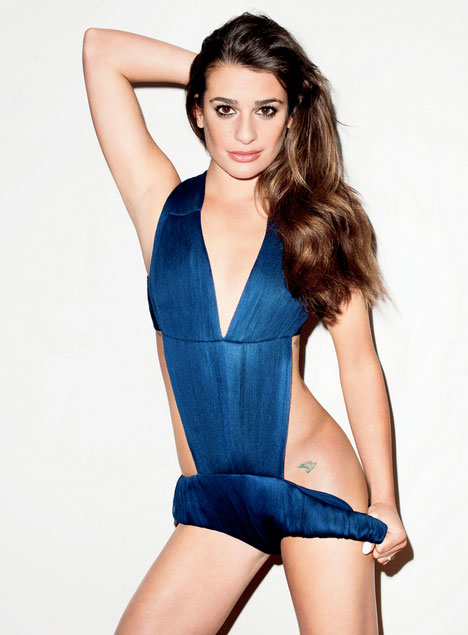 Lea Michele is determined to whittle away the respect I had for her following her boyfriend's tragic death. I know that's harsh, but it's hard to put it any other way. Lea was coping with Corey's death in her very determined way, soldiering on, and conducting herself in a very classy manner. Now she's regressing by posing for Terry Richardson. That guy taints everyone who works with him. Anyway these are some photos from Lea's shoot with Richardson, which appears in V Magazine. They're not on a Miley Cyrus "we know your personal grooming habits" level, and in that way they're demure for Richardson I guess. I wish Lea would have pushed back against this though. In the accompanying interview, Lea brags about the shoot as if she's incredibly proud of it, which is her right, just as it's our right to call her on it.
On her staid life
I don't like things that other people like. I don't like clubs or crazy, loud music. I don't drink a lot, and maybe that makes me boring, but I'd rather be in bed watching Homeland with my cat, Sheila, eating a sandwich.

On her friends calling her Grandma
My friends call me Grandma, but, like, Grandma's killing it right now. I'm pretty sure Grandma nailed it in a half-naked Terry Richardson shoot, okay? So I'm fine with it. I just do my thing. I do what's best for me. That's it.

On how Stevie Nicks helped her after Corey's death
There were people who were like, 'I am not f—ing leaving your side, and that, for me, was Stevie. She's like a fairy. She's given me so many gifts along the way, and when I say gifts, I mean tools and advice and support.

She told me from the beginning that music is going to be [my] therapy, and at the time, I was like, 'What the f–k are you talking about, Stevie Nicks? I don't want to listen to music. I can't do anything.' But once you get out a little bit of the tunnel, when you slowly start to feel like you can be yourself a little bit, it does help. It's so cool I have her number.
[From V Magazine via US Weekly]
I shouldn't shade Lea Michele too much. I guess this means that she's feeling back to normal again, because this is kind of how she was before she lost Corey. She was braggy and a bit stuck up - that was her thing. Now she's getting some of that back, and it's probably very positive for her. That doesn't mean she gets a pass, though.
Lea is promoting her new album, Louder, which drops on Friday. You can hear two tracks, Cannonball and Battlefield, on YouTube. Cannonball sounds overproduced and generic to me but Battlefield is an ok ballad.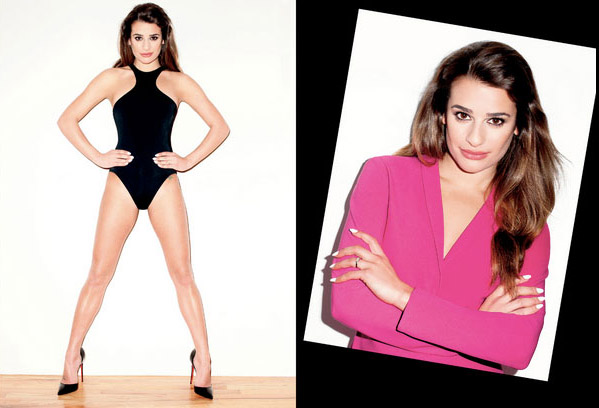 photo credit: Terry Richardson for V Mag