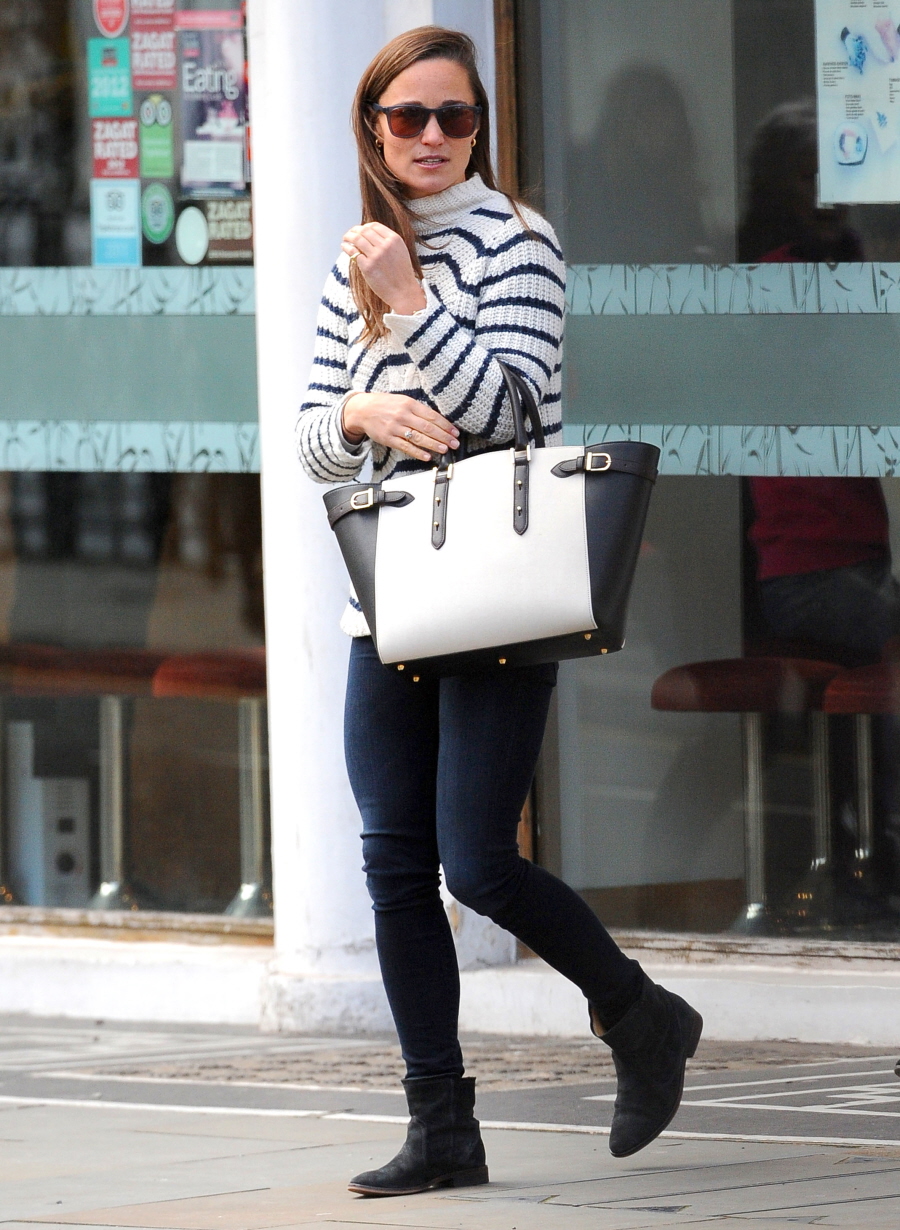 Pippa Middleton has been relatively quiet for a few months. Which is always suspicious! What is Pippa hiding?! Well, as it turns out, Pippa has been hiding some bad news. Do you remember how her big literary debut, Celebrate, was a total bomb? Pippa got a mid-six-figure advance and then the book only sold 18,000 copies. Disaster. Well, now Pippa's publisher has dropped her completely. According to the UK's Sunday Times, Viking Press has "let Pippa go" citing Pippa's unwillingness to lift a finger to promote Celebrate. Apparently, the publisher didn't appreciate #PippaTips as well. But #PippaTips was the best thing to come out of the whole book debacle! There's also a whisper of scandal… something about the Viking Press people saying that Pippa was a "nightmare" to work with. I wish there was more about that.
Pippa was out and about a few days ago, giving her first public speech (that we know of, I suppose) at the Women in Advertising and Communications dinner in London. I'm assuming Pippa got a nice paycheck for showing up and making some remarks, and it seems like her speech was a little bit more than just the boilerplate. I wish Pippa would stop talking about her own ass (of lies) though:
Kate's youngster sister spoke for the first time about the frock and admitted: "As I have found, recognition has its upside, its downside and – you may say – its backside." As bridesmaid Pippa Middleton walked into Westminster Abbey at the royal wedding, she certainly caused a cheeky distraction…And now the Duchess of Cambridge's younger sister has admitted that the figure-hugging dress that caught eyes around the world might have "fitted a little too well".

Joking with the audience at her debut ­after-dinner speech, Pippa spoke for the first time about the frock and admitted: "As I have found out, recognition has its upside, its downside and – you may say – its backside."

The 30-year-old revealed she was so nervous before Kate's wedding to Prince William that she did not sleep for two nights. And of the Alexander McQueen bridesmaid dress, she said she was just "glad it fitted" at the time, but added: "In retrospect it fitted a little too well."

Around 400 people were at the Women in Advertising and Communications dinner at Central London's swanky Savoy Hotel, with tickets costing £132 each.

One guest tweeted:

Wearing a floor-length dark green number, she told the crowd that her life had changed forever after the wedding in April 2011.

She admitted accusations that she was cashing in on her royal connections by writing a book and accepting offers to write columns for magazines and newspapers, had hurt her.

Pippa also said the negative response to her party planning book Celebrate – which only sold 18,000 copies – had been "difficult".

A guest said: "It was the first time she's made a speech of this kind but you wouldn't have known it, she was so relaxed. It was unbelievable how open she was – I don't think anyone was expecting that.

"She talked about the royal wedding and her career since. She came across as really grateful for the opportunities but also talked about the pitfalls of her position."

Pippa – currently taking advice from PR firm Seven Dials, run by the former Independent editor Simon Kelner – followed in the footsteps of Labour leader Ed Miliband, comedian Ruby Wax and movie director Danny Boyle as a speaker for WACL.
It sounds like Pippa is better at making speeches than her duchess sister. But Pippa complaining about how it "hurt" to be called out for exploiting her royal connections? That would be like Kate complaining about waitying for nine years. It happened, and the fact that we noticed that it happened isn't on us. Pippa did exploit her post-wedding celebrity and she's built a lucrative career on being "Kate's sister" – a career which includes being paid to speak at these kinds of corporate dinners.
Speaking of exploitative… did you guys read the story over the weekend about Duchess Kate's charm necklace? It was the #1 story on The Daily Mail throughout much of weekend. It seemed simple enough – Pippa had given Kate a reasonably priced charm necklace which was engraved with a "W" for William and an engraving of Prince George's full name too. The price (before engraving) of the necklace is £89. But there was an interesting detail in the story – Pippa didn't buy the necklace for Kate. The boutique owner made the necklace, engraving and all, and sent it to Pippa to give to Kate. And Kate has been photographed wearing it. So… Kate does accept freebies, but only when those freebies come through a relative. #PippaTips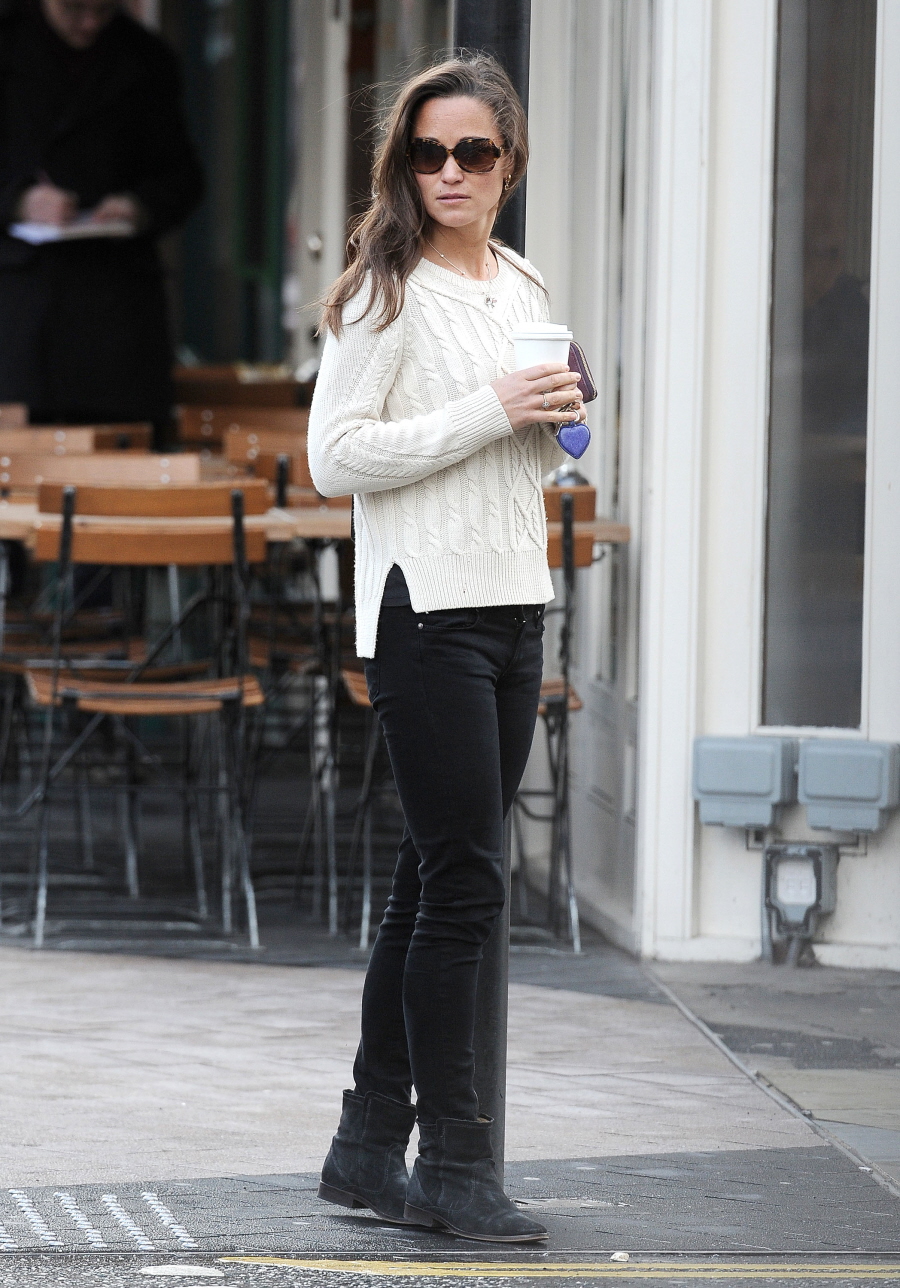 Photos courtesy of WENN, PCN, Fame/Flynet.