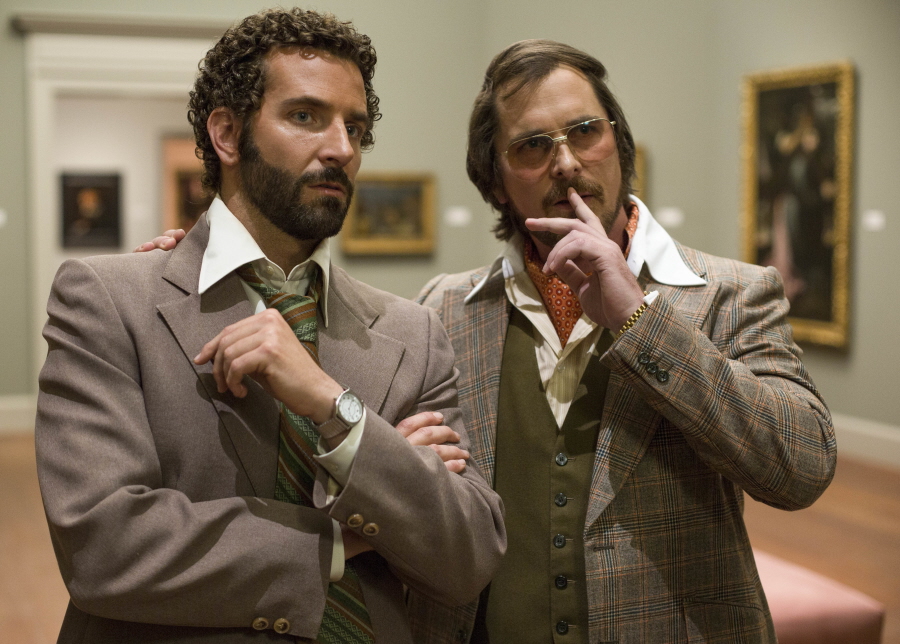 The Hollywood Reporter has been doing this feature for at least two years now, and I have a love/hate for it. THR basically sits down with an unnamed Academy member as he fills out his ballot, and he explains why he's voting the way he is. Since the voter is able to remain anonymous (all we know about this voter is that it's a man and he's a "longtime member" of the directors' branch of the Academy), the comments can be really, really bitchy and brutally honest. You can read the full piece here, and here are some of his thoughts on the big races:
➻ BEST PICTURE
Captain Phillips struck me as a slightly hokey, overacted, not particularly gripping action movie. Gravity pales in comparison with Cosmos, Neil deGrasse Tyson's recent 13-part reboot of Carl Sagan's famous TV series about the universe. Philomena, which I've wanted to call Philomania ever since the Golden Globes, was an effective tearjerker — I was moved by it — but that doesn't make it a great film. Nebraska was skillfully done but limited by its limited ambitions and its overly measured pace. Her interested me because of my complete ignorance of everything in it — it was like sitting through a class that I wasn't necessarily enjoying but that I knew was good for me. (And just because I fall asleep in a movie doesn't necessarily mean I don't admire and like it; I've actually occasionally fallen asleep in my own movies.) Dallas Buyers Club was very good, and I was engaged by it all the way through, but there were no real surprises in it. The Wolf of Wall Street has almost nothing to say, but I found it hysterically funny. Conversely, with 12 Years a Slave, you don't even crack a smile, but it was interesting, admirable and well done; I must say, though, that contrary to what some have asserted, it's not as if it required great courage to make that movie — maybe if you made it in Mississippi in 1930. As for American Hustle, its ambition is not overwhelming, but it takes an interesting subject and very interesting characters and delivers 100 percent on what could be done with it in a very engaging, entertaining, interesting and truthful way. I would not put it in the legendary masterpiece category, but it doesn't fail on any level.
MY PICK: (1) American Hustle; (2) 12 Years a Slave; (3) The Wolf of Wall Street

➻ BEST DIRECTOR
David O. Russell, hands down. Steve McQueen made an admirable movie, but I don't think it's remotely as ambitious or good as his previous film, Shame. Wolf is like Casino and GoodFellas — fun, bubble-gum Scorsese. Payne — whatever. And Cuaron was part of a committee of technicians who made that movie, and I have seen things at the planetarium that were at least as impressive.
MY PICK: David O. Russell (American Hustle)

➻ BEST ACTOR
Ejiofor was good. DiCaprio has been better; this is a popcorn performance. McConaughey was very good; he's really doing some great stuff now, and I would give it to him for True Detective. Dern is a great guy and a friend and is excellent in the movie, and if I were not as taken by Bale's performance as I am, I would have voted for him. But Bale had a much juicier role — Dern's role is very contained, whereas Bale is all over the place — so I had to go with him. It's the role of a lifetime.
MY PICK: Christian Bale (American Hustle)

➻ BEST ACTRESS
Blanchett has to win this. Bullock is the weak link — she's just OK. For Streep, whom I love, this is a bottom-drawer performance. Dench is a terrific actress, and she's very good in this film. Adams I love. But you have to vote for who's truly the best, and to me, Blanchett — whom I'm normally not that wild about, with the exception of Bandits — is that. She was just a revelation; she was just spectacular.
MY PICK: Cate Blanchett (Blue Jasmine)

➻ BEST SUPPORTING ACTOR
Everyone was at least very good, but Cooper was the best. I think this is the best he's been in anything. If he wasn't in the category, I'd probably end up voting for Jonah Hill, only because I found him so funny. Jared Leto was good and will win, but he's getting tremendous points because of the person he's playing more than the way he played it, which is as close to pandering as you can get.
MY PICK: Bradley Cooper (American Hustle)

➻ BEST SUPPORTING ACTRESS
Lawrence and Hawkins are the two obvious best of the five. Hawkins had a difficult part — it's not an attractive role, and she's intentionally overshadowed constantly by Blanchett, but she registers strongly in each scene she's in. Jennifer was even better — she has that extra level of excitement in every scene she's in. She just dazzles; she's always doing something original and bold and surprising and believable. June Squibb was fine. Julia Roberts was horrendous. And Lupita was very good, but a lot of the commotion over her is attributable to people's tremendous empathy with and sympathy for the role she's playing.
MY PICK: Jennifer Lawrence (American Hustle)

➻ BEST DOCUMENTARY FEATURE
I actually liked several of the movies, especially 20 Feet From Stardom, but I refuse to dignify the category by voting in it. Even with its new rules, the documentary category has about as much claim to legitimacy as the Bush-Gore presidential election. It's an incestuous little club.
MY PICK: I abstain.

➻ BEST FOREIGN-LANGUAGE FILM
I immediately rule out Palestine for Omar because I saw it, and it's a bunch of f—ing anti-Semitic swine. The Hunt was the best, by far — the performance, the writing, the boldness of the approach. The Great Beauty is unbelievably f—ing slow and dull; that's another movie where you can sit there and pass out five times and miss nothing. I stopped Broken Circle Breakdown halfway and Cambodia's after 20 minutes.
MY PICK: The Hunt
No surprise, old men in Hollywood adore Jennifer Lawrence and they think she's so charming and unique. I would say that's her main fan base: older men who find her adorable. Don't get me wrong, I think she's incredibly talented, but I saw American Hustle and she didn't even make my top-five favorite performances in that film. And I'm sorry, but Bradley Cooper was the absolute weakest part of Hustle. I feel like I'm going crazy when everyone is falling all over themselves to praise him. He played the same kind of coked-up a—hole he usually plays. It's like they just took his Hangover character and gave him a perm. But I'm actually fine with some love going to Christian Bale. I've said this before: Bale's work in Hustle is the most I've ever liked him. It's possibly the most sympathetic and enjoyable character he's ever played.
And no surprise, everybody is going to vote for Cate Blanchett. Meryl Streep is probably going to vote for Cate too, although I don't agree with this guy that Meryl was "bottom-drawer". Meryl did the best she could with the material (which was, IMO, sub-standard). And I even have to defend Julia a little bit – she wasn't bad at all in Osage County. I mean, she doesn't deserve any awards or anything, but she gave a solid performance.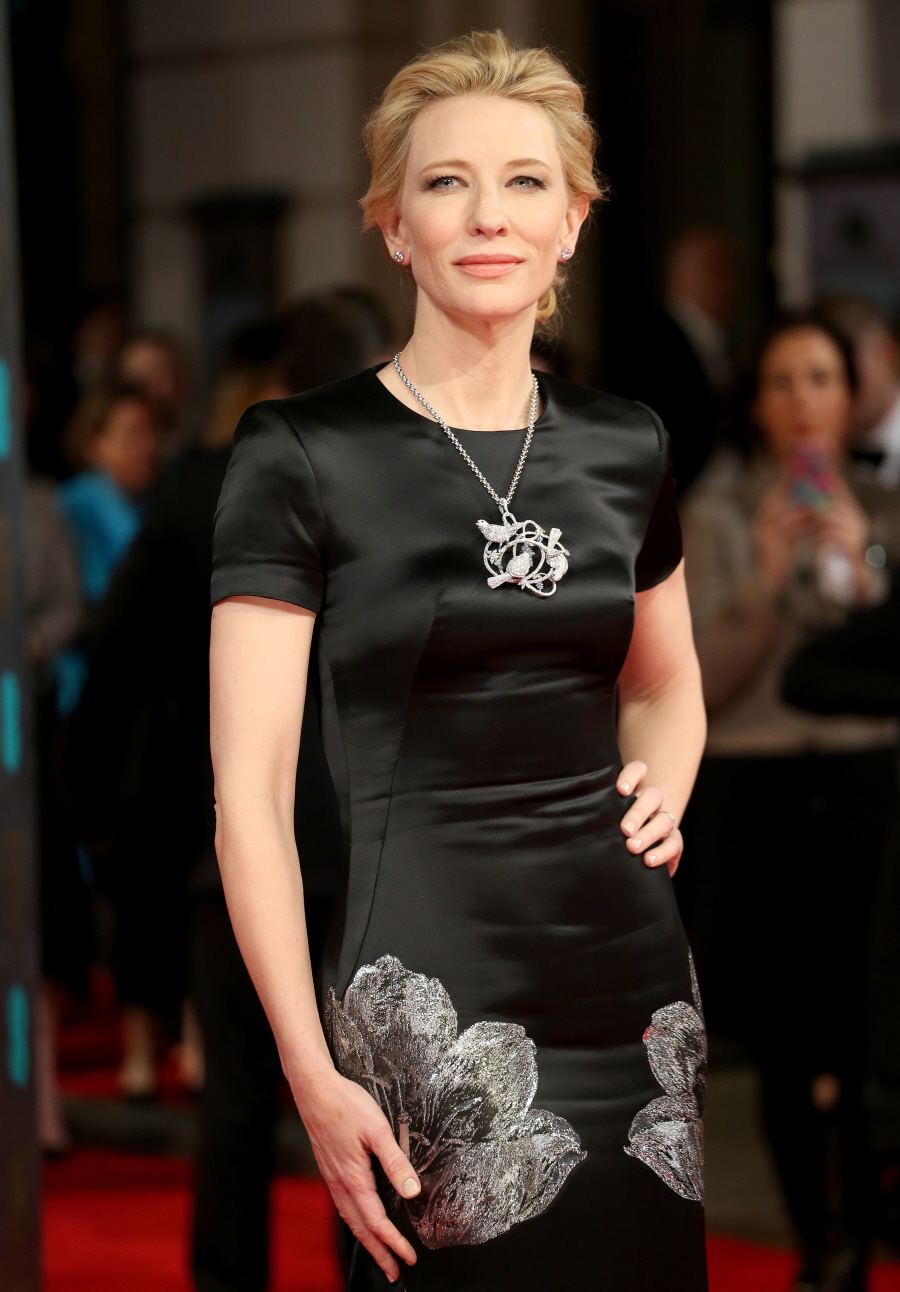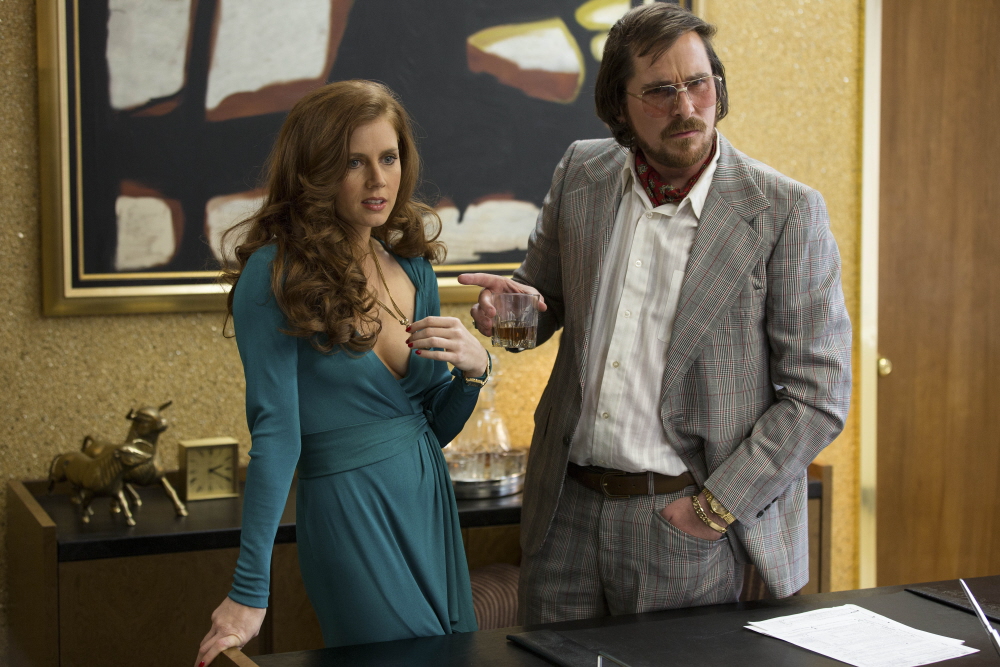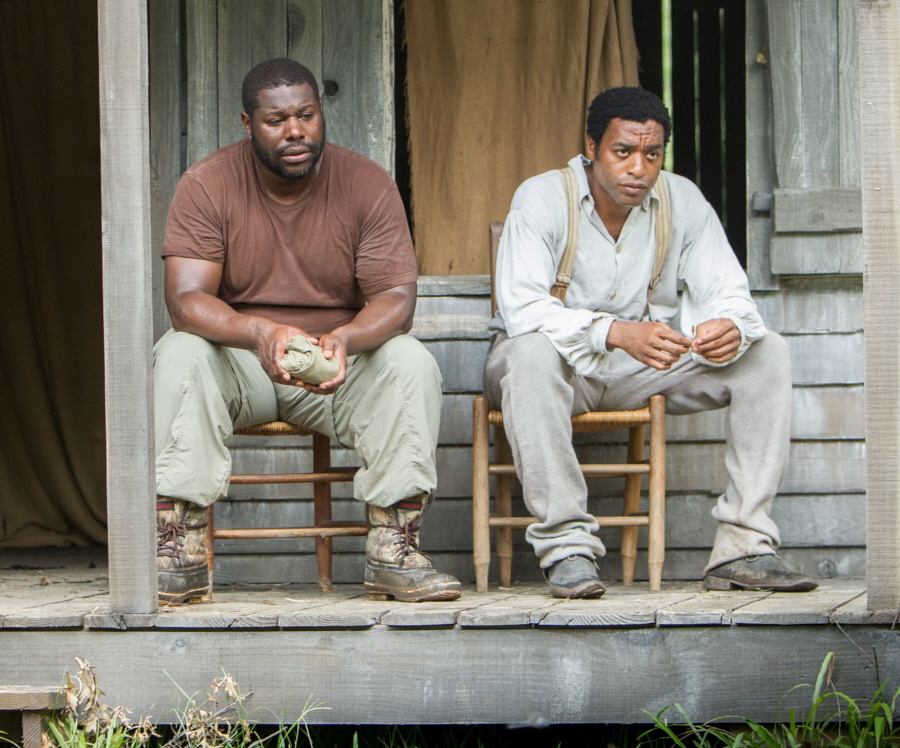 Photos courtesy of WENN.