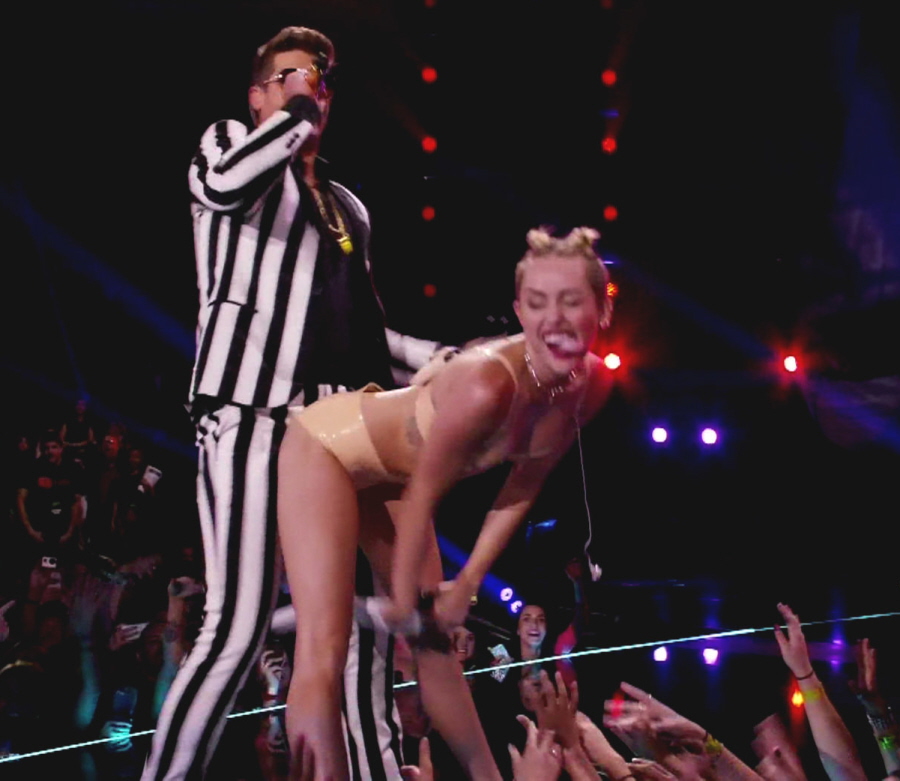 I really don't understand why everyone is hand-wringing about Robin Thicke and Paula Patton. I mean, did their split shock anyone? Not really. Do we all assume that he was fooling around? Yep. Do we all assume that Paula finally had enough? Pretty much. Sources seem to be in agreement about that too – that Paula was the one who pulled the plug and that Robin wants to be seen as "fighting for the marriage." Apparently, Robin has told Paula that he's a changed man, no more ass-groping randoms or partying after every show. Allegedly, Robin is super-concerned about their three year-old son, Julian Fuego, and "does not want him raised in two separate homes."
As for Paula, her side keeps releasing information about how upset she was about Robin and Miley Cyrus's VMA performance. Um, really? THAT was the final nail in the coffin? An insider told Us Weekly a few days ago:
"The Miley Cyrus fiasco was a big test of their relationship… He asked her to help him out as a friend and a wife, and defend him and the performance. He begged her to speak out for him and be there for him. She agreed to be the good wife after he begged and pleaded. Then he asked her to stick with him through awards season, and she agreed. She attended the Grammys with him as a favor."
Us Weekly reminds everyone how Paula stood up for Robin post-VMAs and how she acted like she knew that performance was going to happen ahead of time. But TMZ's sources say differently:
Robin Thicke's marriage fell apart when he dry humped Miley Cyrus on stage before a national audience … humiliating his wife. Sources connected to the couple tell TMZ … Paula Patton felt "utterly disrespected" when Robin virtually simulated sex with Miley the night of the VMAs. We're told after the performance Paula got into a blow-out argument with Robin, telling him he insulted her before a huge national TV audience.

What really pissed Paula off is that the performance was a total surprise. Miley improvised the raunchy part without warning, but Robin played along … and that enraged Paula.

Sources say Paula went nuclear when she saw pictures surface of her hubby at one of the after-parties grabbing a woman's ass … virtually digging inside.

We're told things never got better after that. They argued constantly and Paula was furious Robin continued to party at clubs with various women … pictured at times getting very cozy. It reached the point of no return last week — at least for Paula. As we reported … Robin is pulling out all the stops to change her mind, but we're told she wants out of the marriage.
Yeah, why be upset with the Miley thing when Robin's hand up that girl's skirt was WAY worse? I mean, sure, maybe Paula did feel "disrespected" by the Miley thing, but the post-VMA fallout was always about Miley, not on Robin Thicke (which is a different topic altogether). MILEY was the one scorned and mocked and Robin came out of it… I don't know. His rep wasn't damaged. Plus, I do think it's fair to hold Miley more accountable for that crap – she was the twerker, Robin was the twerked upon. He barely touched her.
Us Weekly had another story about Robin and Paula, but there isn't a lot of new info – Robin "does not want this divorce" and he "was not blind-sided, he knew this was coming." Got it. It sounds more and more like Paula gave him some time to get his sh-t together and when he was still acting like a bachelor, she had enough. People Mag's source says: "I can truly see them being the best of friends no matter what happens. They still admire each other. She'll always be his biggest fan and he'll always write songs about her and put her on a pedestal."
Incidentally, Star Mag has an interview with the blonde woman Robin groped after the VMAs. Her name is Lana Scolaro and she insists that Robin was trying to get her into bed that night but all they did was make out. She claims she was the one turning him down but now she wants to meet him for a drink.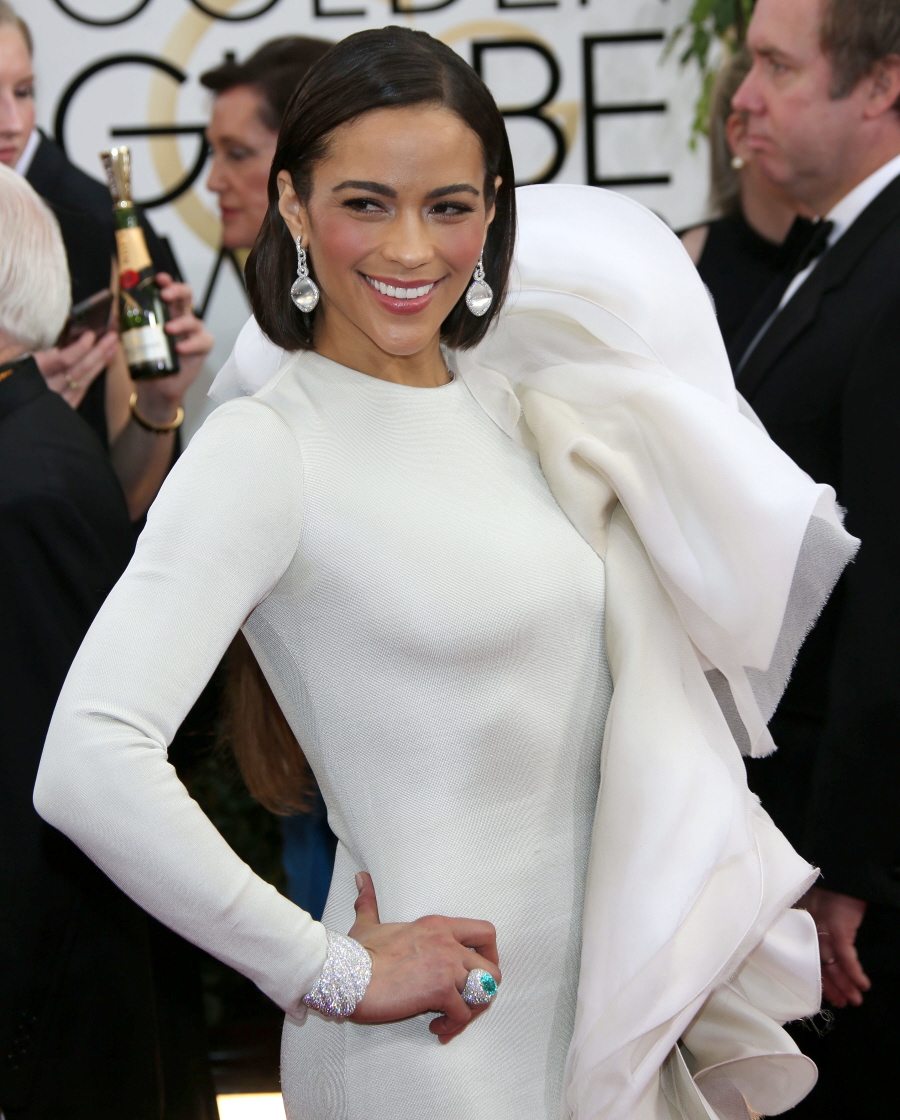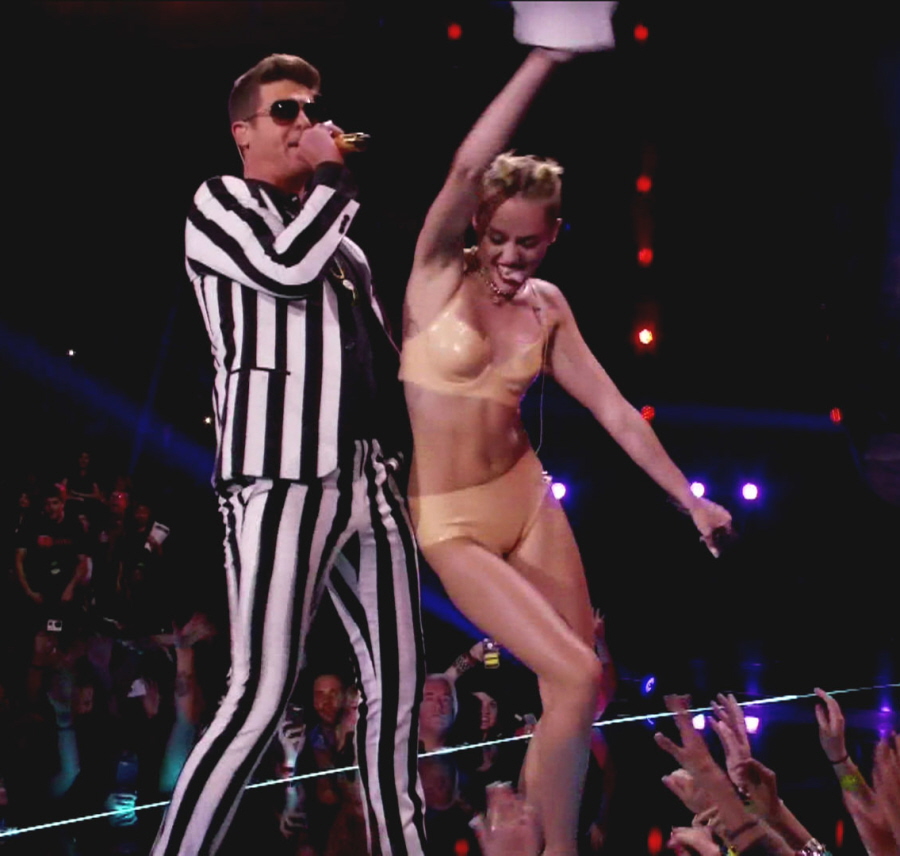 Photos courtesy of WENN.