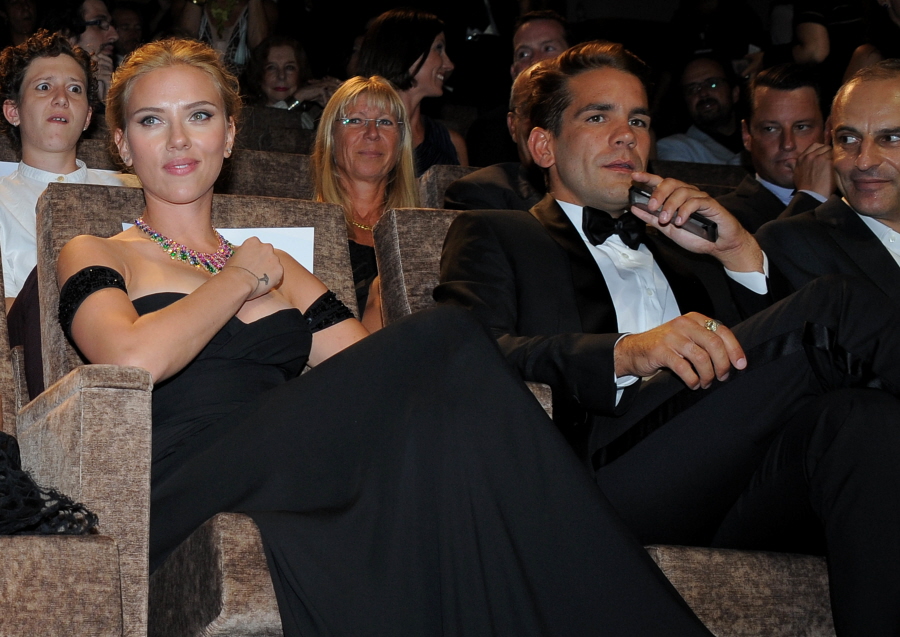 Scarlett Johansson let a sockless Frenchmen impregnate her. Seriously! E! News broke the news yesterday that Scarlett and her fiancé Romain Dauriac are expecting their first child together. Romain and Scarlett just walked their first red carpet together over the weekend, at the Cesars in Paris. Before that, Scarlett and Romain had done events together, but they had consciously not walked the carpet together before then. So, baby = established red carpet couple? Is so, then YAY! I look forward to seeing more of Romain. I find him mildly fascinating.
Scarlett Johansson is going to be a mom! The 29-year-old beauty is expecting her first child with fiancé Romain Dauriac, a source confirms to E! News. The pregnancy news comes just six months after it was announced that the Oscar-nominated actress is planning to tie the knot with her French journalist beau. E! News confirmed the couple was engaged in September after ScarJo flashed her vintage Art Deco ring on that finger at the Venice Film Festival, with her rep adding that the lovebirds are "very happy."

The expectant couple went public with their relationship in November 2012, not long after Johansson ended a roughly year-long romance with Nate Naylor. She and Ryan Reynolds divorced in July 2011 after almost three years of marriage. He tied the knot with Blake Lively last September.

And despite her whirlwind romance with Dauriac, Johansson is in no rush to walk down the aisle.

"I'm not doing any wedding planning," the Her star said with a smile during an appearance on Good Morning America on Wednesday, Jan. 15, adding that swapping vows with her hunky man is "far off" from her mind at the moment.

But while her nuptials may not be her main focus, Don Jon beauty admitted to wanting children just before the New Year.

"I would like to have my own family, that would be nice," she told the Daily Mail in December 2013. "They say it's never the right time and I am sure that's true, but I think you have to plan it like anything else."

"At some point it is something I look forward to," she continued. "I am fortunate in that I have had a long career—20 years—that has been very diverse. So, you know, picking a time to plan a family feels like something that I could do and not feel as though I was missing out."

Which is a far cry from what she told Elle UK in December 2012, admitting to the publication that she "never" thought about marriage.

"It's really not important to me," she said. "The only time I ever think about it is when people ask me, 'Would I get married again?'

"I'm not having kids anytime soon," she added. "I'm in a nice relationship, I'm working a lot and, like I said, it's not important to me."
Some of you think Romain is shady. I don't know. It could be that he's not a famewhore and he doesn't really care about the English-speaking media. I feel like that's a solid possibility. Personally, my conspiracy theory was that Scarlett just liked the idea of dating a Frenchman, a non-actor, who wanted nothing to do with Hollywood. I thought this was a phase. But now they're having a baby so… maybe it's for real? Anyway, congrats to ScarJo and Romain. Yay, Franco-American babies!
Cough… Romain is packing a croissant in his pants, right?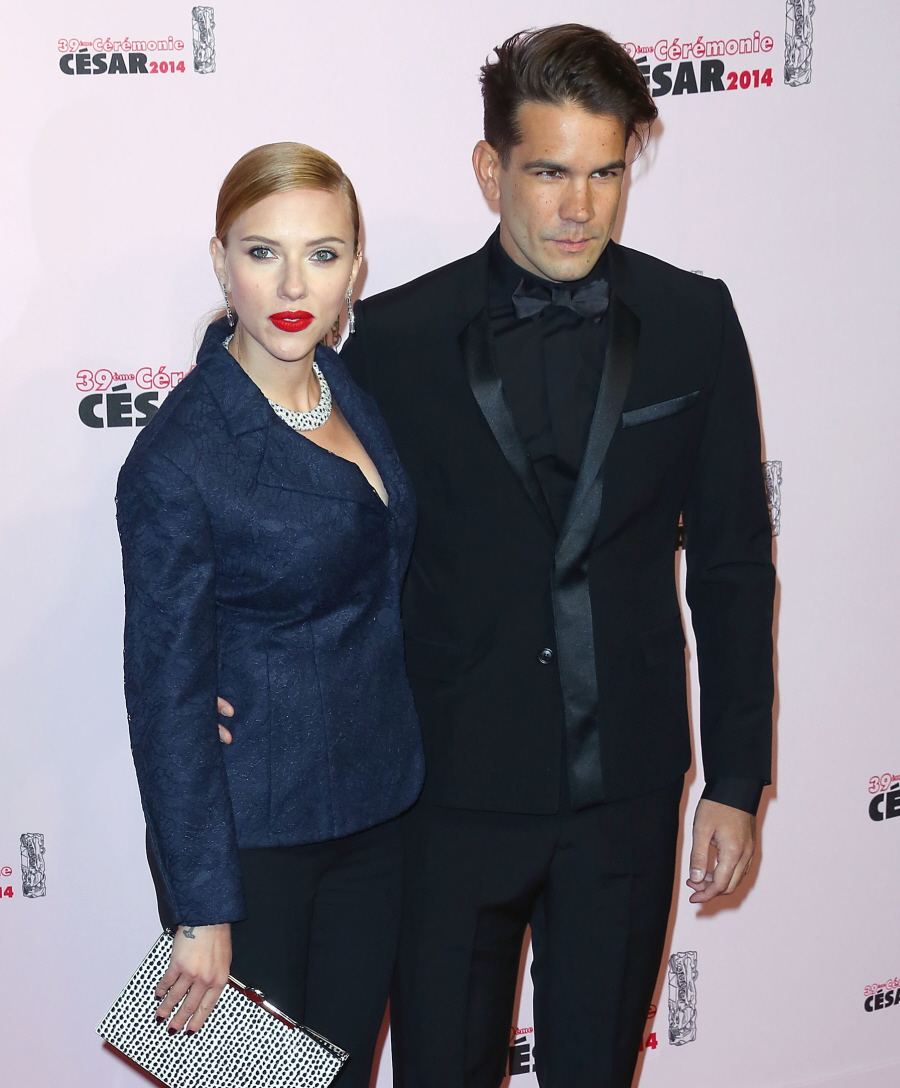 Photos courtesy of WENN.