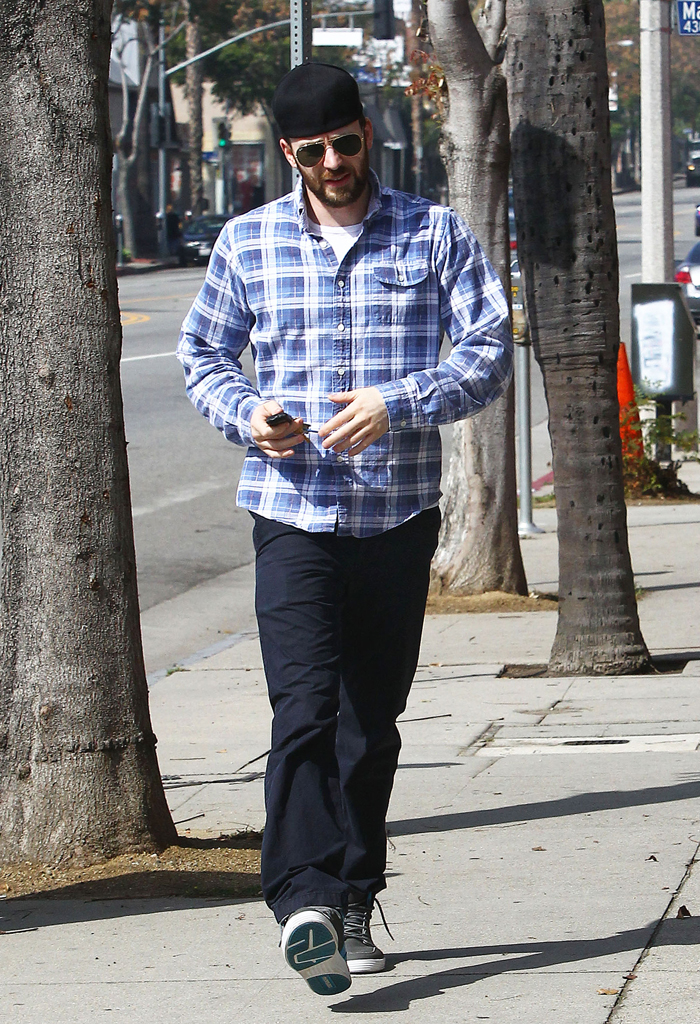 These are photos of Chris Evans last Monday after he filled in for Andrew Garfield at the Oscars. Chris never looks happy to see the paps, but at least he's not running away from them. The last time we really discussed Chris, it was to talk about rumors that Marvel would replace him after Captain America: The Winter Soldier. Those buzzings were probably unfounded because I don't see Evans wiggling out of his six-film contract. Marvel definitely doesn't want to replace dat Cap ass. Dude is stuck in his contract no matter what. Of course this hasn't stopped him from firing up his self-described "whiny bitch" act to promote the second movie. Winter Solder comes out in early April, and Chris has started his promotional duties in grand style. He sat down with Glamour UK to talk about how he has so much in life, but he's still not happy. Just like Cap!
Chris is totally Captain America in real life: "Steve has everything he wanted, and he's still not quite happy. It's like he's in his adolescence, trying to figure out where he fits in, who he is and what he wants."

He's SO over these superhero movies: "I would never trade in the decision to have done these movies. I've been wildly fortunate. I just don't know if my heart's as in it as it once was. I think when I'm done with this Marvel contract, I'll take a little break from acting. With acting, you're one piece in a very big puzzle. It's like you helped buy a gift but you don't know what the gift is, so you come back and see the movie. Sometimes it's nice, sometimes it's tragic. I would imagine the world of a director is a little bit cleaner in terms of your responsibilities."

Clubbing is no fun: "In your twenties you think, 'How will I ever not like going out?' You have drinks, buddies, music – great! But in the last two or three years, I go to a club and I kind of wish I was home. My idea of a good time has evolved a bit, so a night out with me might not be as exciting as it might have been a couple of years ago."

He does want to drink with The Avengers actors: "It's different with those guys. You're like, 'Come on guys, this is great! This isn't going to last forever and this is a really fun group of people doing a really fun thing. Let's go get drunk!' I try to be the motivating force. Everyone's married and has kids and sh-t like that, so I'm still the one single guy going, 'Come on, shots!'" he smiled.

He's a romantic: "I want to get married, though I want children – to me that's the ultimate thing. When you're old and on your death bed, looking back at your life it's not going to be the films you've made or what you've accomplished, it's the relationships you have. You're survived by things that matter – the people you love and those who love you back."
[From Glamour UK]
Here's my question for you. When Chris promoted the first Captain America movie he trashed his entire body of work. Have we had enough yet, or will we put up with his adorably bitchy interviews for another round? Any female actress who complained like this would never get away with it for long. I suspect that Chris may become even more self-loathing after his directorial debut with 1:30 Train arrives. He told Glamour that what he really wants to do is direct, so it will be interesting to see if he can pull off helming a movie.
Here's a new 4-minute clip from Captain America: The Winter Soldier. The banter between Cap and the other characters is pretty great.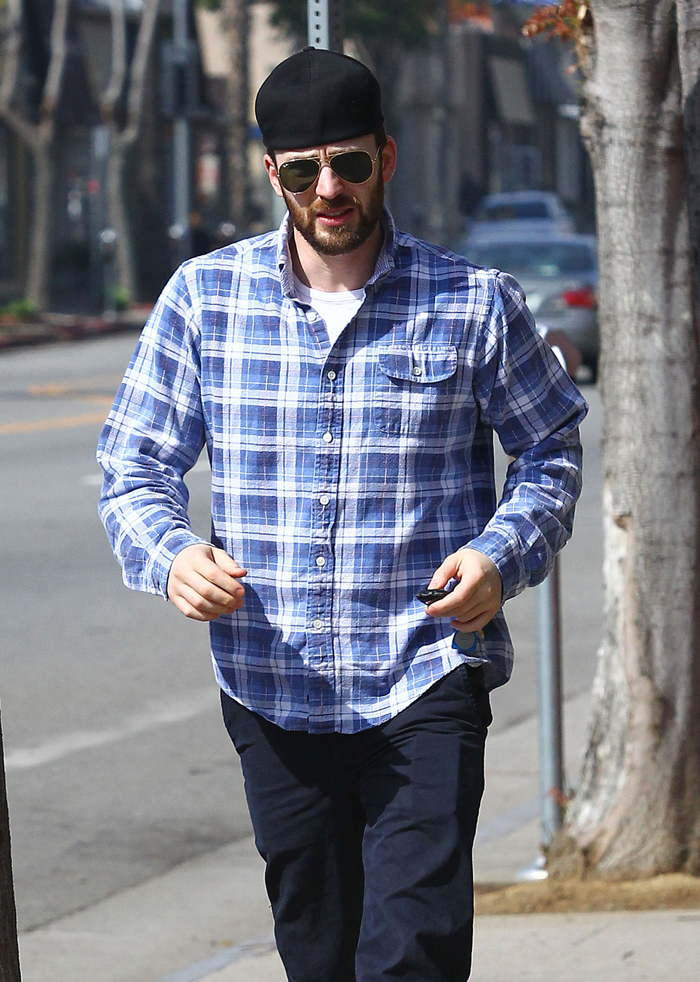 Photos courtesy of Fame/Flynet & WENN