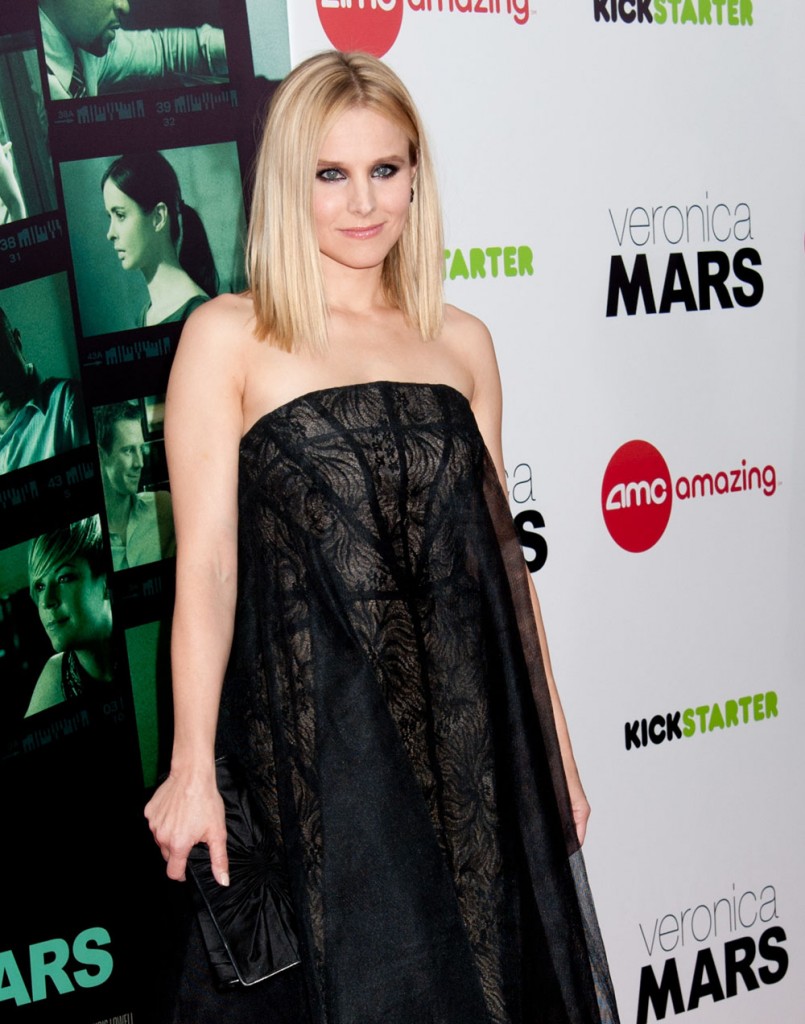 Above is a photo of Kristen Bell at the Veronica Mars premiere in New York yesterday. Bell looked pretty great at most of her appearances this awards seasons with the exception of The Critics Choice Awards, where she wore way too much eye makeup. She repeated that misstep here, and was in a fug gothic-looking Monique Lhullier lace strapless gown with tulle overlay. The film is getting mixed to good reviews, with many reviewers saying that it's geared to fans of the show rather than new viewers. It's out in the US this weekend.
Bell and her husband, Dax Shepard, have taken up the cause of protecting children from aggressive paparazzi. Their daughter Lincoln was born about a year ago and they recently had their first run-in with unwanted photographers. As a result they called for a boycott of celebrity magazines that run paparazzi photos of children. They also started the hashtag #pedorazzi on Twitter.
Dax wrote an essay for the Huffington Post in late January titled "Why Our Children Should Be Off Limits to the Paparazzi." Dax acknowledged that some celebrities do call the paparazzi to photograph family outings, but he had nothing but disdain for them. "It's a vile notion [that celebrities call the paps while out with their kids], and I'm happy to say none of our actor friends do this. But if you really believe this happens, isn't that all the more reason to boycott? Don't you want to take that option away from those vomitus parents?"
The couple won a victory of sorts when People Magazine clarified their editorial stance last month on children's photos. People did not adopt a "No Kids" policy, but said that they were sensitive to the issue and would not publish photos "taken against their parents' wishes."
In a new interview with Huffpo Live, Kristen Bell spoke at length about her issues with the paparazzi, but she conceded that some celebrities do call them and that it's their right to do so. This is a definite departure from her husband's tough stance. Here's some of what she said.
On an encounter with the photographer:
Bell: "First of all, they're really rude and I don't know where their mothers are, but I had a guy, just when I was leaving my interview before this, I was pulling into the garage, he was banging on the window and because I didn't roll it down, he called me the C-word and he said, 'I'm posting your hotel,' as a threat saying there's going to be more people now following you all the time… Aren't you shocked I didn't stop to pose for him? People act like animals and that's just not okay with me… It's absurd and it's gotten to a point where we've just lost a humanity…"

On the importance of parental consent:
Bell: "You cannot be stalking 6-year-olds…To me, it's [about] consent. If a parent consents, that's like signing a permission slip. Because I signed up to be an actress, I also signed up to be a parent and I take my role as a mother very seriously and you do not have permission to photograph my daughter. So, if someone gives you permission, that's fine. If a celebrity sets something up, I'm not here to come down on them, but it really should be up to the parent."

On the paparazzi's dangerous behavior behind the "cute" photos:
Bell: "After having a baby and experiencing first-hand what goes into the foot soldiers in Los Angeles that procure these pictures, it's really aggressive towards kids, it scares them and they're running red lights around schools… Really all we're seeing is the cute little snippet at the park, and what you're not seeing is the kid who is followed by a group of strangers all day, which, in my book is just not appropriate."
[From Huffington Post, received via e-mail]
I wonder if Bell has always thought that it's somewhat ok for celebrity parents to call the paparazzi, if she's just saying that to not offend other celebrities, or if she changed her mind after People Magazine's essay on their "no unauthorized photos of kids" policy. If Bell has felt this way from the beginning, she's differed from her husband's belief that it's despicable for parents to call the paparazzi. She makes a lot of sense here and I don't disagree with her, it's just hard to relate to this issue when it affects such a small subset of highly privileged people. I do agree that their kids should not be harassed.
A clip from Bell's interview is below. Another clip is here and you can watch the full interview here.

Here's Kristen at SXSW, in Naeem Khan.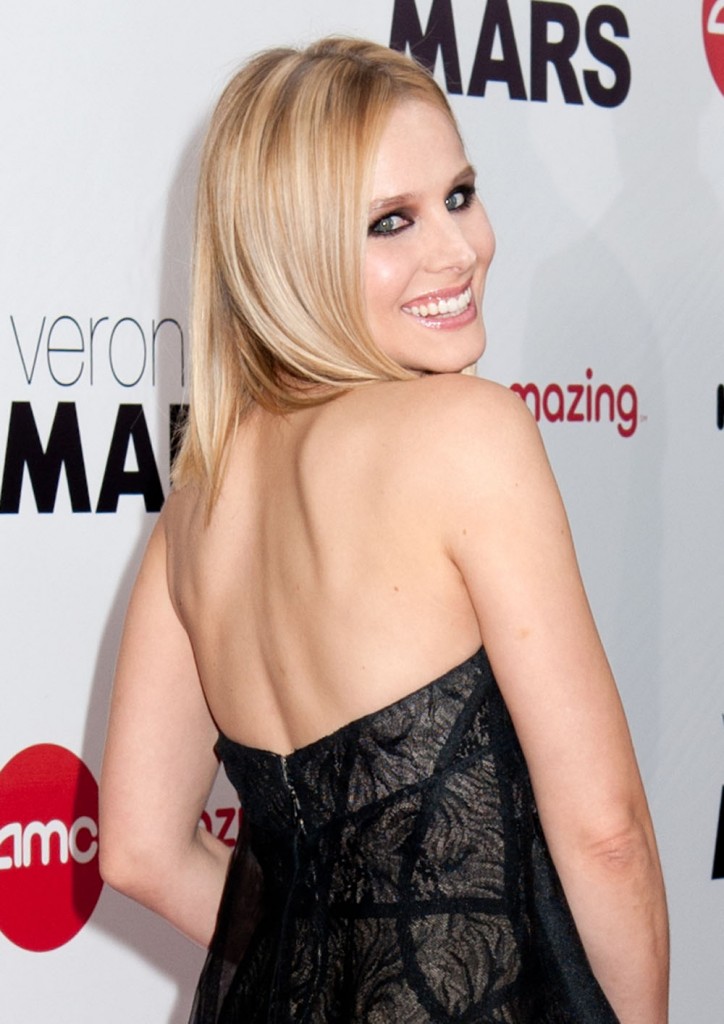 Photo credit: WENN.com and FameFlynet