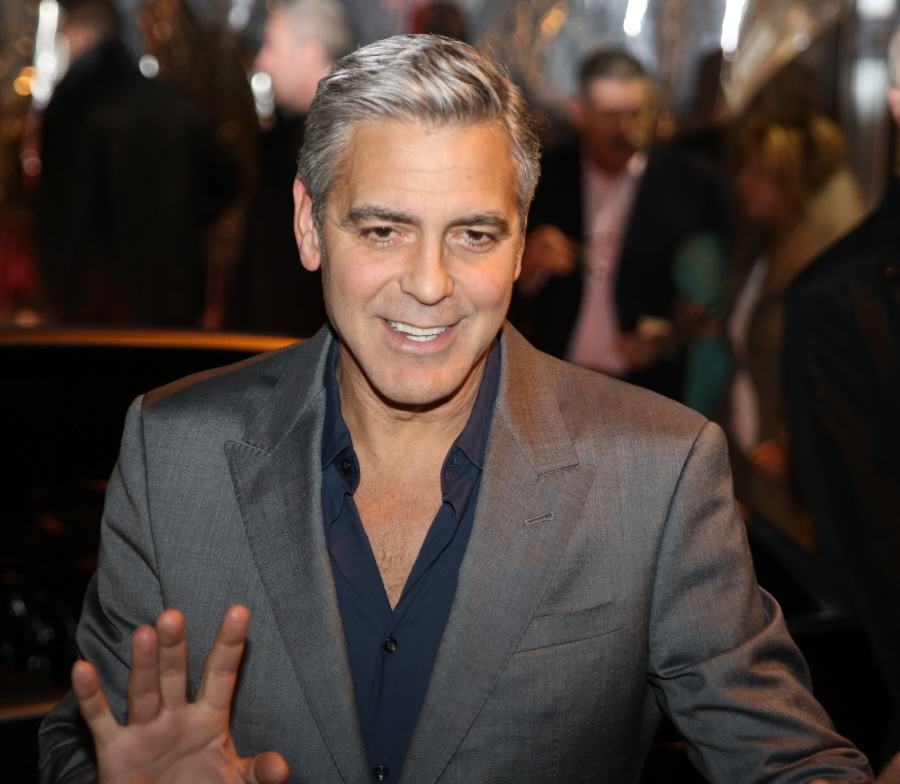 People Magazine has some exclusive photos of George Clooney and his OFFICIAL girlfriend on holiday in Tanzania. Go here to see! Yes, like we already said last month: George Clooney is officially dating Julian Assange's hot lawyer Amal Alamuddin. She's one of Britain's top lawyers and she's not some silly C-list wrestler or whatever. Amal is a woman of substance. She is a woman with an education and a real job. She sits down with despots, hackers, captains of industry and movie stars. Of course, the first time she ever got invited to the White House was as Clooney's plus-one for The Monuments Men screening, so maybe she likes Clooney's trappings of fame too.
A safari with George Clooney? That's one trip to remember. The Monuments Men actor whisked his new girlfriend, British lawyer Amal Alamuddin, off for a jaunt to Tanzania to watch wildlife. Exclusive photos in the new issue of PEOPLE show the couple on one of their first trips together after romance rumors swirled when they were spotted dining together back in October.

The pair more recently turned up together for a special screening of Clooney's latest movie on Feb. 18 at the White House alongside President Obama. When they had a nightcap at a local hotel afterward, "his arm was around her shoulder and she had hers around his," an observer told PEOPLE at the time. "They just seemed very, very together."

A source who has worked with Clooney has high hopes for the new romance.

"He's with someone who is a very accomplished attorney. She isn't someone who is pursuing a career in acting or entertainment," says the source. "She's on his level."
As Lainey pointed out, People Mag's exclusive photos look like a planned and organized photo-op. Why is George making it official, I wonder? Could it be a little tit-for-tat with his ex, Stacy Keibler? Keibler gave People Mag an exclusive too – her wedding photos and the unconfirmed story that she's already knocked up. So George is letting Stacy – and all of us – that he's fine. He's already moved on. He's moved on with a hottie with a law degree.
Here's what bugs me a little though: "She isn't someone who is pursuing a career in acting or entertainment. She's on his level." First of all, while I admire George's political work most of the time, I've never thought of him as some smooth, savant-like political operator. He's not. He's smarter than the average movie star, but that's a low bar. I would even bet that Amal is smarter than George. And that's what makes me think that this won't last. George doesn't like or need for his girlfriends to be smart. He likes being the clever one in relationships.
Photos courtesy of Getty, WENN.