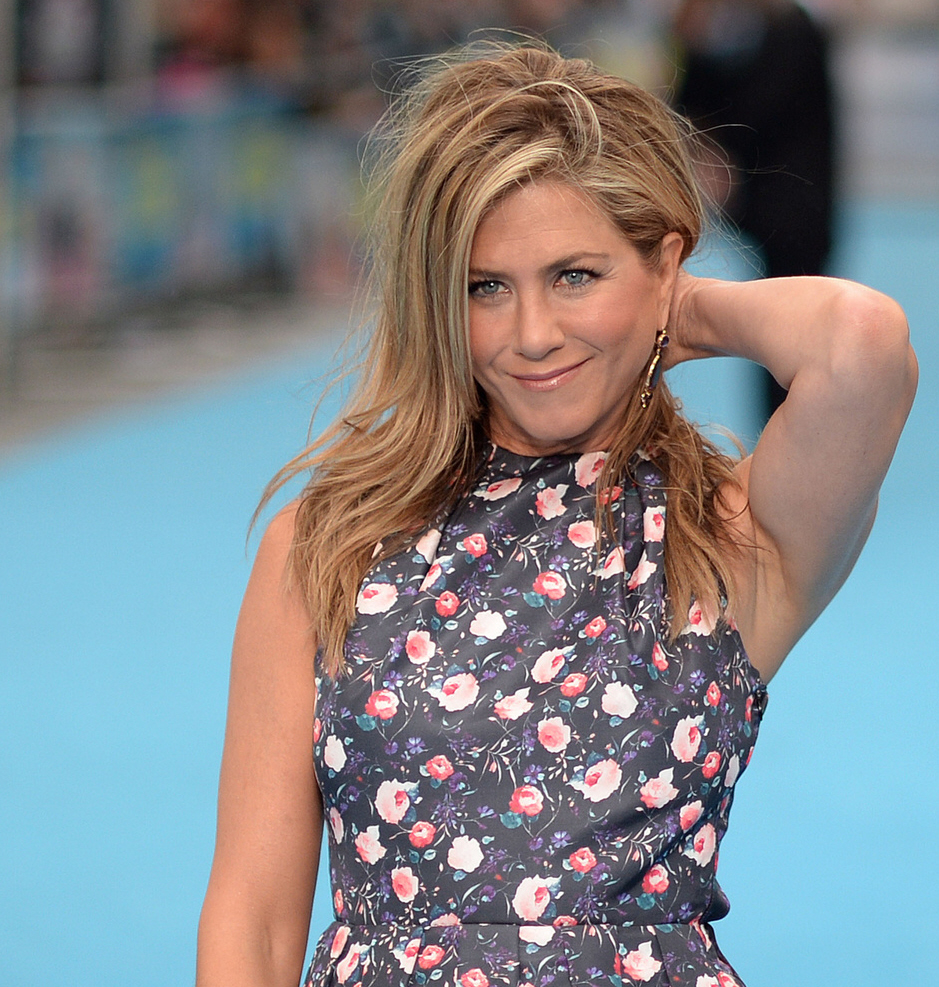 It feels like every interview Jennifer Aniston has given over the past year has been in some way an undercover testimonial/advertisement for one of more of her endorsement deals, whether it's Aveeno, SmartWater or Living Proof. Sister's gotta pay for those Cabo vacays somehow, so I don't fault her for hustling. What does bother me though is that it's like we're not supposed to realize that these interviews are basically an embedded advertisement. Jennifer could not get away with this kind of thing on network TV (hopefully) – any network with a real news division has hard-and-fast rules about celebrity endorsements under the guise of entertainment journalism, as in Jennifer could not go on the Today Show and wax rhapsodic on the joys of Aveeno. Luckily (or unluckily), E! News does not have those same rules. So, here is Jennifer's new "exclusive interview" with E! – it's all about skincare and Aveeno, shock. This is the full article published on E!, and you can see the video here. Count how many times "Aveeno" comes up in this article:
Jennifer Aniston is known for quite a few of her physical attributes—her super-fit bikini body, her glowing skin and—of course—her hair, which fans have been obsessing over for years. But rest assured, the 45-year-old actress gets by with a little help from her friends, i.e. some really good beauty products. In fact, they're so good, Aniston's fiancé, Justin Theroux, has trouble sticking to his side of the sink.

"It's hysterical. What product doesn't he try to hijack?" the Aveeno brand ambassador laughed during an exclusive interview with E! News' Catt Sadler. "He's good to his skin, that's for sure. It's always, 'what are you using, what is that?' It's cute."

"He does have good skin," Sadler said of Aniston's longtime beau, who popped the question in the summer of 2012. . And Aniston agreed that Theroux has a pretty fine face, with a beard or without. "He's got gorgeous skin," she agreed. "Perfect skin."

Aniston said that she also shares the Aveeno love with friends, such as close pal Chelsea Handler. "I always share, especially with Chelsea," she smiled.

The We're the Millers star, who snagged an MTV Movie Award nomination for Best Female Performance for her role as a smokin' hot stripper-turned-small-time pot smuggler in the raunchy comedy, says that her all-time favorite Aveeno product has to be the Daily Moisturizing Lotion. But it turns out, Aniston wasn't always so kind to her skin, as the onetime sunbathing fan readily admitted.

"The sun, I feel, is like my friend I've had to say goodbye to," she said ruefully. "I was terrible as a kid. It was baby oil [that she rubbed on her body]…I mean, we all did it."

Even now, she "would love to say" that she always wears sunscreen, "but that would be a lie."

We appreciate the honesty—it's tough to stick to the ole regimen every day! But moving on to that famous hair of hers, Aniston said that her mane man, Chris McMillan, "is always yelling at me to stop coloring my hair—and to cut it. So that's his fault."

Well, she must trust his advice, because she did step out with a chic long bob in November. Asked whether he might want Aniston to go Miley Cyrus-short, she just said, "He likes to cut it. He's a hair-cutter." (Aniston is a Spokesperson and Co-Owner for Living Proof hair products.)

Aniston will continue to share the Aveeno love Monday at 12:01 a.m. when the mini-movie "The Beauty of Nature," narrated by Aniston, premieres on YouTube.

"It was actually to educate people and inform them on what goes into the product," she explained. "For me, I've been using [Aveeno] for so many years, since I was a teenager and it just always worked."

As for the video, "it's so mini it's actually a minute-and-a-half mini," she laughed. "I don't know what festival would take that short of a film."
Aveeno mentions: five in the print article. Living Proof mentions: one. So, let's talk about skin. I actually feel the same way about Aniston as I do about Gwyneth Paltrow representing a skincare company: why? I'll give Aniston the hair thing: she's known for her hair, for sure. She can represent all the haircare companies she wants. But why do skincare companies keep hiring women like Aniston and Goop who aren't really known for having gorgeous skin?
As for the stuff with Justin borrowing her products… sure. But Justin has been pap'd going in and out of specialty boutiques for perfumes, colognes and the expensive, not-sold-in-CVS skincare stuff. I think Justin is off-message in his personal life.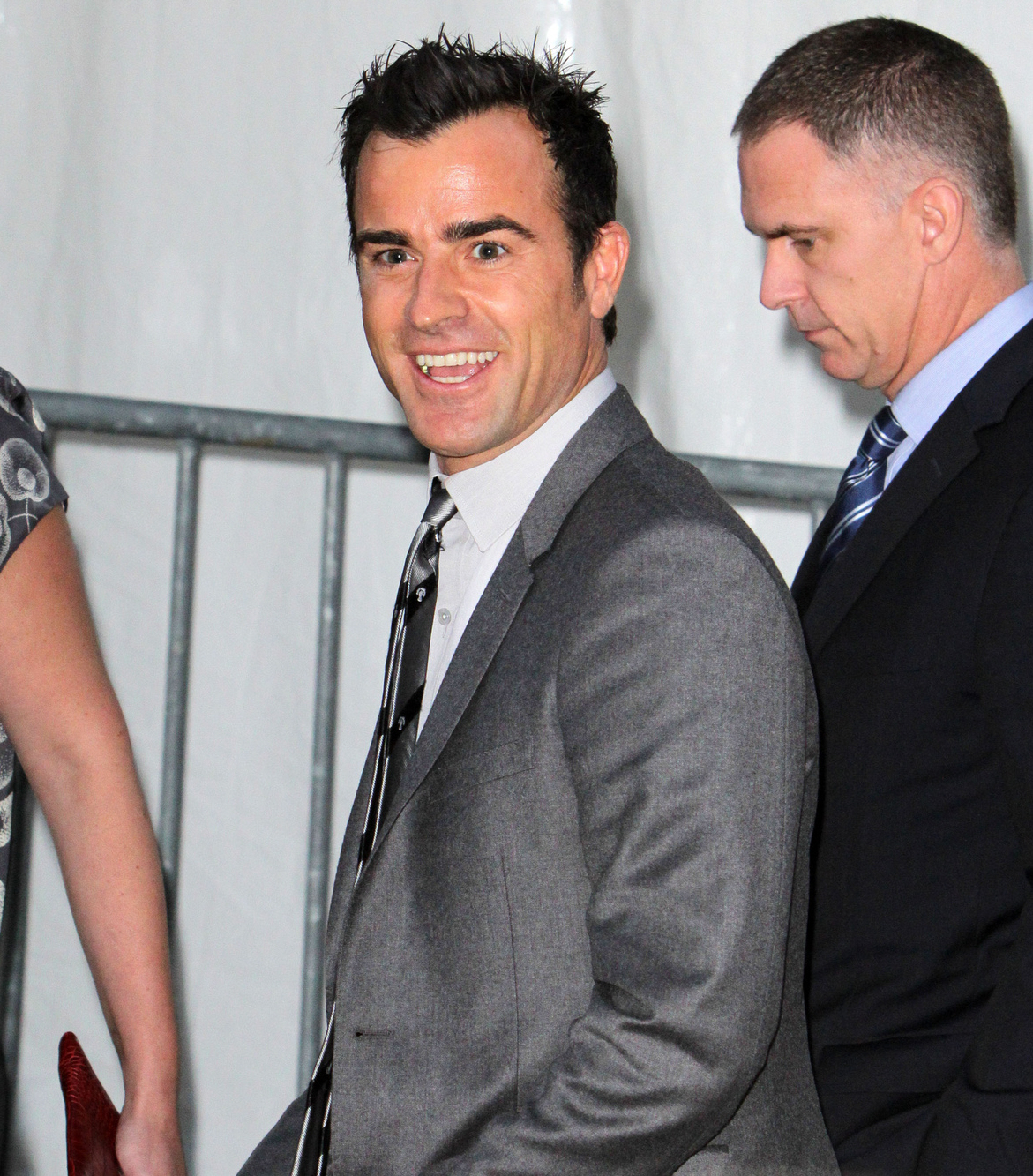 Photos courtesy of Getty, Fame/Flynet and Pacific Coast News.