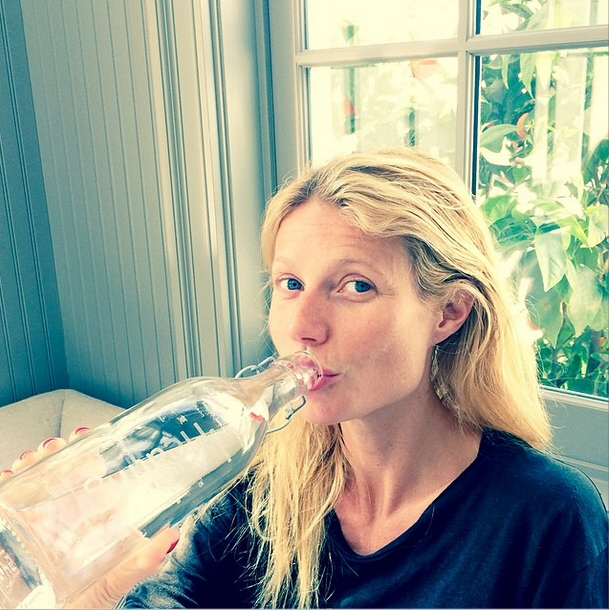 I guess E! News is the place to go for all of the "brand ambassadors" to do infomercials these days. Jennifer Aniston got to do an Aveeno infomercial over the weekend, and now it's Gwyneth Paltrow's turn. Goop is representing Restorsea (and Hugo Boss, but that's another story) and so – much like Aniston – we are gifted with an endless parade of quotes about skincare. The funny thing is that Aniston is so much better at this whole "relating to normal people" thing. I know Jennifer sips mojitos that probably cost $75 a swig, but Aniston is, at heart, a relatively normal person who simply enjoys luxury and expensive everything. Gwyneth in not "relatively normal" whatsoever. Dame Goop swills coconut oil! (Note: Shailene Woodley was talking about this last week too, so it's the new thing in celebrity circles.)
Discovering Restorsea: "It was sent to me. I get a lot of things sent but this one stood out. I loved the smell; it wasn't floral, which I find off putting. I started using it and noticed a difference quickly in my skin tone. When looking into the company more, I learned it was started by a woman…I loved that it was a woman! I am all about that, ways to empower women. We call it the "Fempire" here in the Goop office. I won't ever endorse anything I don't fully believe in."

The importance of natural products, but not exclusively: "I really think it's important. I will rely and have relied on things in the past that aren't 100 percent natural—like if you are going get lasers to get rid of sunspots, that's not a natural product. So I always think a mix is good, but it's very important that what you put on your skin is natural, because it's so readily absorbed into your system and there are so many unregulated chemicals in our products—more so in America than any other country, and so I always try to look for natural or organic product."

Her minimal daily skincare: "It's very minimal. After I drop my kids, I always exercise and then I take a shower and I basically just put on moisturizer—and that's kind of it. If I have a meeting or something I'll put on some mascara, but that's as far as I go. No, I just I never do [foundation]. I've been getting my makeup put on for me since I was 20 years-old, so I never learned how to do it, and I'm really bad at it."

Exercise tips for peasants: "I believe, for me, doing some cardio vascular exercise everyday is really good for my skin for detoxification and skin tone and color. I do the Tracy Anderson method, so I dance for an hour."

"Oil-pulling": "I use coconut oil a lot I do on my face, on my skin and in my cooking. And I just started "oil puling," which is when you swish coconut oil around [in your mouth] for 20 minutes, and it's supposed to be great for oral health and making your teeth white. It's supposed to clear up your skin, as well. It's really interesting; it's an ancient, ancient technique. I read about it on the Internet."
Gwyneth also talks about Goop a little, saying that the site is undergoing a redesign and how she likes growing Goop slowly, which… I think I've said before, I have to give her some credit for Goop. We all made fun of her and her silly lifestyle site and now all of these celebrities are copying her (Blake Lively, Reese Witherspoon, Jessica Alba). For what it's worth, I think Goop's growth has been organic, and the success of Goop will be difficult to replicate, although I can't wait to see the glorious mess that Blake Lively and Reese Witherspoon come up with.
As for this oil-pulling nonsense… I think it's funny that Gwyneth just sits at home, Googling weird beauty/skincare tips to try. I've never heard of the coconut oil swilling thing, but whenever I plead ignorance of this stuff, so many of you yell at me. Yes, I'm terribly middle-class and peasanty. I wash my face with soap and water and I drink lots of water to improve my skin's overall health. HOW GAUCHE.
Photos courtesy of Getty, Goop's Instagram.