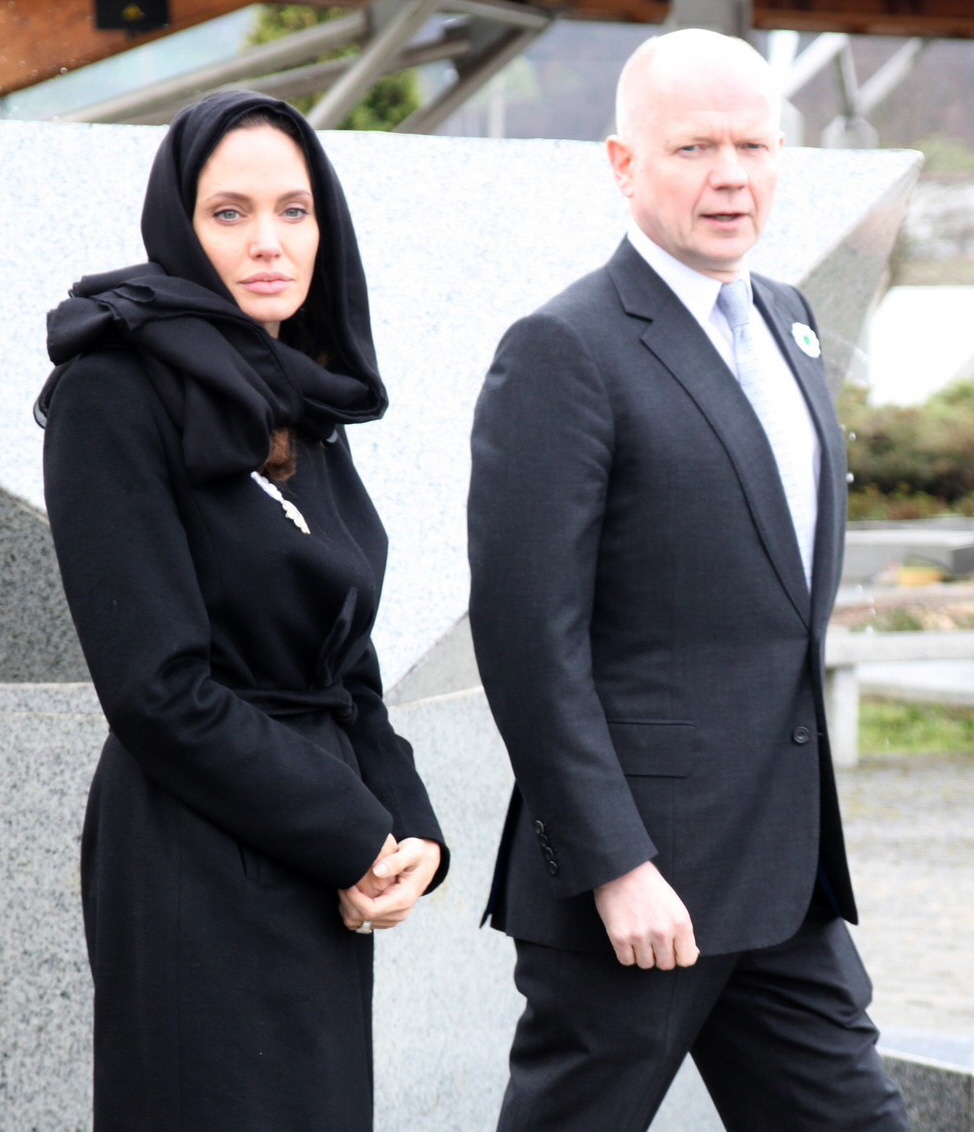 As I promised yesterday, here are some photos of Angelina Jolie and UK Foreign Secretary William Hague during their day-and-a-half long trip to Sarajevo, Zenica and Potocari. Jolie and Hague had a lot on their docket after they left London (where Hague had a drinks reception for Jolie, then a private dinner, then he took her to Downing Street for breakfast). Jolie and Hague flew in to Bosnia last Thursday, where they met with Bosnian leaders, rape survivors, and the NGO workers who try to find justice for those survivors. This was all part of Hague and Jolie's years-long campaign to put a renewed focus on warzone rape. Here's more from The Guardian:
Angelina Jolie has paid tribute to the victims of the 1995 Srebrenica massacre after urging the international community to stop the use of sexual violence as a war weapon. Jolie was accompanied by the British foreign secretary, William Hague, while on a trip to Bosnia. At the Srebrenica memorial centre museum, Jolie and Hague met women who were raped during Bosnia's 1992-95 war, as well as women whose beloved ones were killed in the massacre.

Dressed in black, with a black headscarf to respect customs of Muslim women when they go at a cemetery, Jolie laid a wreath in front of a stone monument for the victims. She then walked alongside a wall on which the names of more than 8,000 people who were killed are written.

After capturing Srebrenica on 11 July 1995, Serb forces executed more than 8,000 Muslim men and boys. More than 6,000 massacre victims, whose remains were found in mass graves, were laid to rest at a memorial cemetery in the town.

Earlier on Friday, Jolie and Hague took part at a conference in the Bosnian capital on sexual violence in war, organised by the Balkan country's defence ministry. Jolie, whose 2011 directorial debut In the Land of Blood and Honey dealt with violence against women during Bosnia's war, urged peace missions around the world to make combatting sex crimes a priority.

"The use of rape as a weapon of war is one of the most harrowing and savage of these crimes against civilians," Jolie told the conference. "This is rape so brutal, with such extreme violence, that it is even hard to talk about it," said the 38-year-old, who is a goodwill ambassador for the UN refugee agency (UNHCR).

Jolie and Hague are due to co-host a high-profile summit on the same topic in London in June, which is expected to be the largest ever gathering of its kind, according to the British foreign minister. Hague said that today "sexual violence is used deliberately as a weapon of war" in the conflicts in Syria, Central African Republic and South Sudan. He said: "I hope we can all work together to prevent the horrors seen in this region from being repeated in future conflicts anywhere in the world."

About 20,000 women, mostly Muslim, were raped during Bosnia's inter-ethnic war in the 1990s, according to local estimates. So far only 33 people have been convicted for the crimes by local courts and 30 by a UN war crimes tribunal in The Hague.
Jolie and Hague were also there to praise Bosnia's new initiative to include sexual violence prevention training in Bosnian military training (which, frankly, America needs to do as well). Angelina cried during some of the meetings they had, so it's nice that her new boyfriend was there to comfort her. You know I'm only joking, but I do wonder what Brad thinks of Angelina's close friendship with a man like William Hague. I also kind of wonder what Hague's wife thinks too.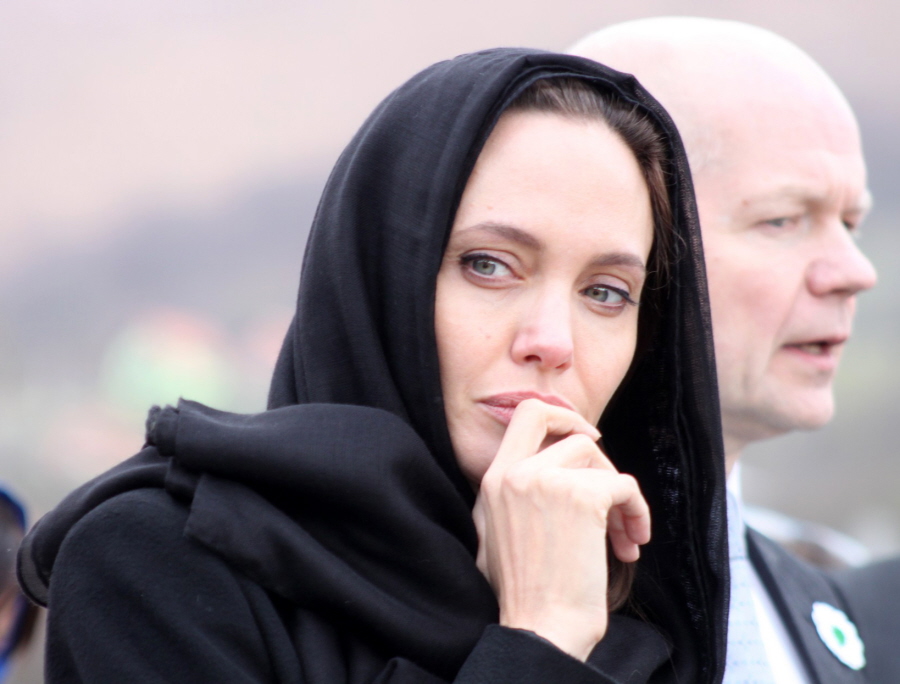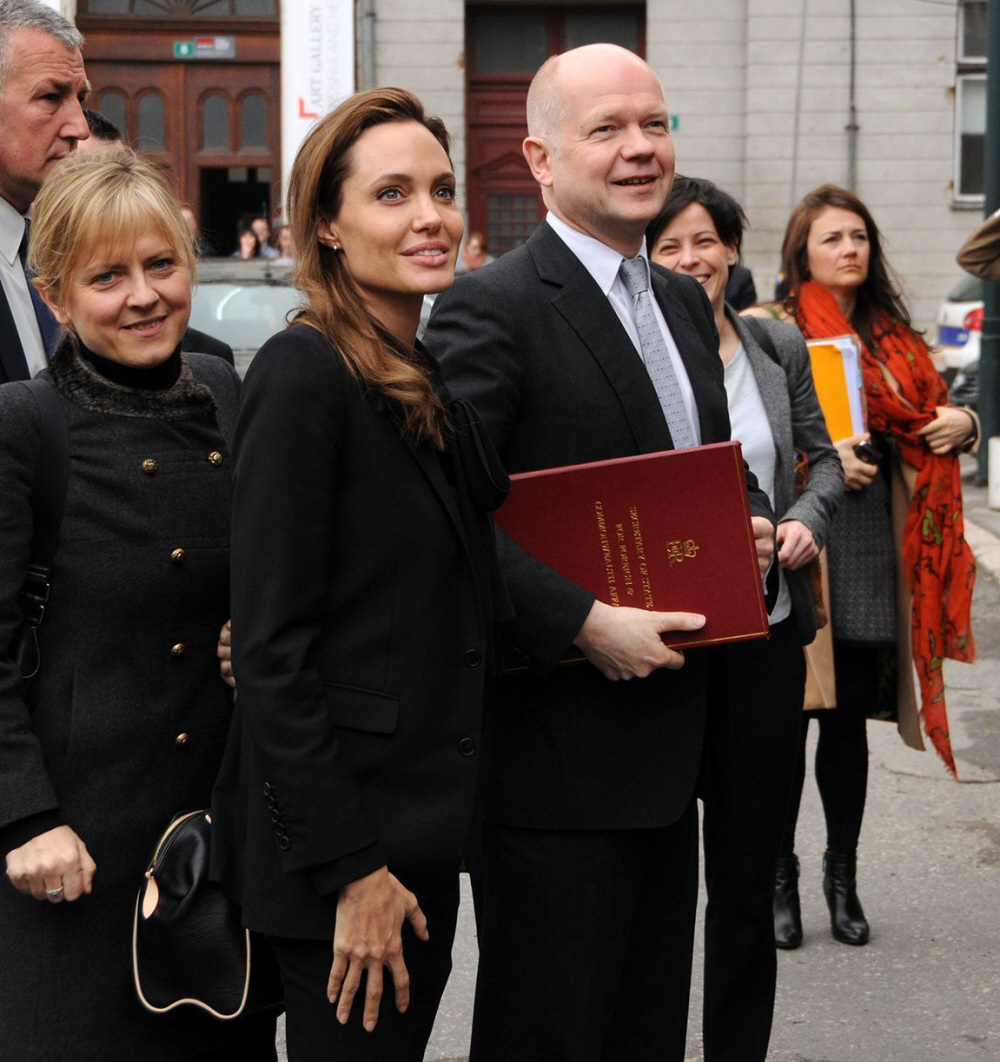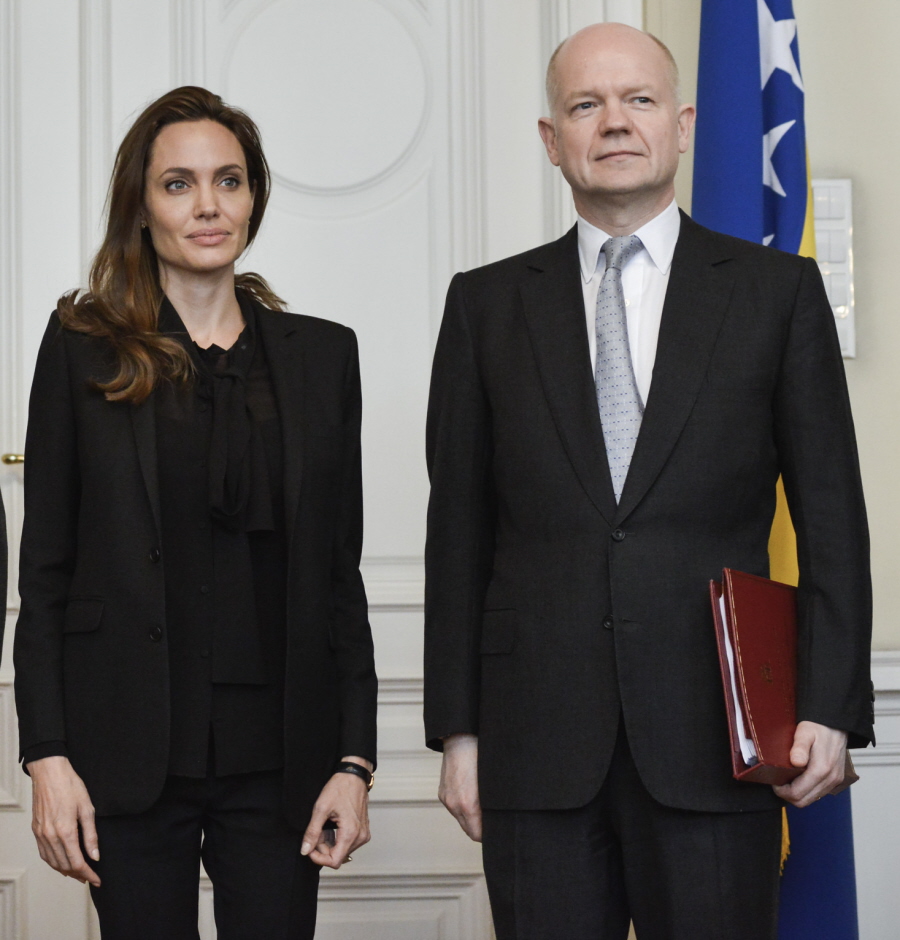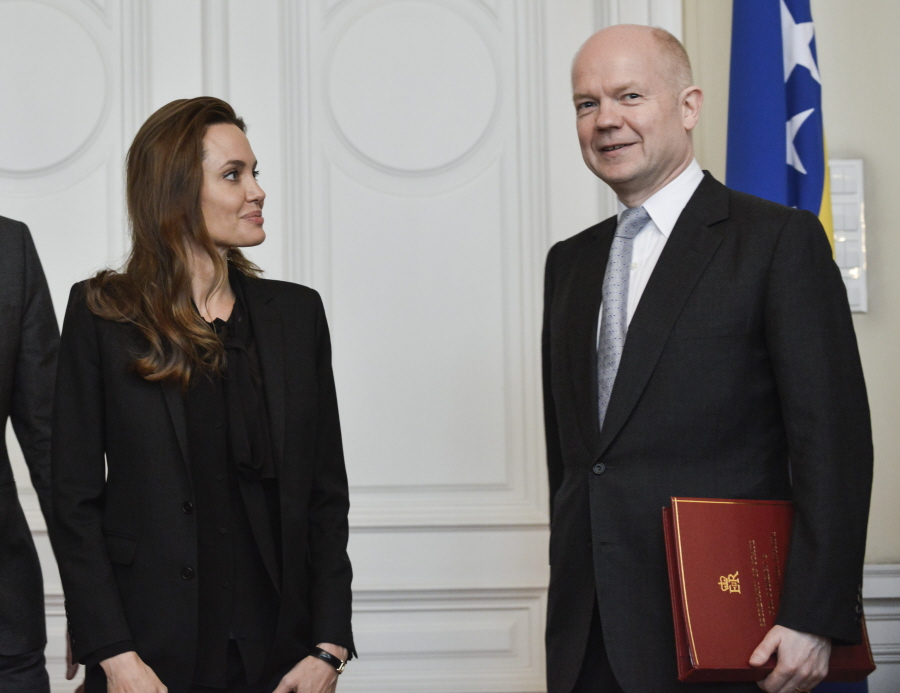 Photos courtesy of WENN.