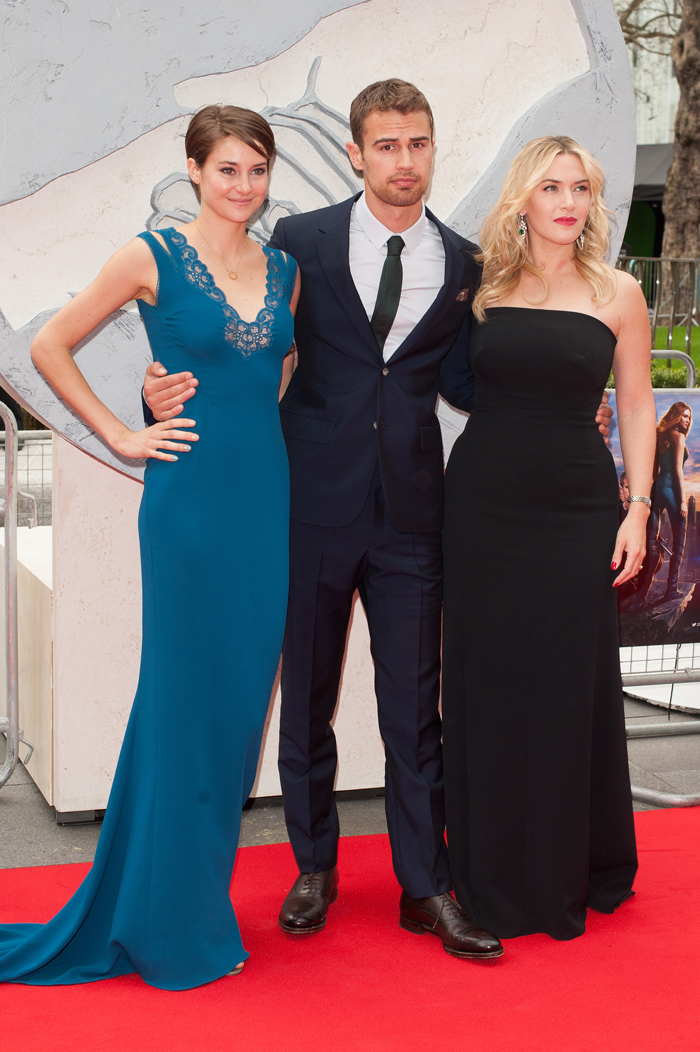 Here are some photos of Shailene Woodley at the UK premiere of Divergent. She's wearing a blue Stella McCartney gown with a deep v-neck and cut-outs in the back. This design is unforgiving for all but the slimmest of bodies. Shailene has the body for this dress (any dress, really) even though she's gone too mature yet again. She's a 22-year-old young woman who's promoting a young-adult film franchise. I'm not sure why she's dressing like a 40-year-old screen siren. The fabric looks so cheap and nightgown-y. That's probably the crowning Stella touch on this dress. Stella usually designs dresses that look cheap. The gold armlet is a decent touch even though it doesn't belong here.
Kate Winslet went more classic with a black Jenny Packham dress. Kate looks exhausted, but I'll give her a break since she just had a little Bear baby. I've also included photos of author Veronica Roth and Theo James (who still does nothing for me). Here are some excerpts from a few new Shailene interviews. She clears up the mysterious cellphone issue. There's plenty of hippie-chick goodness to be had with these excerpts:
That phone? Not hers. "I haven't left any trails. I'm just moving around, staying with different friends. I live out of a suitcase by choice. I've never really wanted possessions or stuff. I even got rid of my phone although now I have one again," she says wryly, holding up the cell phone that Summit Entertainment insists she carries while conducting a month-long global press tour.

Why a film franchise? "Money has never been my motivation. With a big franchise like this, you commit yourself to three years of work. Also, you could see how it affected Kristen Stewart and Jennifer Lawrence and I just wasn't sure that's what I wanted. But I finally realised, 'Dude, I'm making a creative decision based on fear,' and that's not how I want to live my life. I want to feel empowered and to make creative decisions based on artistry, not fear. Yeah, that's right. Funny."

If the fame disappeared: "I am interested in herbalism and indigenous cultures and am just very passionate about the earth. I could live in the wilderness. At the moment I'm passionate about food and the process of growing it, eating it and seeing how your body reacts. I don't think I've eaten McDonalds since I was nine."

Shooting the ferris wheel scene: "It was such a special night. It was the third full moon of the year, and it was a supermoon, and supermoons are very powerful. So to watch it go across the sky as we were climbing up and down this ladder for 12 hours, it was magical. It was so romantic."

Divergent was her hardest movie to film: "I was in every single scene and worked every single day, so there was no time for breaks and no time for really anything but Tris for five and a half months straight, which was just emotionally tiring and intense. I love being physically active, but being physically active in costumes in 20-degree weather is very different than going on a hike in Los Angeles."

She took two months off before this tour: "I spent time with my friends and myself, to get to know this new chapter in my life. I feel like a woman for the first time. It's interesting going through these shifts where you feel like you have actually become the person that you wanted to be."
[From Independent & Hero Complex]
The part about the supermoon is hilarious! This girl provides so much unintentional humor. I (as a distant blogger) don't dislike her, but I doubt I could be friends with her in real life. She'd be too much to handle on a regular basis. She also wouldn't approve of my first-world lifestyle. When the apocalypse happens, I'll last long enough to outrun a few zombies. Then I'll die of dehydration. I do agree with her about McDonalds. That stuff is crap. Don't try and sell me on their iceberg lettuce salads with a few morsels of romaine.
Remember that discussion about Shailene's clay-eating habit, which she promises will remove all of the metals from your toxic bod? Doctors are speaking out to warn people against jumping on that bandwagon. Lest one ends up with an iron deficiency. Crikey.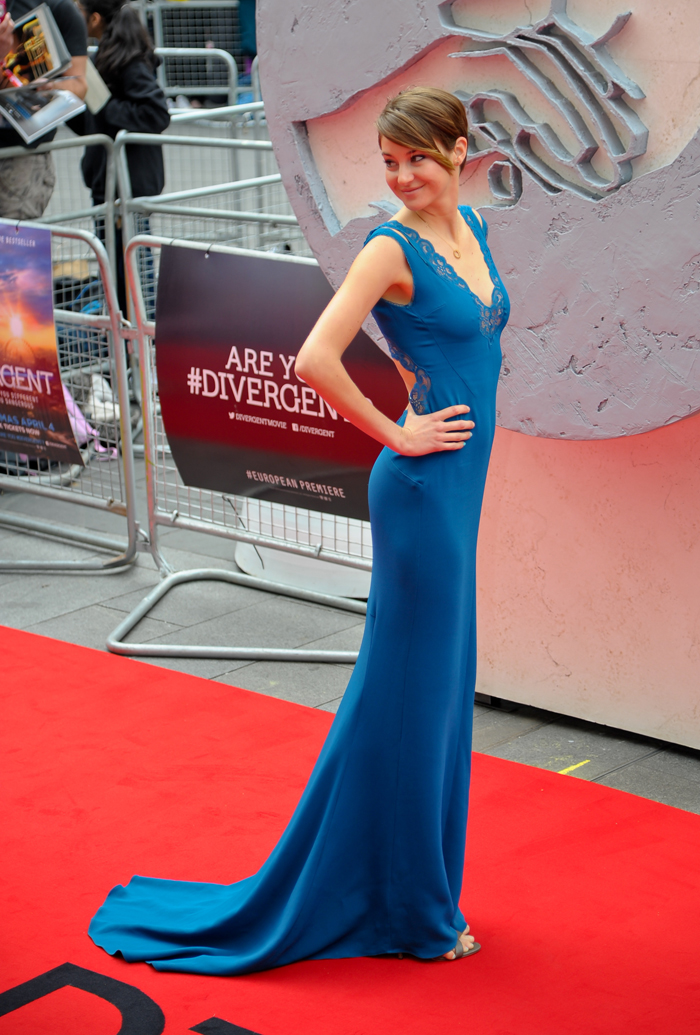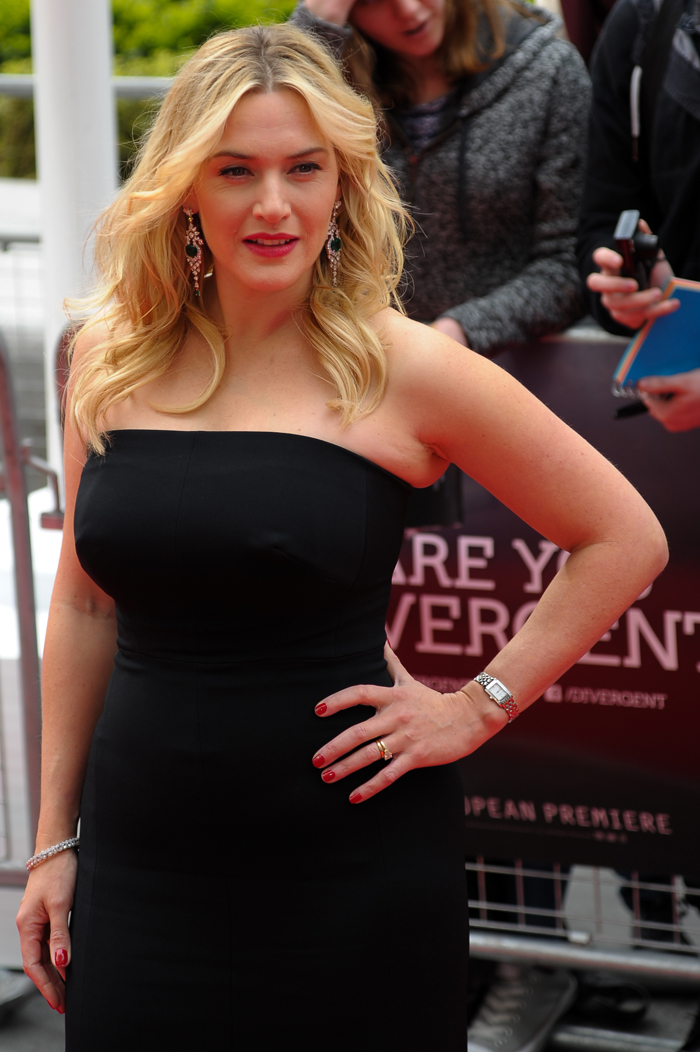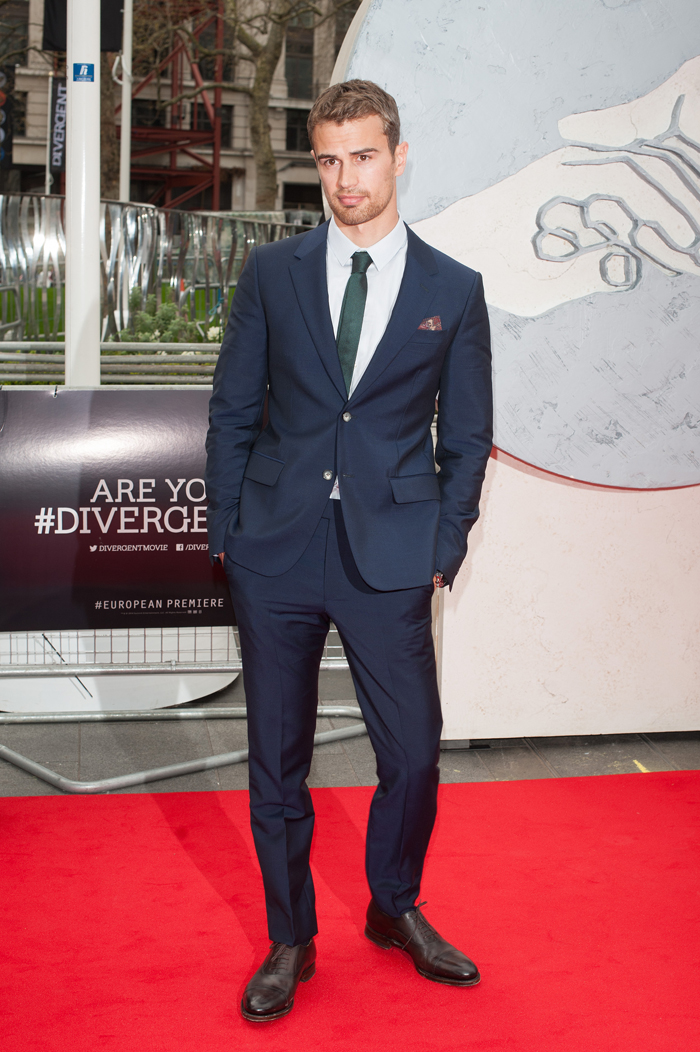 Photos courtesy of WENN