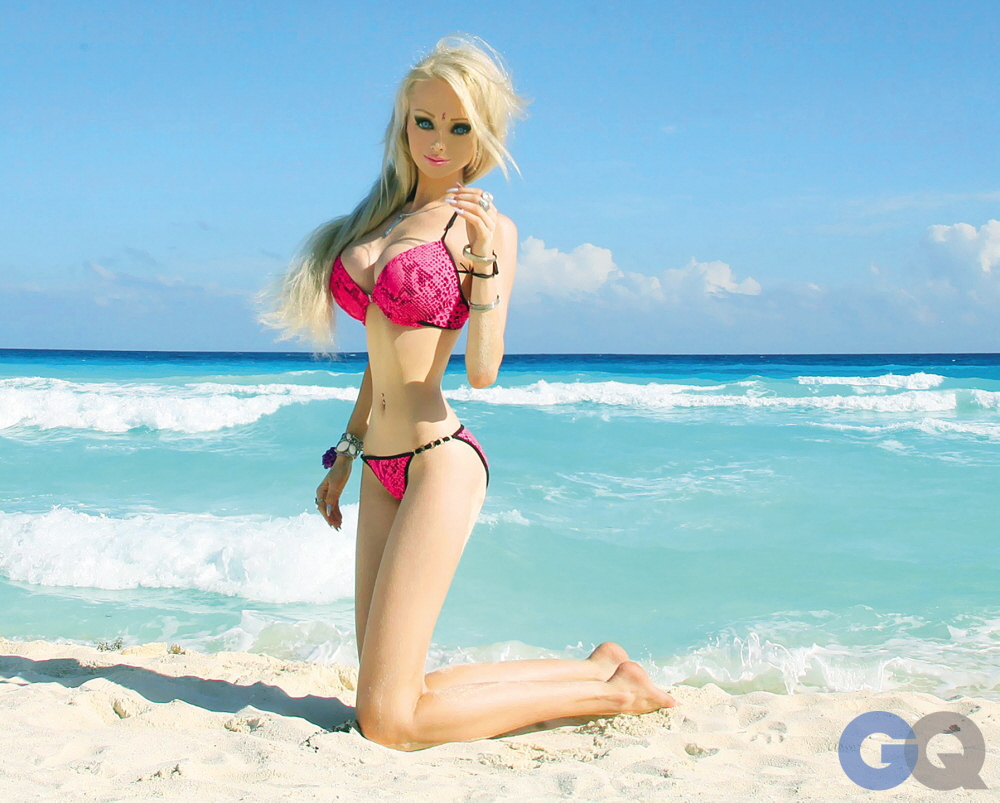 Back in November 2012, CB covered "the Human Barbie," this Ukrainian girl named Valeria Lukyanova who has had so much plastic surgery she looks like a blow up doll. Well, I thought it sounded familiar when GQ sent us this story. GQ basically sent a reporter to the Ukraine to meet and interview Valeria because… I guess there wasn't anything else going on in Ukraine, amirite? Anyway, I couldn't even get through the entire story because this whole thing is so… what's the word? The whole thing makes me feel queasy and gross, like by giving this poor crazy woman attention, we're feeding her need to exploit her own bad decisions. Here are some excerpts from the article:
The writer's take on Valeria Lukyanova, the human Barbie: "I realize that just like everyone reading about Human Barbie, I had had a simple narrative prepared in my head: A small-town girl grows up obsessed with dolls, etc. Instead, I get a racist space alien….Her brand-new hair extensions, the color of Chardonnay, hang straight down, reaching her nonexistent hips. Her mouth is frozen in a vacant half-smile; the teeth are small and almost translucent…It could be that the world and I have misjudged the Human Barbie in a fundamental way. Her steady drift from reality and into the twenty-first dimension is not about submissiveness, fame, or snagging a husband. It could be about finding a way out, however random, bizarre, and costly the route appears from the outside. It could be about gaining some measure of freedom."

Lukyanova on beauty: "Everyone wants a slim figure. Everyone gets breasts done. Everyone fixes up their face if it's not ideal, you know? Everyone strives for the golden mean. It's global now."

Lukyanova on why 'race-mixing' is responsible for the increase in plastic surgery: "For example, a Russian marries an Armenian, they have a kid, a cute girl, but she has her dad's nose. She goes and files it down a little, and it's all good. Ethnicities are mixing now, so there's degeneration, and it didn't used to be like that. Remember how many beautiful women there were in the 1950s and 1960s, without any surgery? And now, thanks to degeneration, we have this. I love the Nordic image myself. I have white skin; I am a Nordic type—perhaps a little Eastern Baltic, but closer to Nordic."

Lukyanova on having a family: "It's unacceptable to me. The very idea of having children brings out this deep revulsion in me… I'd rather die from torture because the worst thing in the world is to have a family lifestyle."

On feminism: "I'm against feminism. But what would you keep the children for? So they can get you a glass of water when you're on your deathbed?"
Wow, who would have thought that The Human Barbie would be racist? Good lord. I have to say this – I'm mixed race, so her comments hit me below the belt. But my dad always claimed (seriously) that mixed race children were the prettiest, so is that racism too? Eh, what does it even matter? Why even try to apply logic in this situation? This woman has issues.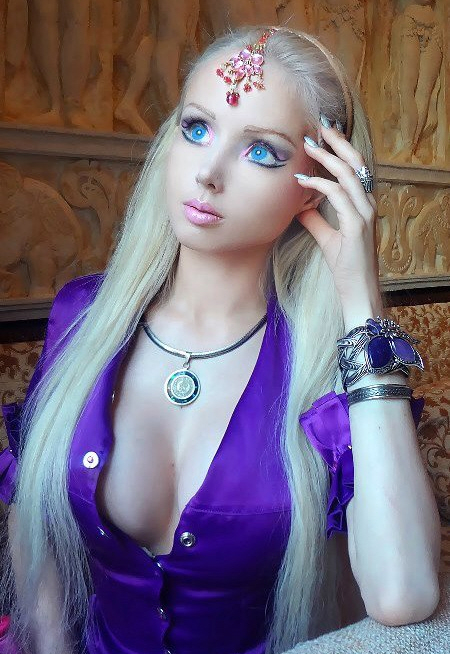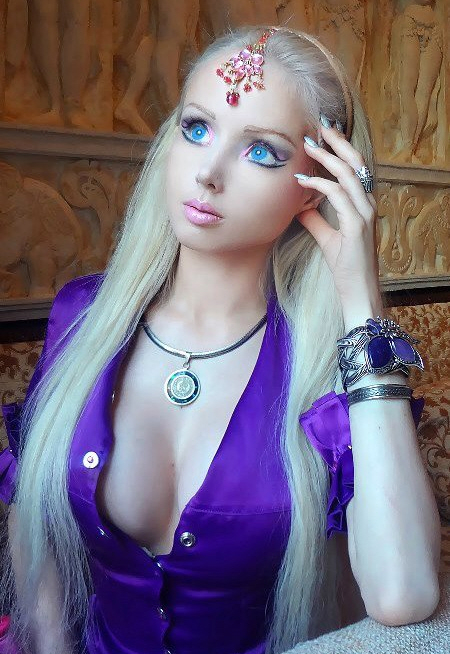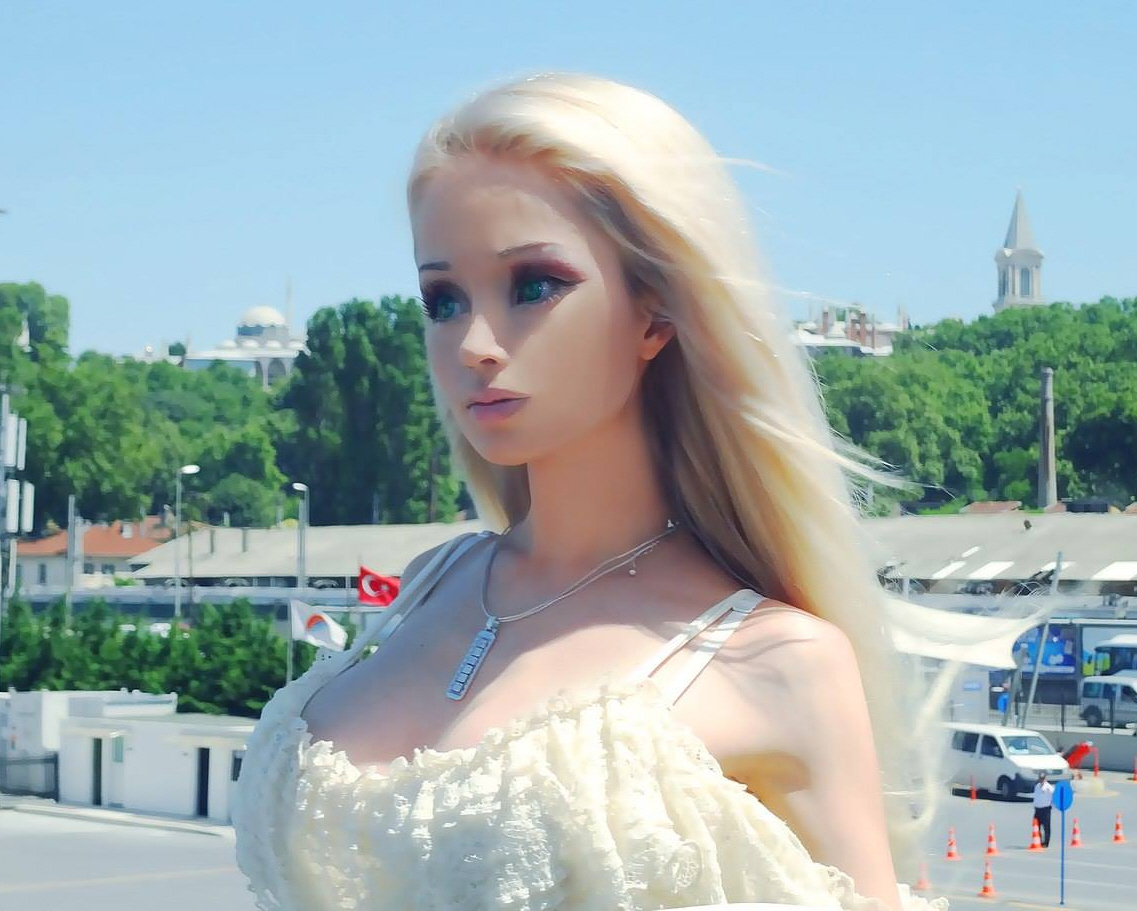 Photos courtesy of The Sun/GQ and her Facebook.