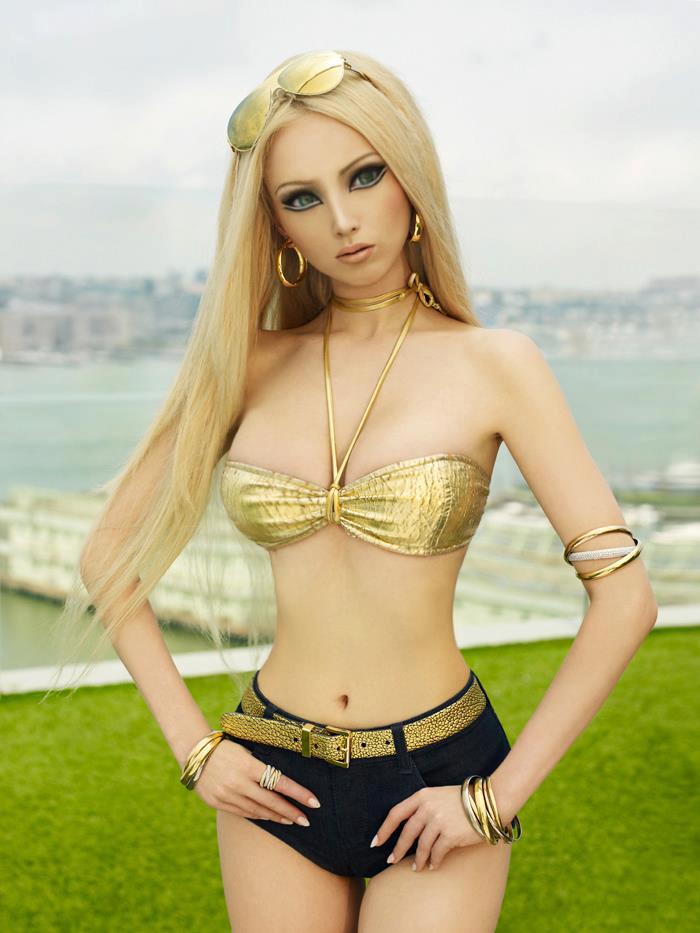 These are actual, supposedly unaltered photos of a woman named Valeria Lukyanova, a 21 year-old model from the Ukraine, who is being dubbed "Human Barbie" for obvious reasons. A Youtube video below shows (alleged) photos of this woman before her plastic surgery transformation and she's clearly had so much done that she's unrecognizable. I see a nose job, some very obvious bolt-ons, an eye lift, perhaps buccal fat pad removal in her cheeks (it's amazing the things I learn as part of my job) and some lipo. She's probably using corsets to achieve that tiny waist, and may have had ribs removed as well.
Here's the YouTube video of her "before," although it's hard to verify that this is the same person:

This woman is as strange as you would imagine, and claims she spends her time traveling outside her body through astral projection or something. She has a new photoshoot with V Magazine, which you can see here. She looks like a Real Doll. Here's part of the story, from Radar:
Ukrainian model Valeria Lukyanova, 21, is showing off her unnaturally tiny waist, large breasts, porcelain doll-like face, and long, flowing blonde mane in a new photo shoot for V Magazine, where it is hard to tell whether she is real or fake.

Following speculation as to whether she is even human or a result of careful photo editing, Lukyanova proves she is in fact a living, breathing person despite her out-of-this-world beauty regime.

"In the morning I work on my face and I get a massage, then I spend some time on the Internet. I meditate and travel in my astral body, and after that I work out at the gym. I go for a walk with my best girlfriend, I get home, and I make dinner for the man I love," said the girl from the Moldavian city of Tiraspol, who calls herself "Amatue" after the goddess of the sun.

"Then I spend some more time on the Internet, do some reading and meditating, and go to bed."

When asked if she considers herself to be a singer, model or an artist, she described herself as "a teacher at the School of Out-of-Body Travel."

As expected, there has been an outpouring of negativity directed against Valeria over her controversial body image, but she claims she only basks in positivity and light. "If people care about me, then I am on the right path. In real life, I never hear bad things," she claimed.

"People don't understand that it has nothing to do with looks. There are many good-looking young women, but why are they completely unknown? Because looks are just a bonus. If you spend time working only on your appearance and you forget about your inner self, people will not be interested in you because they will not feel anything," she said.

"Many people think you need only good looks to be successful, but it's not true—only spiritual work can bear tangible results."

While the outlandish model aspires to benefit people, she has been slammed for spawning a "Barbie flu" and inspiring other girls in the Ukraine to adopt fantasy, fairylike looks and lifestyle, reported Forbes.com.
As for the other women she's supposedly "influencing," she's also friends with a 19 year-old woman who calls herself Anime Girl, real name Anastasiya Shpagina. This is an actual photo, from Facebook, of the two of them together. CREEPY.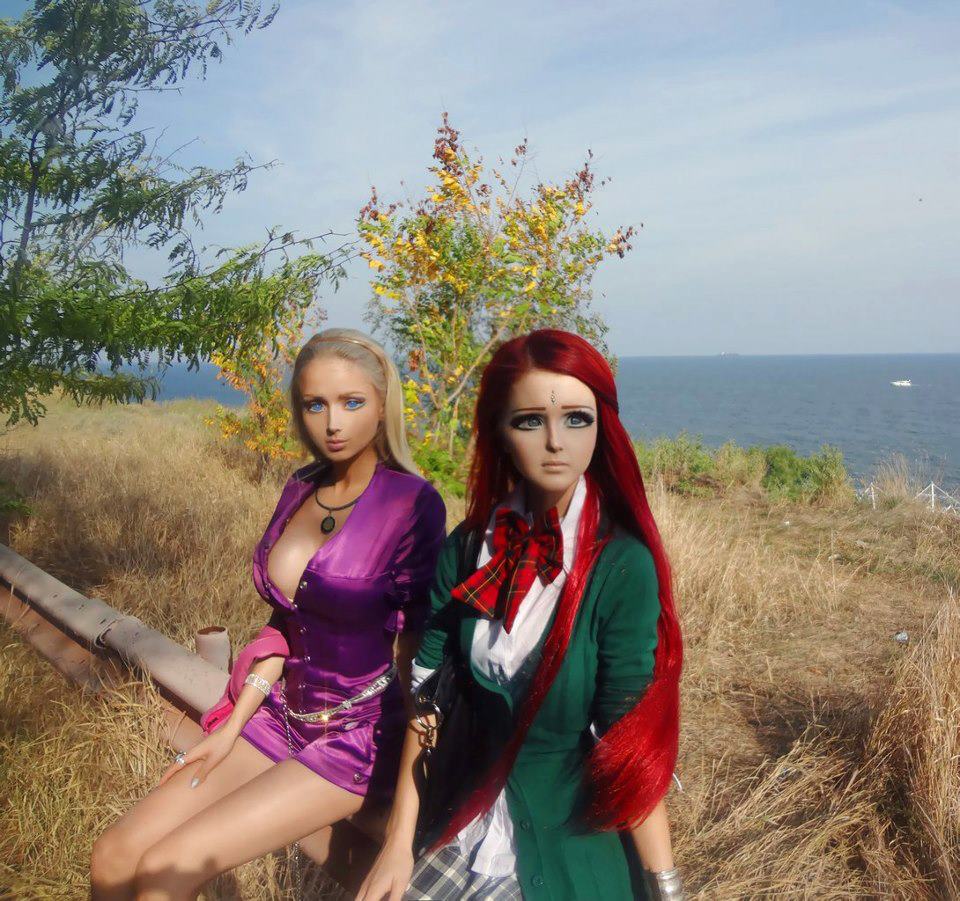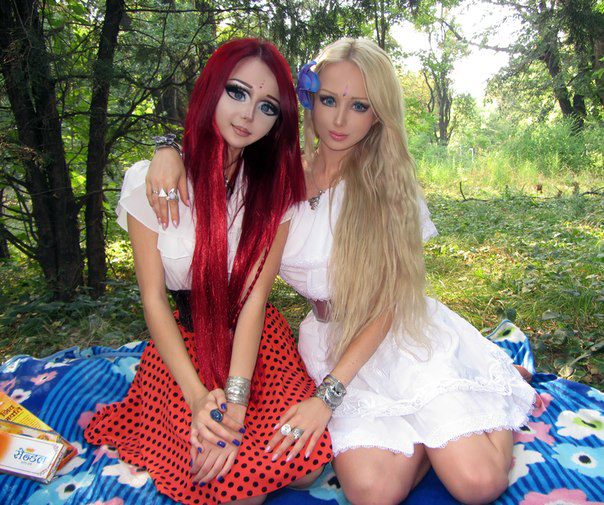 This is Valeria with a girl named Dominika 777, like a robot.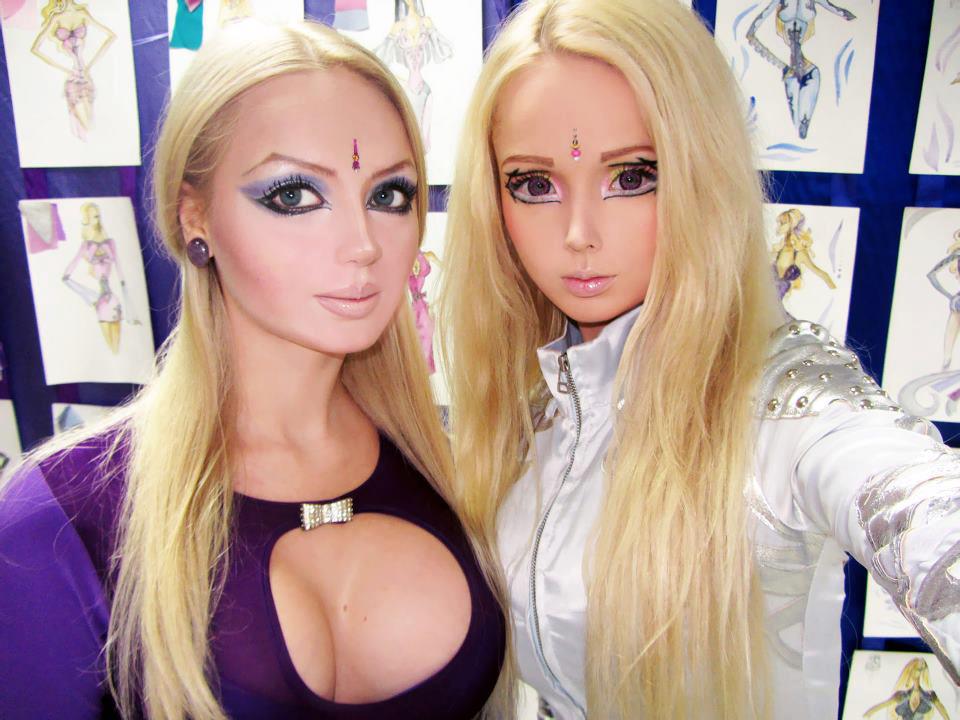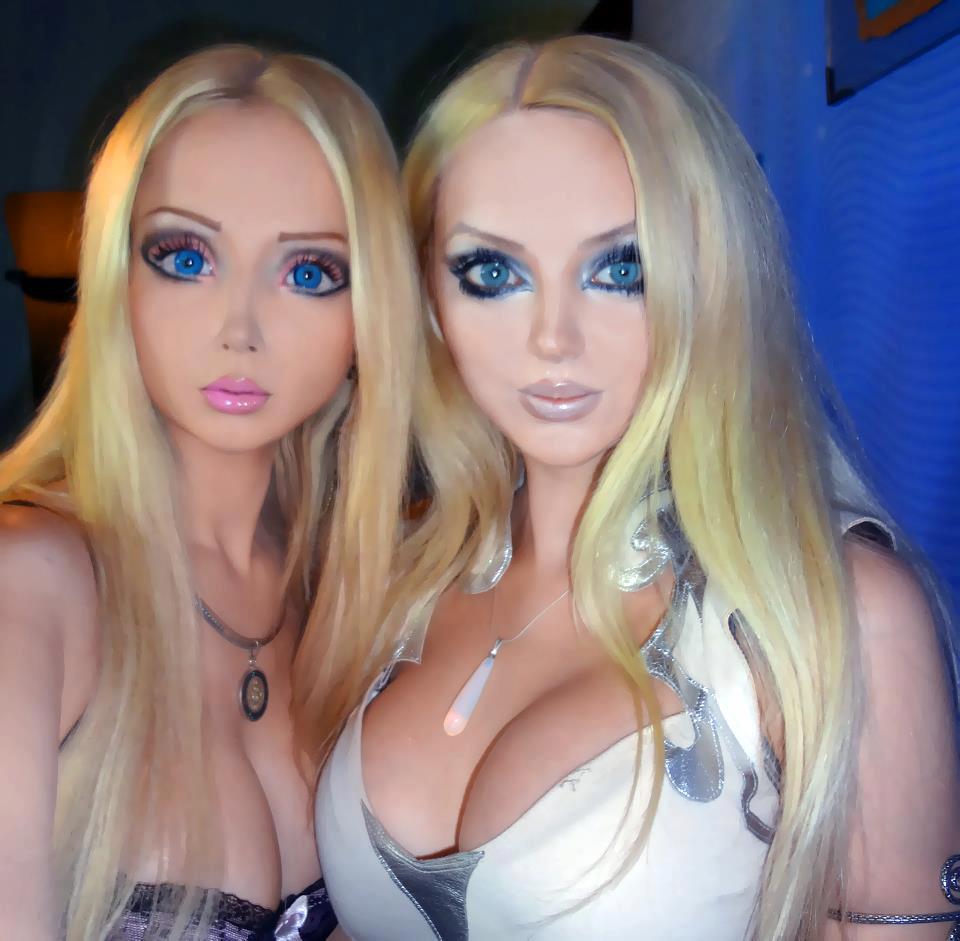 And here's what she supposedly looked like before. She looks like Paris Hilton, right? I bet Paris wishes she thought of this.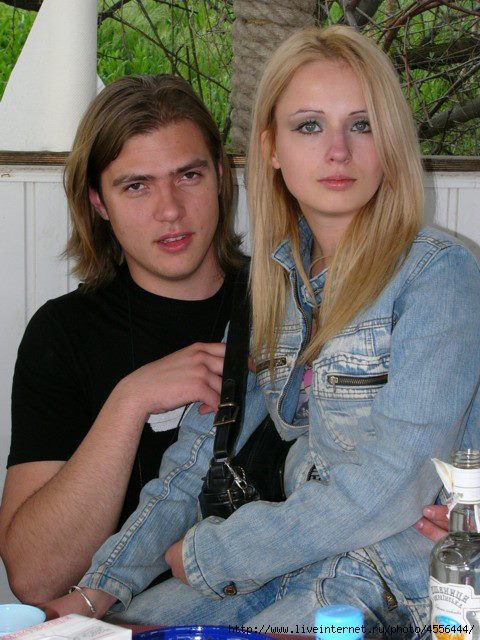 Here's what I'll say about this, and I said it about Heidi Montag too. This is some crazy body modification. This isn't like an impulsive ankle tattoo or a nipple piercing. This woman will be stuck looking like this for the rest of her life. I used to be goth when I was 19. Thank God my style evolved and I'm not stuck with more than a couple of dumb tattoos to permanently remind me of that period of my life. It's one thing to dress funky and use makeup to achieve a look, it's quite another to commit to it so thoroughly that there's no takebacks until you die. Maybe she can look "normal" with different styling, though.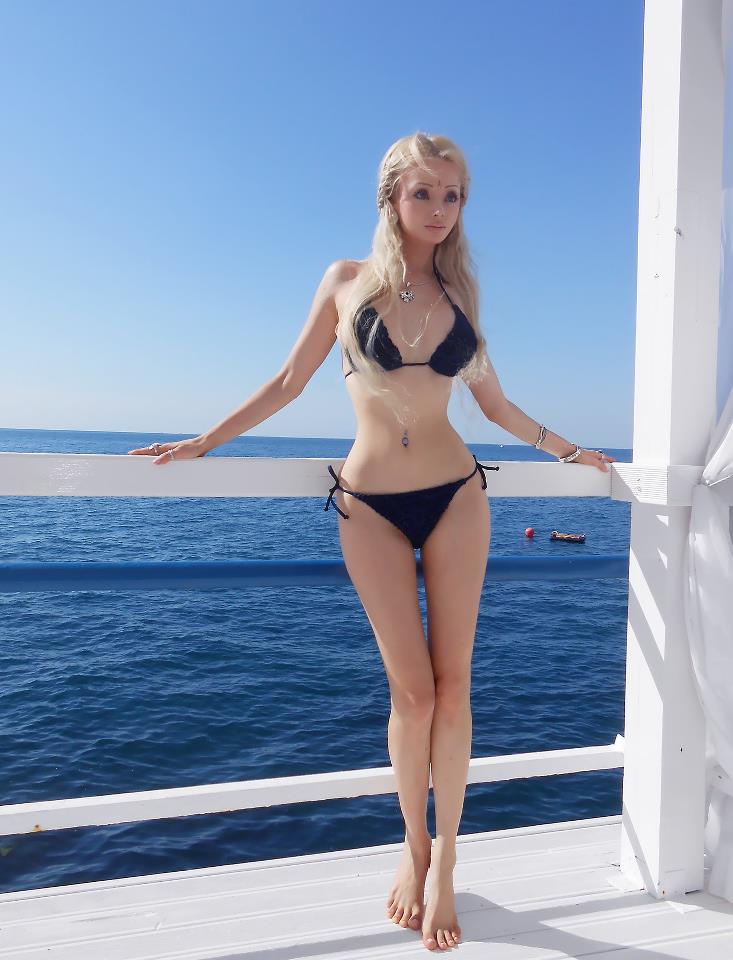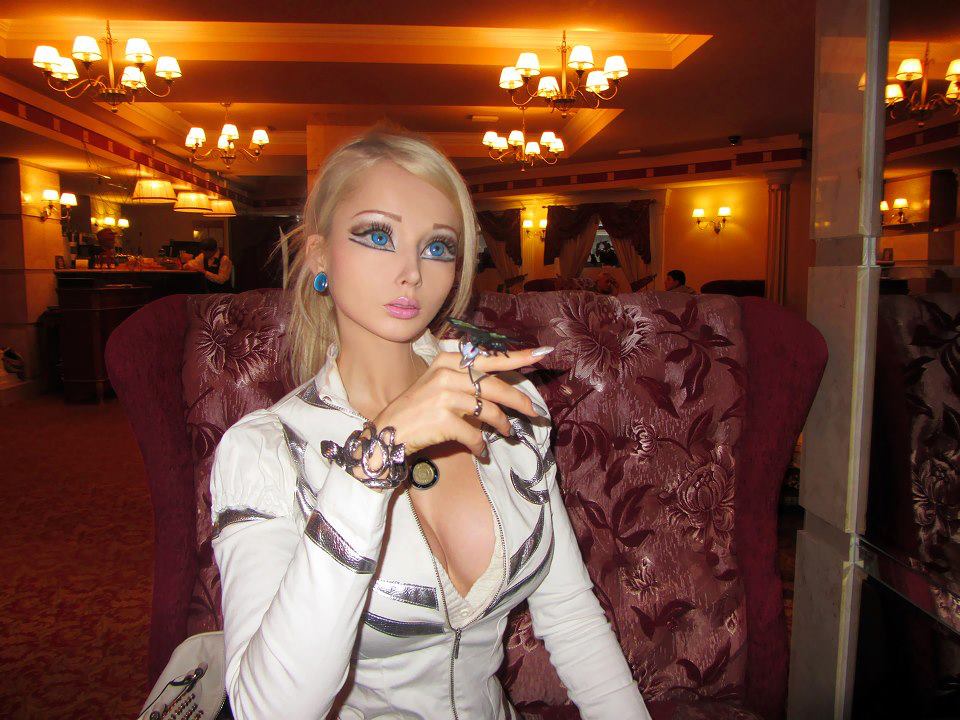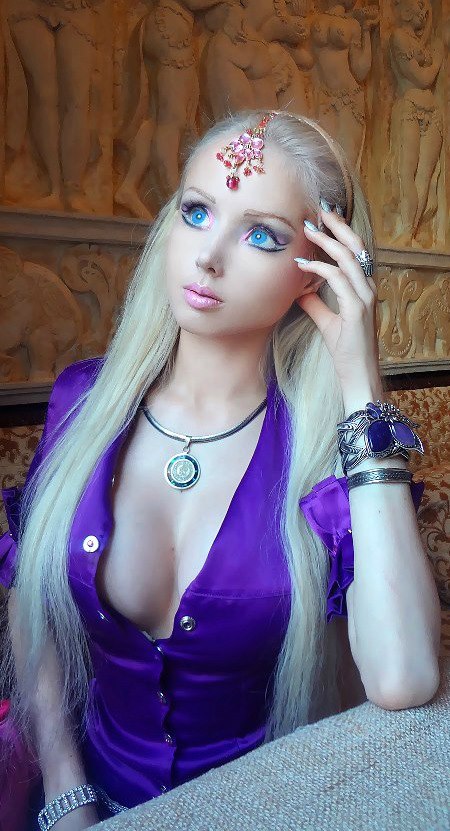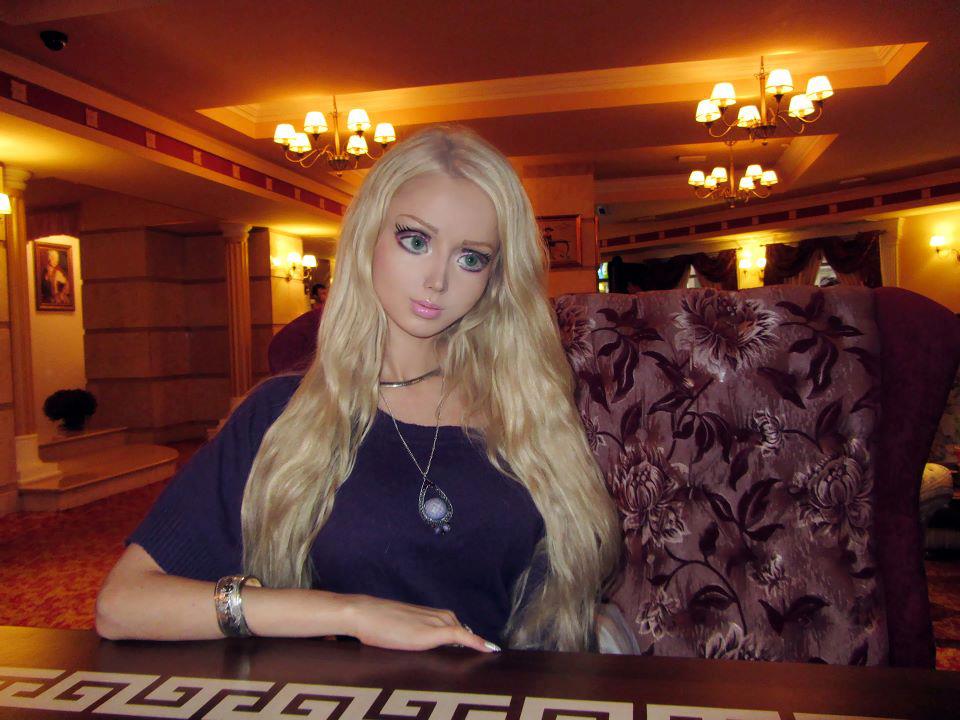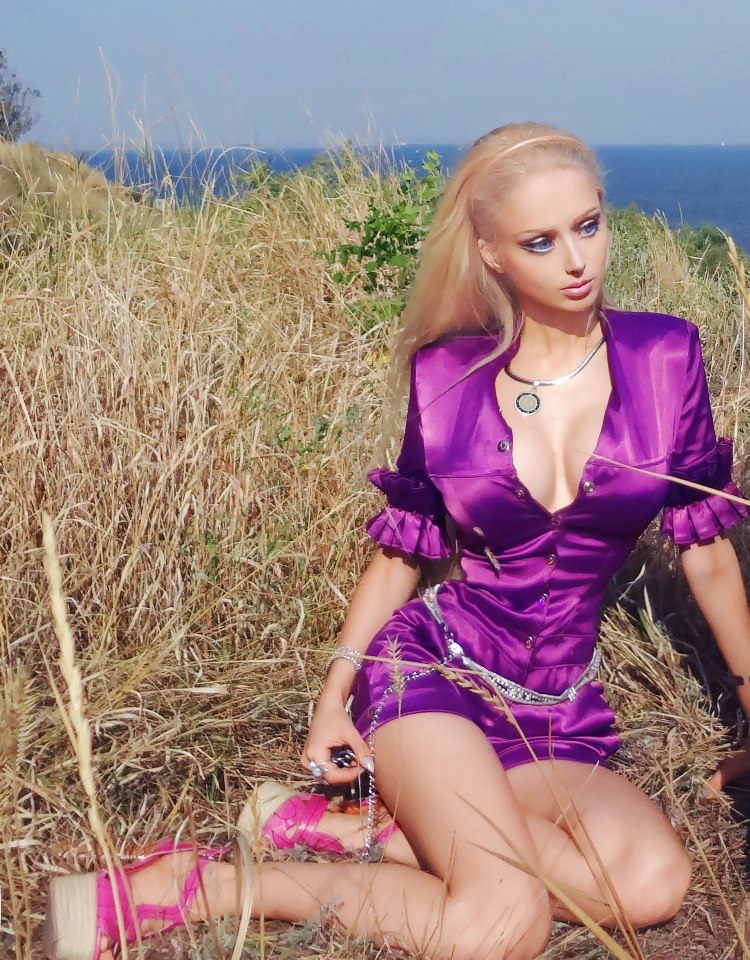 Photos from Facebook except for Header photo, which is credit V Magazine