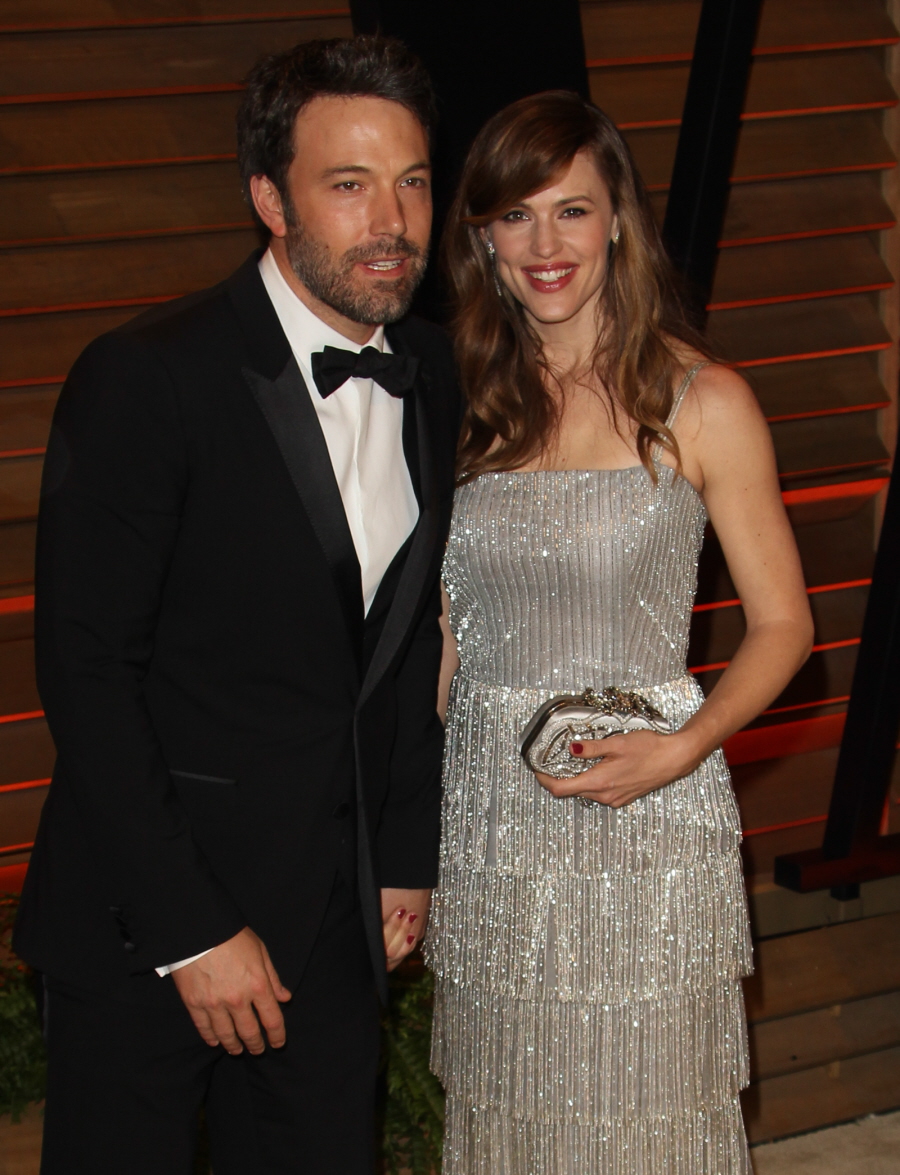 Ben Affleck is a big gambler and he's incredibly good at it, to the point where he legitimately won the California State Poker Championship in 2004. Affleck loves to gamble, and there have been rumors for years that his gambling poses a problem in his marriage to Jennifer Garner. So that's why I'm side-eyeing this report that Ben took Jennifer to Vegas with him for a "romantic break" before he's about to film Batman vs. Superman. That's like taking your non sports fan wife to the NCAA final four. That is not romantic, that is a guy pursuing a hobby by any means necessary. Still, at least Ben took Jennifer with him instead of leaving her at home, right?
This is news because Affleck was so skilled at the high rollers blackjack tables at the Hard Rock Hotel & Casino that he was reportedly escorted out of the establishment and banned from playing blackjack there for life. Affleck was suspected of counting cards, which is technically not illegal, just not allowed. Hard Rock officials deny that Affleck is banned and say he's still welcome, which we'll get to in a moment. First, here's what happened.
Actor Ben Affleck was banned for life from playing blackjack at the Hard Rock Cafe in Vegas ­after security officers busted him counting cards, a source told The Post Friday.

The Oscar-winning star had come to Sin City with his wife, actress Jennifer Garner, to spend some time together before he ­begins shooting a new "Batman" movie, where he plays the caped superhero.

"Ben was told that he cannot ever play blackjack at the Hard Rock again,'' the source said.

"He was there with Jen on Tuesday night for a romantic break before he headed off to Detroit to shoot 'Batman,' " the source said.

"He was playing blackjack at a high-rollers table on Tuesday and was doing pretty well. He is really smart and a great blackjack player.

"Suddenly, managers approached Ben and told him. 'You are playing too well. You are going to have to stop playing blackjack. You can play any other game at the Hard Rock, but you are banned from playing blackjack in our casino.' ''

The source stressed, "What he was doing isn't ­illegal. He's basically an 'advantaged player' because he knows what he's doing.

"He and Jen decided to leave, and security arranged for a car service to take them back to their hotel."

Although he's down for the "count,'' the hotel told him he's welcome back at the casino any time — as long as he steers clear of the blackjack table.
In light of this story, The Post has another article detailing Affleck's history of gambling huge sums of money. He's lost and won a bundle. There's also of course the scandal from a few years back over the multi million dollar underground poker ring that Affleck, Matt Damon, Tobey Maguire and Leonardo DiCaprio were said to participate in.
Radar got a quote from the Hard Rock spokesperson, who said that Affleck wasn't "banned from the property," which doesn't really specify if he's banned from blackjack as The Post claims. The spokeswoman said "Mr. Affleck, a valued guest of Hard Rock Hotel & Casino, is not banned from our property and is welcome back any time."
Radar also got ahold of an internal email which suggests that this isn't the first time that Affleck has drawn suspicions from higher ups at the casino. It was written by the Games Protection Manager, is dated April 22 and reads, in part "Ben Affleck (the actor) … Was informed that he was being way too obvious moving his money with the count. He was spreading $100 -10K on the double decks and $0-20K (2@10K) on the shoe games. As of now, he is still being allowed to play per casino management."
That's all a bunch of mumbo jumbo to me, but I guess it means that Affleck was winning too much money, and was too skilled at it, for the house to tolerate for long. It also says to me that he's been heavily gambling for a couple of weeks now at least. That's more than just a brief "romantic break." Still, at least Jennifer knows exactly where he is.
Thanks to Kaiser for the tip!
Photos courtesy of WENN, Getty