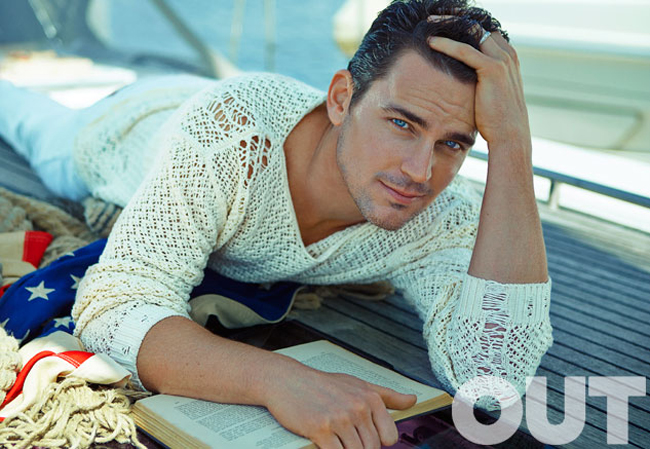 Matt Bomer covers the June issue of Out magazine. The feature shows Bomer in a nautical-themed shoot. We received a brief preview of the feature a few weeks ago when Details shot Matt to look like Josh Duhamel. In this shoot, Matt looks more like himself. At least he regains his piercing, baby-blue eyes. He's covering Out to promote his new "dream role" in HBO's The Normal Heart, which is based upon the autographical play by Larry Kramer that details the 1980s rise of the HIV-AIDS crisis. The film costars Mark Ruffalo. Bomer lost 40 pounds for his part in the movie, and he talks to Out about his pursuit of this role and how he prepared. Also important? Bomer talks about his wonderful husband, Simon Halls, and their three children:
His teen years: "I was relatively sheltered. It wasn't until I read Larry's work that I had any kind of understanding as to what was really going on in the world around me. It just lit this fire in my belly. I felt the need to let people know that this was going on. I probably stuck out like a sore thumb. I knew on some level, even if it was way on the periphery, that it was part of my story, too."

This is his dream role: "You're really lucky as an artist if you get a role that changes you as a person. It taught me how to access myself on a completely different level as an artist. And it blew my mind in terms of the level of unconditional love between Ned and Felix — my goodness, if these people could incorporate this into their lives, under their circumstances, why can't I? That's a pretty intense entry into anyone's understanding of their sexuality."

His training at Carnegie-Mellon: "I think it was the safest haven you could hope for, in terms of an environment, at a drama conservatory. But what was so profound to me was that a lot of my friends from Spring who had very specific religious beliefs were — and still are — some of my staunchest supporters."

His marriage to Simon Halls & their 3 kids: "It wasn't anything I really endeavored to hide. But a lot of stuff I would do would be these fashion spreads where there's one paragraph about you at the end. I don't care about that at all. I'm completely happy and fulfilled in my personal life."

Bomer's marriage ceremony: "It was very chill. Very small — only our nearest and dearest. There's a security, a validity of knowing that it's legal. It's hard to put into words. It's just a feeling, I guess — something about saying vows in front the people around you who love and support you. I think it was good for our family."

His career direction: "I'm so thankful to have been born in the times that we live in. I felt a responsibility to Simon and to our kids to be able to live with integrity and not have some strange split psychology of This is who my dad is at home, and this is who he is to the public. That trumped any type of professional repercussions that it could have had. And — not by my own volition or choice — I've been playing exclusively straight characters for the first 10 years of my career. Whatever happens from this point on says a lot more about the business and society than it does about me."

Things have (happily) changed: Being a father, he says, "just changed everything. There's a level of love that really dissolves a lot of egotism and self-absorption. I mean — don't get me wrong, I have my moments. But at a certain point in my life, my whole day would have been about this interview. Now it's a small part of a day that also includes a drop-off at school in the morning and baseball practice and a lot of other things that take precedence.""
[From Out]
Matt alludes to his role on White Collar, which has won him a loyal, basic-cable audience. Bomer's good in everything he does, but he finally found a role that he's passionate about with The Normal Heart. I still think Bomer would have made an ideal Superman, but he was reportedly passed over because he's gay.
When Bomer talks about his marriage being good for his family, it's hard to grasp how anyone could see it differently.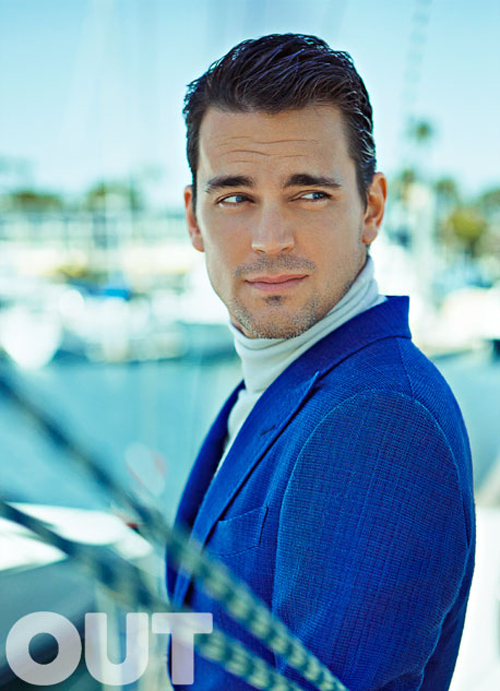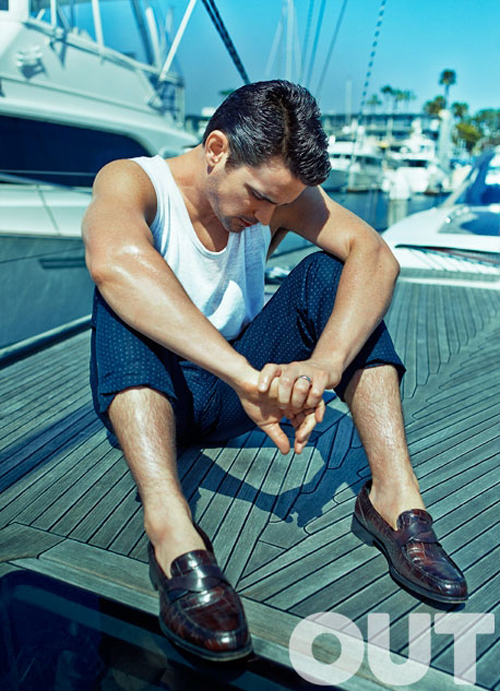 Photos courtesy of Out