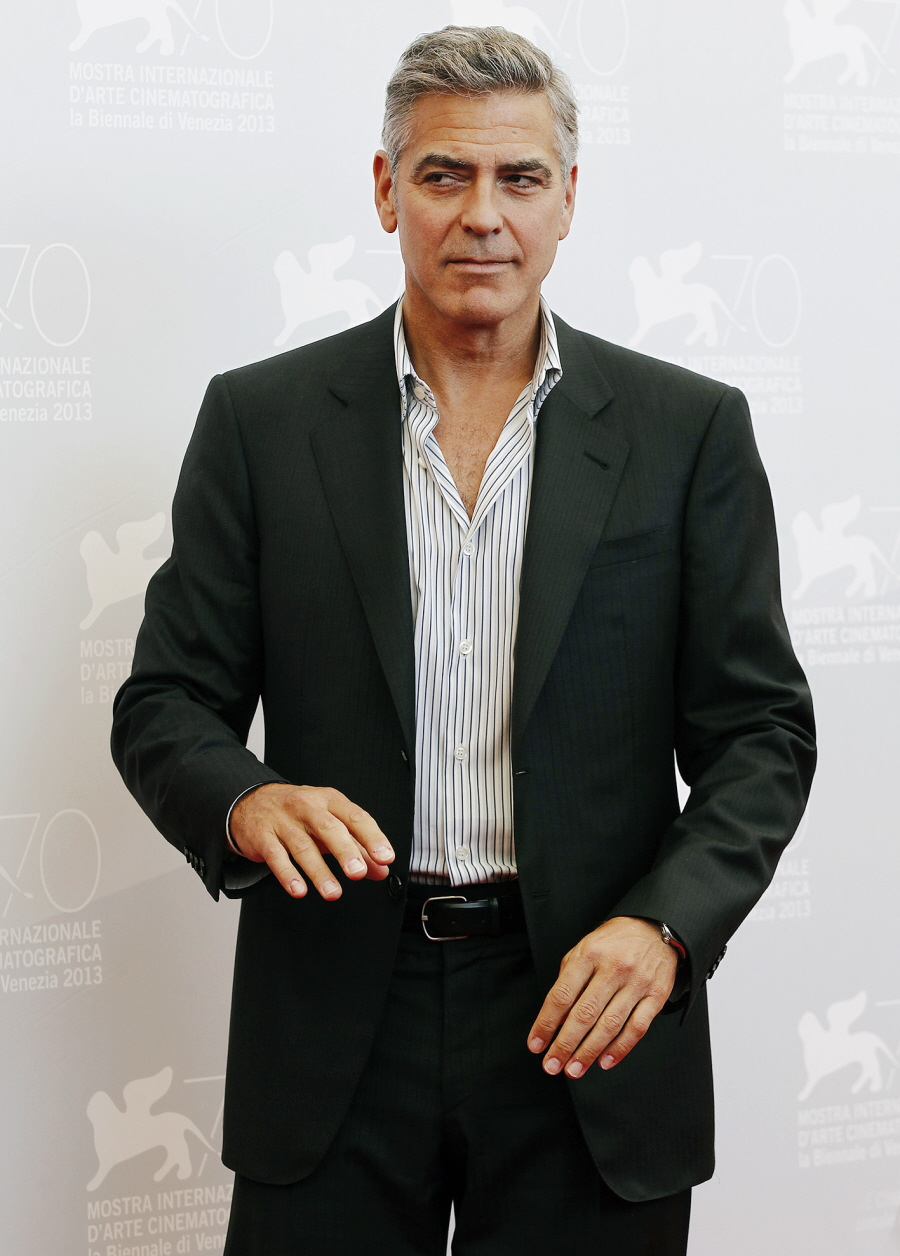 In the heat of the Met Gala coverage yesterday, I noticed something weird: George Clooney was trying to get attention for his engagement to Amal Alamuddin. Still. Didn't he get enough attention last week? I guess not. To be fair to Clooney, the tabloid press has only had a week to really go all out and dig into Amal's past, and maybe (??) this isn't George's doing. Like, this isn't part of his Certified Fiancée Rollout. But I'm a conspiracy theorist at heart, and I'm proudly wearing my tin foil hat of TRUTH and I think Clooney's publicist had a hand in these stories. First, let's hear about when Clooney and Amal will marry and if BABIES are on the menu.
Now that George Clooney has finally found "The One," he's wasting no time in settling down to family life. RadarOnline.com has exclusively learned that he and fiancée Amal Alamuddin will tie the knot in just a few months — and are planning to have a baby soon after that!

"The wedding is to take place in September," an insider reveals to Radar exclusively. And though London is already being discussed as a potential venue, the source insists, "They've told family and friends they will only disclose the location at the last minute, and it will be very private. Neither George nor Amal want the wedding to be a public affair — and her family really doesn't either."

Clooney, 53, has kept his in-laws opinions in mind throughout the process of wooing his bride-to-be, the insider says. When it came time to propose, "George didn't get a formal permission from her dad, but it was an indirect hint," the source reveals. "He definitely tossed the subject of marriage around with them so that he knew they would approve, but he really wanted the proposal to be a total surprise, and didn't want to give away any hints about when it was going to take place."

And now, the family is influencing the couple's baby plans too! Clooney and Alamuddin, 36, "definitely want kids asap," the insider says. "Her father is getting older, and he really wants to see her kids [before he dies]."

"Out of all his kids, he's especially proud of Amal," the source explains. "It would mean the world to him to see her become a mom."
Oh, Clooney. How dare you play The Aniston Card! Babies are coming, I promise! First a family-centric wedding and THEN babies, totally. Except that last week we were being told that Amal's holiday will come to a close in the Fall and she has to go back to work. True, she could still be a lawyer while pregnant (I doubt Julian Assange would mind), but… I just doubt that babies will be happening immediately. Also, I laughed at this: "Her father is getting older…" Yeah, and George is some spring chicken.
Radar also has a longer story about how Amal's father approves of George, even though Daddy Alamuddin feared the idea that "Amal's accomplishments and education would be neglected in the press — and even by George." Sounds about right. Funnily enough, this has the whiff of Clooney PR too, because of how the article ends:
And for the first time, Clooney, 53, seems content to share the spotlight with a worthy partner.

Amal, 36, "is not a gold digger," the source insists. "She has her own money and things going on, and George has told people that's why he knows he can trust her and wants to be with her. She isn't going to be arranging paparazzi photos like some of his past girlfriends have done."
BURN. Burn on Sarah Larsen, Elisabetta Canalis and Stacy Keibler. We're going to need a tub full of ice for all the burns.
The Daily Mail also has a story about the wedding and all of that – go here to read.
Photos courtesy of Getty, WENN.