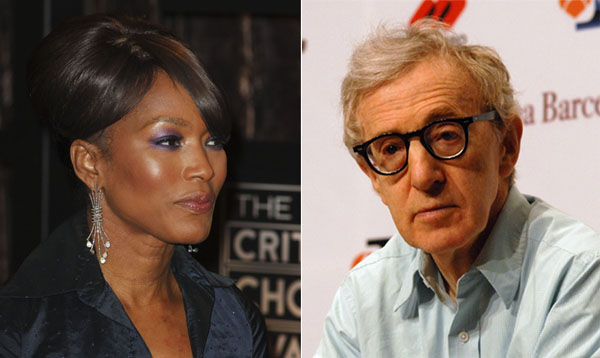 Several years ago, Angela Bassett had some harsh words to say about Halle Berry's Academy Award-winning role in Monster's Ball. Bassett said that she had been up for the role, but had refused it because she thought the character was basically a bad stereotype. This was greeted with many asking themselves "What is Angela Bassett talking about?"
I bring this up because Bassett seems to make a habit of complaining about the roles offered to, written for and given to African-American actresses. There's a lot to complain about, for sure, but Bassett's attitude may be the reason she, in particular, is lacking juicy roles. Bassett's most recent comment was about Woody Allen's Vicky Cristina Barcelona, in which there's only one black character. The Telegraph has more:
Although Woody Allen's latest film, Vicky Cristina Barcelona, has been seen by the critics as a welcome return to form for the director and won its star Penélope Cruz a Bafta award, Angela Bassett, the acclaimed black actress, has her reservations about its cultural authenticity.

"I mean, to have one black cast member for the whole film seems rather strange, and, oh yes, she's a prostitute, of course," said the actress who portrayed Tina Turner in the biopic What's Love Got to Do With it? "Don't get me wrong, I love Spain and it looked beautiful, but that part of the world is so diverse and, really, what is that about?"

Although Allen has succeeded in signing up Sir Anthony Hopkins and Josh Brolin to appear in his next film, which is set in London, the 50-year-old American actress added that she had herself no desire to work for him. "I wouldn't want to," she told Mandrake at the premiere of Notorious, a film about the late rap singer the Notorious B.I.G. "He's a little weird."

Miss Bassett is not the first person to point out the prevalence of white faces in Allen's films. When Spike Lee, the black director, was criticised for allegedly not featuring many white characters in his films, he was quick to point out that Allen had very few blacks in his.

Allen robustly disputes that he is a racist. His wife is Soon-Yi Previn, whom he married in 1997. She is the adopted daughter of Mia Farrow, his former wife. When they married, Allen was 56 and Miss Previn 22.
From The Sunday Telegraph
I'm actually a big Woody Allen fan. I like films with a lot of dialogue and interesting, neurotic characters. But I've never fooled myself into thinking that Woody's films are any kind of racially representative universe. Woody's films usually only have two groups represented: Semites and non-semites. Does this make Woody a racist? I doubt it. It just means he probably has no history in which to base a really well-written African-American character. But give Woody some credit. Though Vicky Cristina was lacking good parts for African-Americans, it had juicy roles for two Spanish actors – Penelope Cruz and Javier Bardem.
The race debate comes out nearly every year around the Oscars, sometimes good, sometimes bad. In the past seven years, African-American actors have picked up major prizes around the world, like Halle Berry, Denzel Washington, Jamie Foxx, Forest Whitaker, just to name a few. Perhaps Bassett should just stick to the larger argument: African-American women, as well as all women of color, should have better characters, better writing, and more work. Don't beat up on Woody Allen, when he's just one of many who haven't written enough roles for women of color.
Angelina Bassett is shown at the Critics Choice Awards on 1/8/09. Woody Allen is shown at a press conference on 9/21/08. Credit: WENN