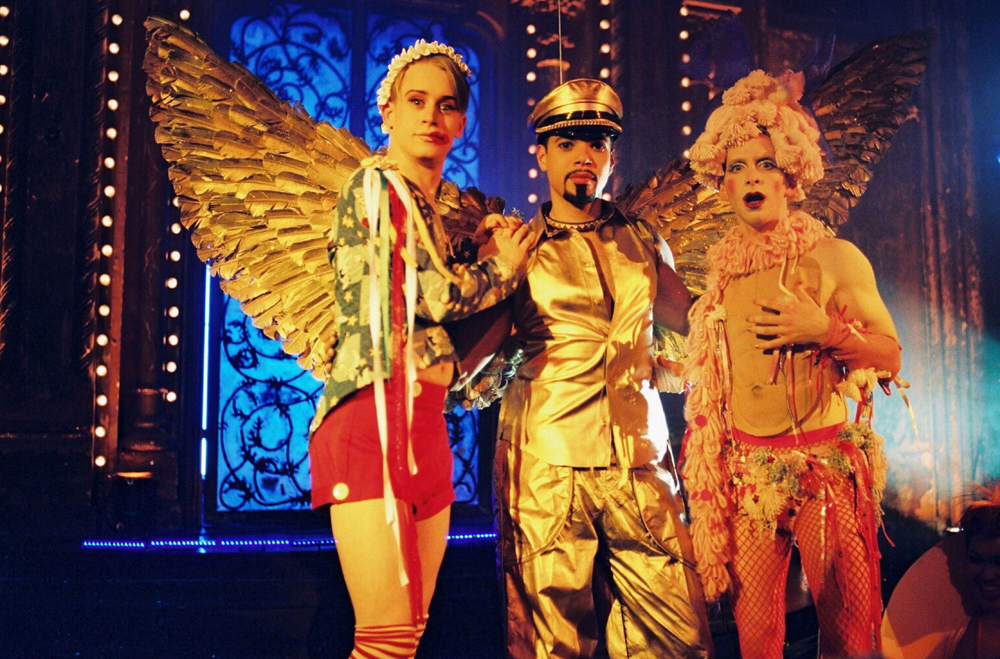 Thank you to CB for letting me cover this mess of a story. This is a film still of Macaulay Culkin from the 2003 movie, Party Monster. Mac played "King of the Club Kids" Michael Alig, an NYC promoter who helped kill drug dealer Andre "Angel" Melendez (played by Wilson Cruz of My So-Called Life). Also shown in this photo is Seth Green vamping it up as Alig's buddy, James St. James. Chloe Sevigny played Alig's love interest, Gertie. More on this in a moment.
I'm not sure what's going on with Macaulay now. We heard some scary reports about him in 2012. He was supposedly addicted to heroin and oxy, but Mac denied everything. He spent a few years looking gaunt and unhealthy but surfaced last fall looking very alive and loved up with a new girlfriend. Then there were reports of him moving in with Pete Doherty. Mac also started a Velvet Underground cover band called the Pizza Underground, so who knows.
All of this dovetails with the recent prison release of Michael Alig. I've been circling this topic for a week and trying to resist. But the story keeps growing, and I can't ignore it just this once. Journalists are kissing this guy's butt, and it's disturbing.
Most of you probably don't know who Alig is, but the media remembers him. He served a 17-year sentence after confessing to manslaughter. Vanity Fair had a journalist greet Alig as he left prison and give him a lift back to NYC. In the past week, he's been interviewed by HuffPo, the New York Times, Rolling Stone, People, and the New York Post. That last link contains a very graphic retelling of Alig's drug-addled actions — his friend, Robert "Freez" Riggs killed Angel with a hammer, and Alig helped dismember and dispose of the body.
I recall the mid-1990s fervor surrounding Alig. He was featured in a Details cover story during the investigation into Angel's death. Most people wouldn't know him as anything more than a club-kid blip on Phil Donahue's talk show. I've been checking in on Alig's story every few years. He did a few television interviews from inside prison. He somehow maintained a Twitter account, but it turns out the Vanity Fair journalist was visiting him in prison and tweeting for him. A lot of people find Alig charismatic despite his horrific actions. His notoriety has only grown since leaving prison on Cinco de Mayo (and swiftly tweeting his first burrito of freedom).
According to this week's issue of the Enquirer, Macaulay Culkin never forgot Alig. He reportedly loved playing the character so much and wants to help Alig out:
Macaulay Culkin is "adopting" a convicted killer!

The Enquirer has learned that the former child star has reached out to Michael Alig, the man he played in the 2003 film, Party Monster.

"Mac's 'adopting' him in a way," said a source. "Since Michael was once a night-club promoter, Mac's going to see if there might be a spot for him to help do publicity and marketing for his band, The Pizza Underground, or maybe even work as a roadie."

Another insider says that the 33-year-old Home Alone star empathizes with Alig, 48.

"Not only did he play that guy in a movie, which went on to be a cult classic and was the last noteworthy film mac has done to date," the insider said, "but he relates to Alig because both of them have gone down the wrong path by doing drugs, as well as hving had run-ins with the law."

As The Enquirer reported in a world exclusive in our Aug. 13, 2012, issue, sources said Macaulay — once arrested for drugs — was secretly hooked on heroin and also shooting the prescription painkiller oxycodone.

While Macaulay's rep denied those claims, the story meade headlines around the world. Since then, sources say the actor seemed to have straightened himself out.

"In some perverse, weird sort of way, Mac is thankful that Michael's story gave him the chance to expand his acting chops — taking him from the innocent, lovable boy he played in the Home Alone movies to one with a razor-sharp and evil edge.

"He's reaching out to Michael in the hopes that he can help him transition from prison to the outside world."
[From Enquirer, print edition, May 26, 2014]
I don't know if this is true, but it sounds like trouble. Alig went into prison with a heroin problem and continued it for five years of solitary confinement. He claims to be sober now. Alig has expressed his remorse for killing Angel: "I feel guilty to be alive." He also said that he watched Party Monster for the first time last week, and he was extremely uncomfortable with the graphic way the murder was portrayed. I guess Alig says there wasn't any blood involved during the actual killing. It's a revolting subject, and I won't elaborate on it any more.
Alig has caught some heat for his celebratory tweets after leaving prison. He served his time, and he's trying to reaquaint himself with "fabulousness." It must be weird to come back to NYC and see a different skyline. And all those reality stars running around with butt implants. I do hear Alig is angling for a reality show of his own. Of course.
Happy to be free and so grateful for this second chance. Can't wait 2C @JSJdarling at dinner. #frenemy pic.twitter.com/AJwvtPcyFf

— Michael Alig (@Alig_Aligula) May 5, 2014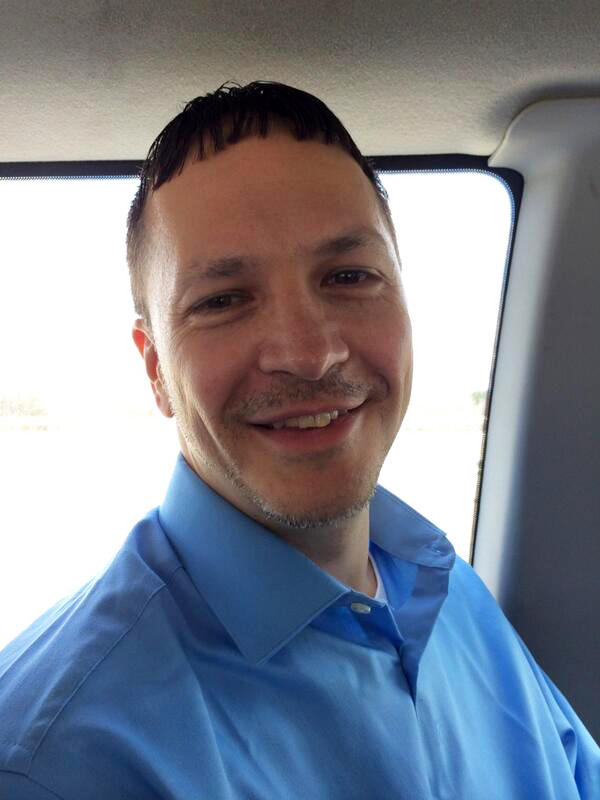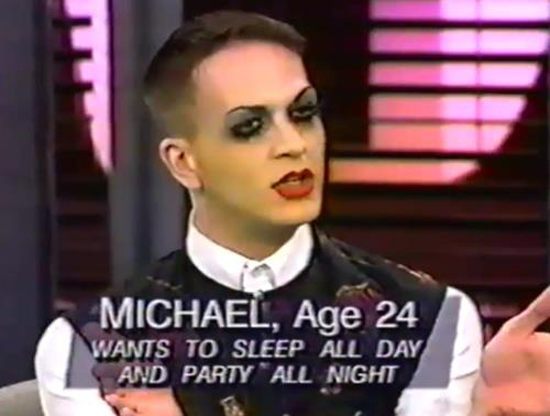 Screencap courtesy of YouTube; photos courtesy of Michael Alig on Twitter & WENN