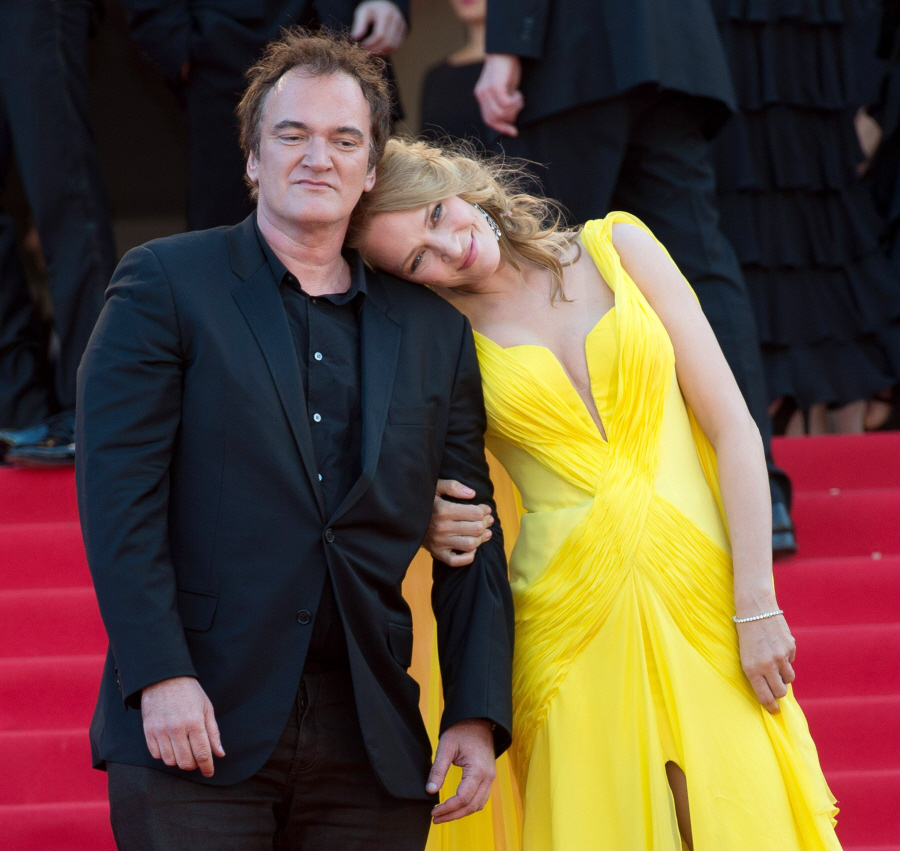 As I covered on Monday (most of you didn't care), Uma Thurman and Quentin Tarantino were in Cannes to celebrate the 20th anniversary of Pulp Fiction winning the Palme d'Or. John Travolta was there too, but it's best we don't speak of him or his gross facial hair. Anyway, the last days of Cannes were all about Uma and QT. They posed together on two red carpets, they presented awards at the final ceremony and they just looked adorable together. QT has always been very open about his adoration of Uma – I believe he's been in love with her since Pulp Fiction. Uma treats him like a friend and colleague and collaborator, but she's always made sure to reiterate that their relationship isn't about sex. But maybe that's changed?
His muse is his at last! Twenty years after Quentin Tarantino directed Uma Thurman in Pulp Fiction, Us Weekly can confirm that the two have taken their relationship to the next level. Sources tell Us that the pair recently spent time together at the 2014 Cannes Film Festival in the South of France, where they even shared a villa.

"They had a thing and got together again recently," one insider tells Us. "He's loved her for years." Both Thurman and Tarantino were presenters at the closing ceremony of the star-studded film fest on Saturday, May 24. The willowy blonde star, 44, wearing a floor-length canary custom Atelier Versace couture gown, walked arm-in-arm on the red carpet with the Oscar-winning director, 51.

"There has always been an attraction," another source explains. "She has indulged from time to time, and that's how their relationship has always worked."

Over the years, the two appeared to share a strong bond of friendship offscreen: Thurman, after all, famously let Tarantino sip from her Louboutin heel in 2010, while poking fun at his rumored foot fetish! So why now?

Timing has largely been an issue. Thurman was married to Ethan Hawke for six years before divorcing in 2004. Together, the stars share daughter Maya, 16, and son Levon, 12. In 2007, Thurman got engaged to hedge-fund magnate Arpad "Arki" Busson, with whom she shares 22-month-old daughter Rosalind Arusha Arkadina Altalune Florence Thurman-Busson. As reported by Us last month, Thurman and Busson ended their tumultuous on-and-off again relationship.

Finding solace in Tarantino after her split, Thurman appeared happier than ever as she cozied up beside him at Cannes. "They talk often," the second source says. "They go out to lunch in NYC when he's around. He always tries to find a role for her, or have her involved somehow."

Tarantino, for his part, has previously been linked to stars like Kathy Griffin, Mira Sorvino, and even fellow director Sofia Coppola. He was most recently linked to costume designer Courtney Hoffman, though that relationship recently ended as well.
A commenter pointed this out in the other thread: Uma was wearing very toe-cleavage-y shoes for her Cannes appearances too. Probably for QT. The man does love feet. Anyway, do you think Uma and QT are hitting it at long last? Perhaps. I think it's probably the kind of affair that will either last a month or ten years, nothing in between. I also think that QT loves her and has for decades, and that for Uma, this is just an ego boost. Oh well. I hope they have fun.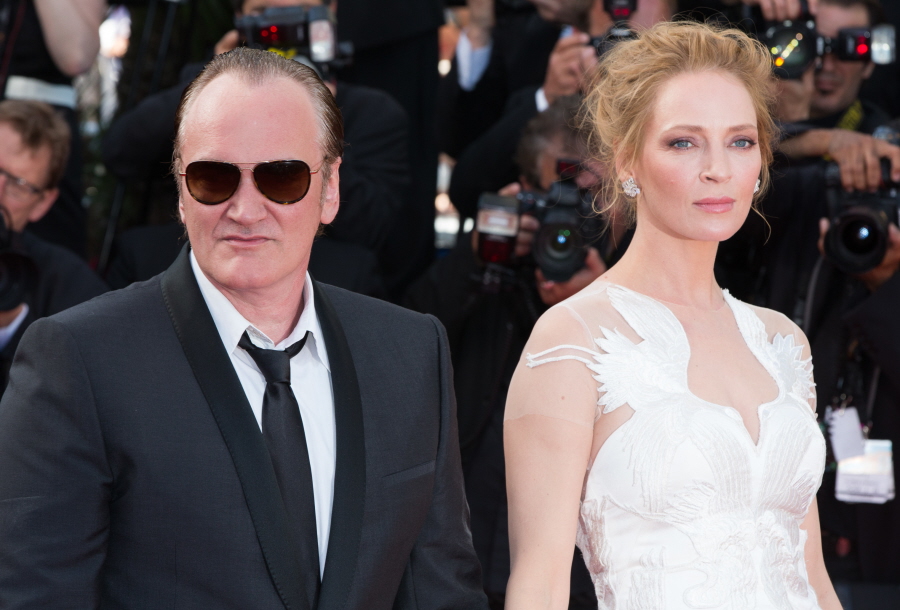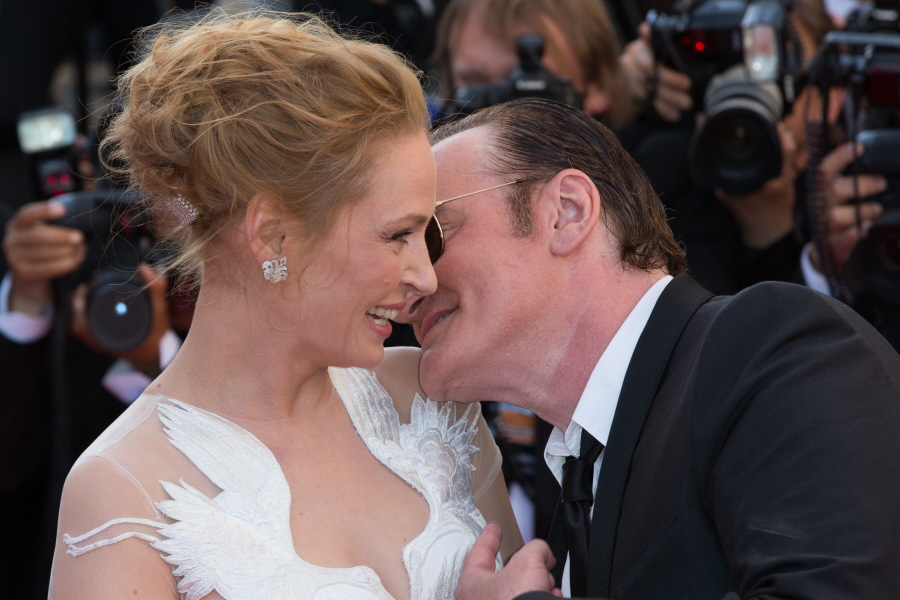 Photos courtesy of WENN.