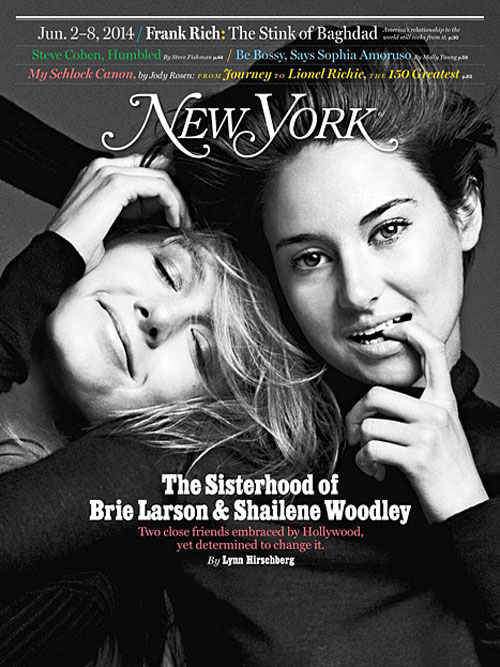 Shailene Woodley covers the new issue of NYMag alongside Brie Larson. The two were co-stars in last year's The Spectacular Now. The cover says the ladies are "out to conquer Hollywood — and fix it." Shailene and Brie talk how they've tried to transform the acting industry through their own choices of roles. They both seem a little convinced by delusions of grandeur, but at least they're thinking outside the Hollywood box. Larson says stuff like "Girls in this industry sabotage one another. We will never do that."
One huge chunk of the NYMag interview talks about Shailene's March visit to Jimmy Fallon (she brought him a phallic horseradish root) that went over like a springwater-soaked blanket. A great deal of the interview was edited out of the show. Jimmy had asked Shailene what it was like to be compared to Jennifer Lawrence. Shailene began, "comparisons lead to despair." The audience booed, and Shailene went on to discuss her gender politics. She asked if Jimmy only compared her to JLaw because they both have short hair and vaginas. Dustin Rowles at Pajiba elaborates on the issue, and his take is worth a read. Here some other assorted excerpts from NYMag:
She doesn't like social media: "My favorite thing in the world is writing a letter and sending it snail mail. I write letters every day."

Why she hugs everyone: "I started hugging people because I was tired of fake interactions. You have only 30 seconds with a new person. I will give you a hug so you know I'm real, and then you're real too. It helps to cut the bullshit and say, 'Now–what do you really want to talk about?' But we're born into a fear-based society that prefers to label things, and now I'm labeled 'Shai, the hugger.' Everyone went crazy when I said that I liked to get sunshine on my vagina. But why not? It's f—ing great! You should try it! I wasn't hurting anyone, but still people cautioned me not to say things like that. After The Descendants, I was afraid, but I'm not anymore. There's really nothing to lose. And I might even give someone else the courage to speak up."

She likes mushroom powder in mint tea: "It tastes like dirt. But I like the taste of dirt."

Shailene's upcoming White Bird sex scenes: "It was so much fun. Everyone was freaked out because I'm nude, but in real life, when I have sex, I'm naked. I don't have a bra on, and I don't usually have panties on. So let's make a real movie! Let's bring truth to the scene! I didn't want to be exploited, but this girl–like most girls when they first have sex–doesn't know what she's doing. I wanted their first kiss to be sloppy, teenagerish making out. When you're younger, you think you know what to do, but you really don't."
[From Vulture]
I had to laugh at Shailene's exhilaration at appearing nude with a "let's make a real movie!" I'm glad she enjoyed herself. Really. It's always a good day when you get paid to do something you love.
Shailene also sat down with the Daily Beast to discuss her recent Time interview where she said she wasn't a feminist because, "I'm very in touch with my masculine side." Shailene said she loved men, and feminism meant putting women in total power. Most of you rolled your eyes in the comments because Shailene has no idea what "feminism" means.
Shailene "clarified" her thoughts on feminism. She laughed when her publicist called because "I don't read anything about me or go on the Internet ever, because it's such a dangerous hole to get yourself into." She went on: "The word 'feminist' is a word that discriminates, and I'm not into that. Labels are for other people to understand us, so for me, I know how I feel and I don't need to call myself a 'feminist' or 'not a feminist' because I know what my truth is." Shailene thought the journo was trying to "burn" her but doesn't claim to have been misquoted. My favorite part is where Shailene adds, "I know where my cayenne sits in my spice cabinet." That's gotta be a euphemism for sunshine vadge, right?
Here's some photos from last night's premiere of The Fault in Our Stars. Shailene is wearing a yellow Ralph Lauren dress. It's a very mature look, which she seems to favor on the red carpet. I could do without the cake-icing peplum.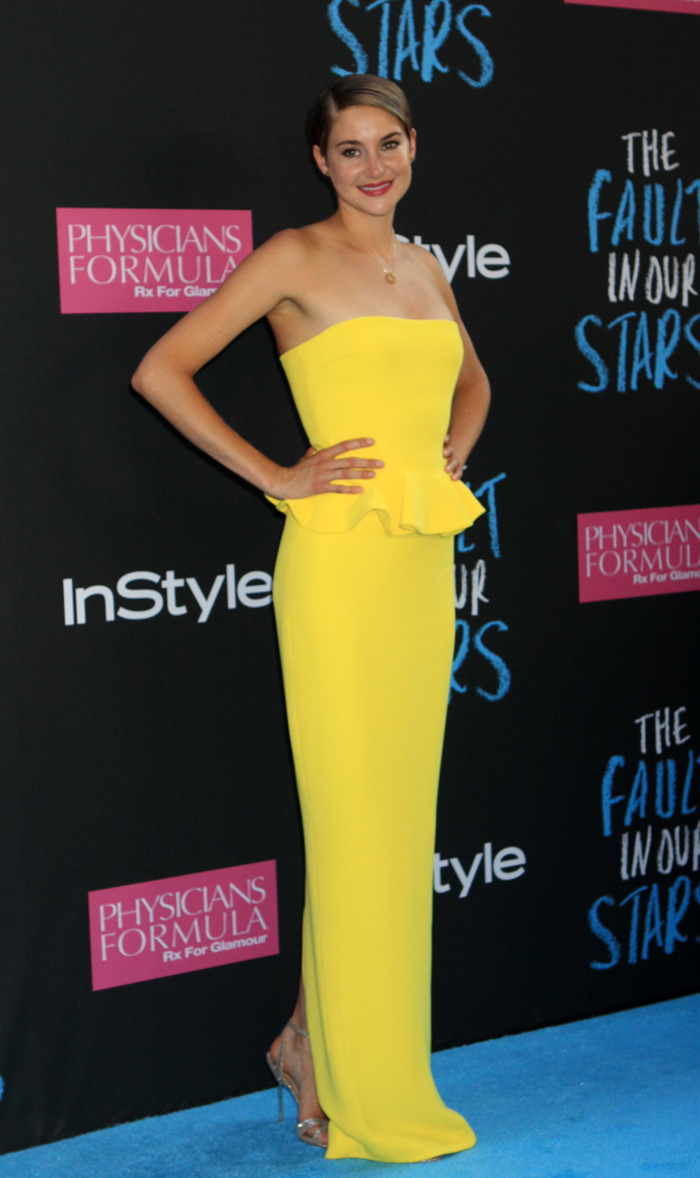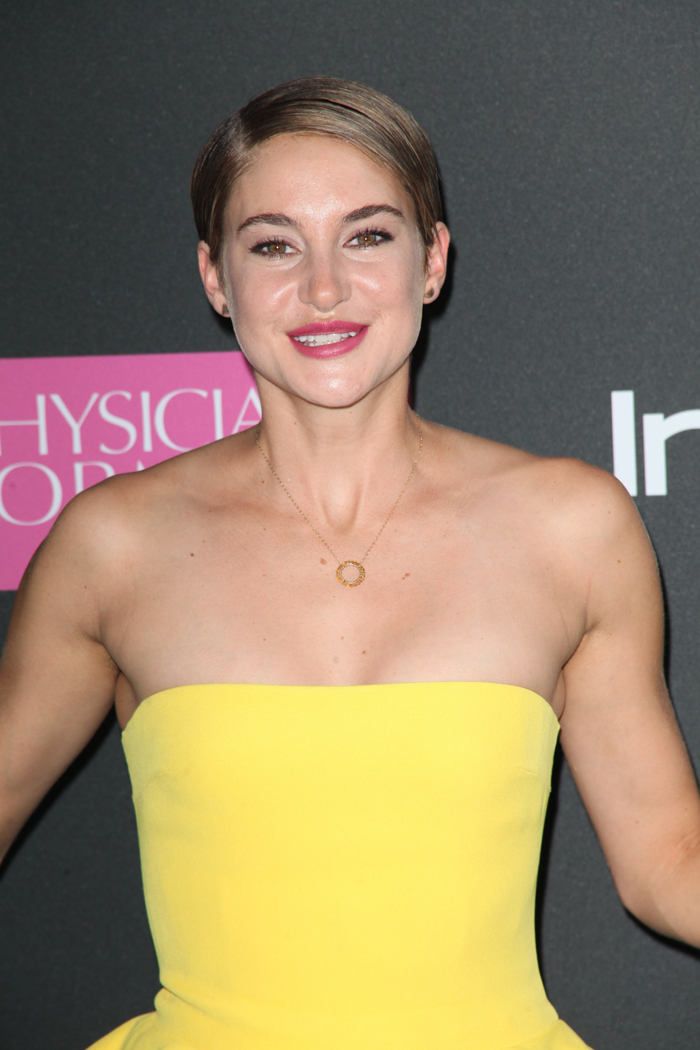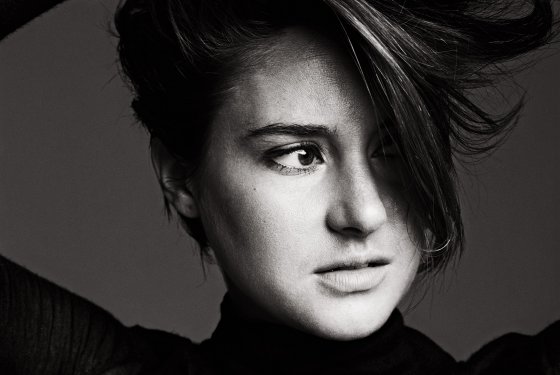 Photos courtesy of Fame/Flynet & NYMag