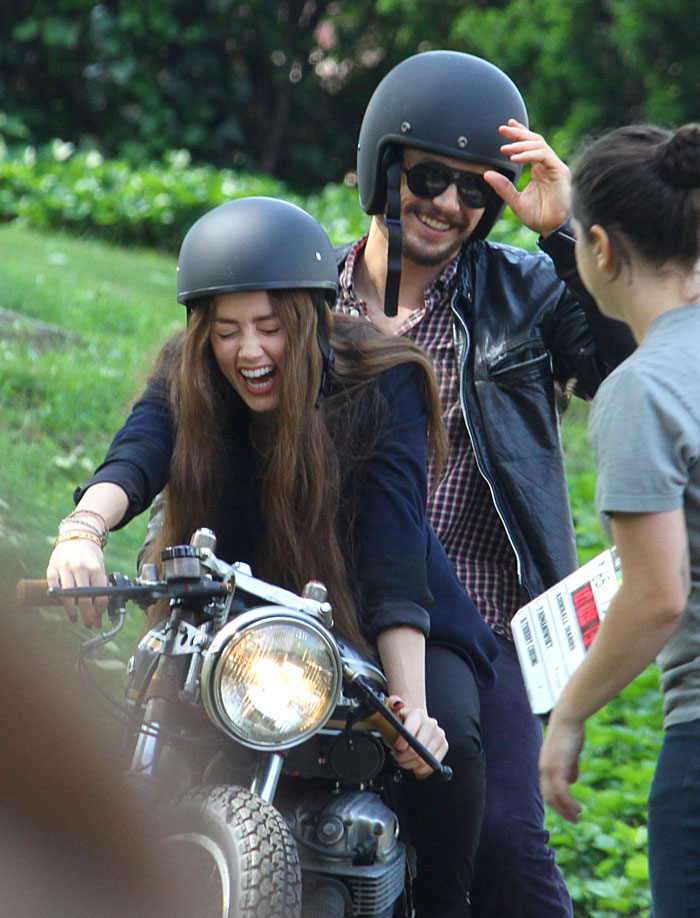 These are some newish photos of Amber Heard and James Franco on the NYC set of The Adderall Diaries. Amber's wearing a budget brunette wig on this set while Johnny Depp gets his bald cap on in Boston with co-star Dakota Johnson. Amber looks like she's having a good time on set, but Johnny needn't worry. Amber is 27 years old, so she's wayyy too old for Franco's tastes. Amber was later spotted makeup-less and wig-less while leaving the set and clutching a copy of Hitler's Pope: The Secret History of Pius XII.
A new article from Radar Online says that Amber's been working hard to bond with Johnny's kids in the lead up to their wedding. We've already heard that Amber goes shopping and does lunch with Lily-Rose. They probably do mani-pedis together, but that's just a guess. Here's the lowdown:
Johnny Depp's fiancée Amber Heard has developed "a strong stepmom-type bond" with his two children, RadarOnline.com has exclusively learned.

According to a source close to the situation, Depp's kids from his relationship with Vanessa Paradis — daughter Lily-Rose, 14, and son Jack, 12 — are getting cozy with his soon-to-be-wife, Heard.

"It took Johnny a long time to get to this point with the kids, but this spring has marked Amber becoming a true part of the family and being involved with the upbringing of Johnny's kids — albeit on a somewhat limited basis," the source said. "Amber sees Johnny's children nearly every weekend Johnny does, especially when they're in Los Angeles and not working on sets."

In fact, Heard was seen having lunch and shopping with Lily-Rose on a girls' day at L.A.'s Fred Segal in February. And the age gap between them — just 14 years — is nine years less than that between Heard, 28, and Depp, 51!

The source also revealed with a fall wedding expected, Depp has worked hard to join the people he loves the most.

"Johnny has gotten in the habit of setting up remote weekend getaways with Amber and the kids, and usually he will lease a helicopter and have them all ferried to a remote location or resort in Southern California," the source said of the A-list stalwart.

Recently, Depp has been filming his Whitey Bulger biopic in Boston while Heard has been shooting The Adderall Diaries in New York.

"When they're not on set, Johnny stays close to town, but he doesn't just want to do the usual activities with the kids like their mom Vanessa does during the week," the source said. "He's very much about showing them an adventure and a good time, and Amber has been 100% behind this all the way."
[From Radar]
Amber is only 14 years older than Lily-Rose, so maybe this is more of a "big sister" bond than a "step-mom" relationship. Is that appropriate? I think step-moms get a bad rap that goes way back to the days of Cinderella's evil stepmother. A real-life step-mom has to walk a fine line of being a good role model but not taking away any clout or authority from mom. It also sounds like Johnny is trying to be the "fun" weekend parent like so many divorced dads do. Vanessa Paradis is the one who has to oversee their weekday schoolwork and routine kid drudgery. Then Johnny swoops in on his weekends and takes the kids to some island paradise. Amber's there for the ride too, so she may as well get along.
Johnny celebrated his 51st birthday this week! Producers had a gross looking cake delivered to the set. Johnny Depp, king of bad birthday cakes.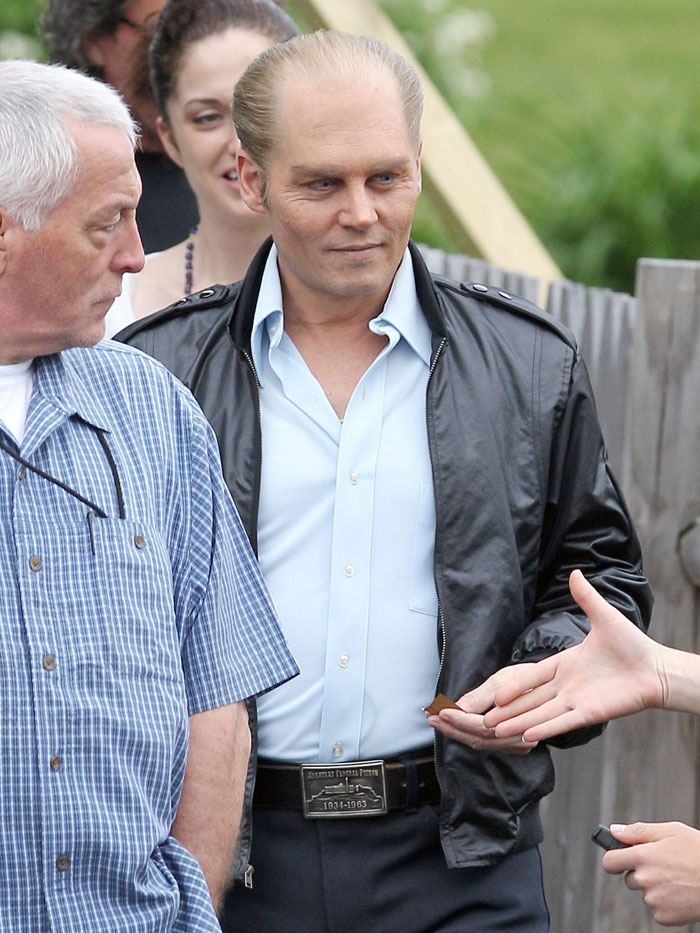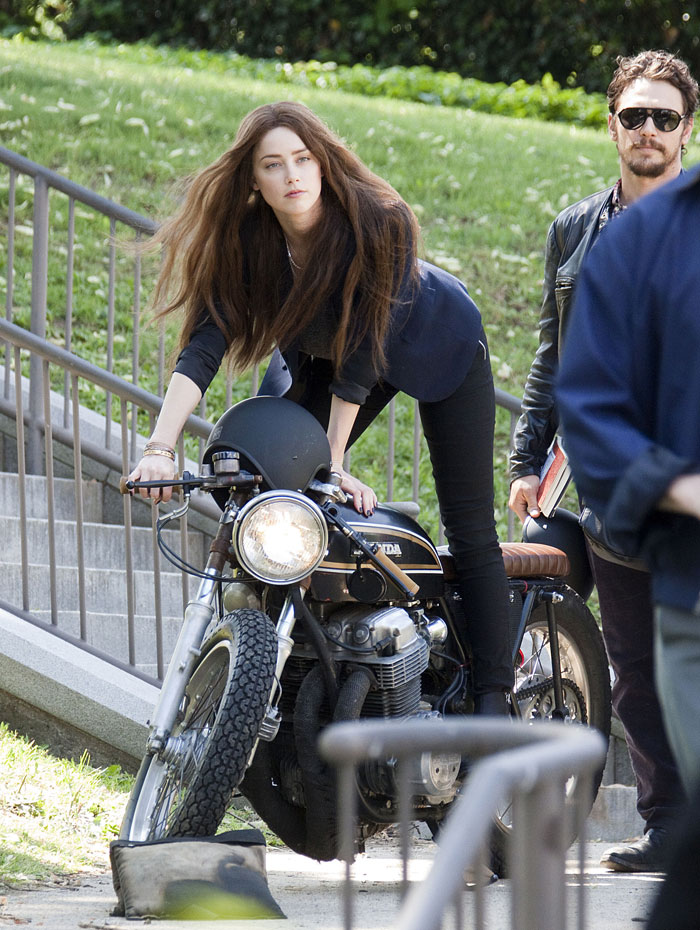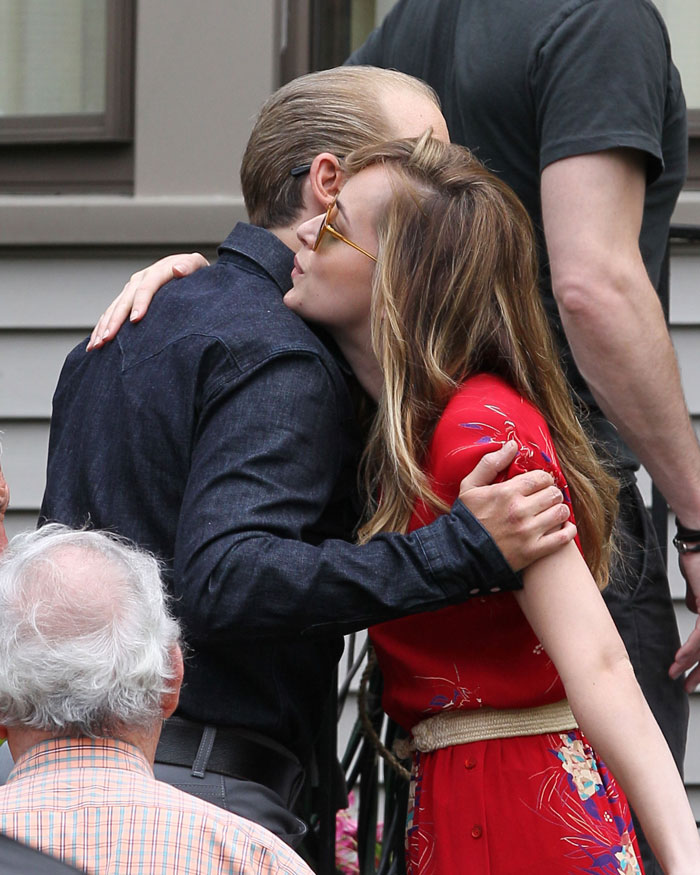 Photos courtesy of Fame/Flynet