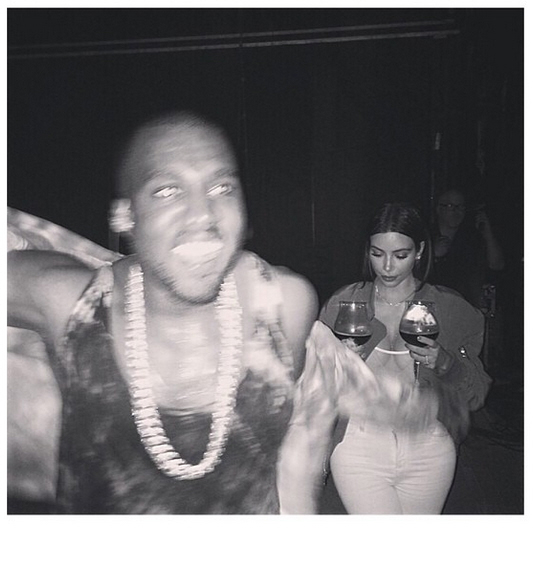 Kim Kardashian and Kanye West traveled to Manchester, Tennessee this weekend after their "second honeymoon" in Mexico. They went to Bonnaroo, where Kanye performed. Kim was just there to keep him company and to famewhore, I guess. Most people are talking about her one Instagram selfie where it looks like she's almost topless. She isn't. She's wearing a nude bra under a see-through shirt/leotard thing. It looks tacky, but that's synonymous with "Kardashian" at this point.
Kim also IG'd a blurry photo of Kanye and herself while she toted around two big glasses of wine. Is that her function on tour with Kanye? She's the wine-holder? Perhaps. And you know what? I bet it didn't even occur to either of them that they could have stopped in LA and picked up North so she could come too. Why would they do that though? That poor baby has seen her mom like three times in the past six weeks.
Meanwhile, Kanye made an ass out of himself on stage. Because of course he did. Yeezington in the house!
Kanye – who was supported by his new wife Kim Kardashian at the annual music and arts festival – made use of his headlining position to deliver one of his infamous speeches about himself. Dressed in layers upon layers of tie-dye fabric, the 37-year-old Yeezus star began his verbal assault.

'I want y'all to know that when I'm in the studio or doing an interview or making a T-shirt, I give everything I got,' he told the crowd. He then went on to explain that the reason he brags about how great he is, is so that he can impart that sense of self-worth onto his fans.

'When I talk that s***, it's so you can talk that s***. If you're fan of me, then you're fan of your motherf***ing self.' He cried out that 'this is only the beginning,' before listing off those that he intends to surpass in his career. 'I ain't concerned about anyone who's living,' Kanye clarified. 'I ain't going after no one on the radio. I'm going after Shakespeare. I'm going after Walt Disney. I'm going after Howard Hughes. I'm going after David Stern. I'm going after Henry Ford. I'm going after Elon Musk,' he went on, adding a note about the founder of Tesla: 'okay he is living, but that's my boy.'

Though critics of Kanye's fervent self-promotion are likely having a field day with this one, they could hardly argue with the logic he presented.

'Whether you believe it or not,' the hitmaker said, 'you can only achieve as high as you believe.'
Kanye continued:
Shakespeare ain't nothin'. You gotta dream to achieve these realness because we're rolling like Napoleon up in here and Galileo motherf—kers just be hatin' on these steeze cause they don't know how Yeezus Christ is the end all be all of the joint we call the cosmos, Neil deGrasse Tyson better watch his ass y'all. Imma go after Winston Churchill next, how y'all like that?
As I'm reading that back to myself, I kind of think I nailed it. I can totally picture Kanye saying that. Right? *rubs temples*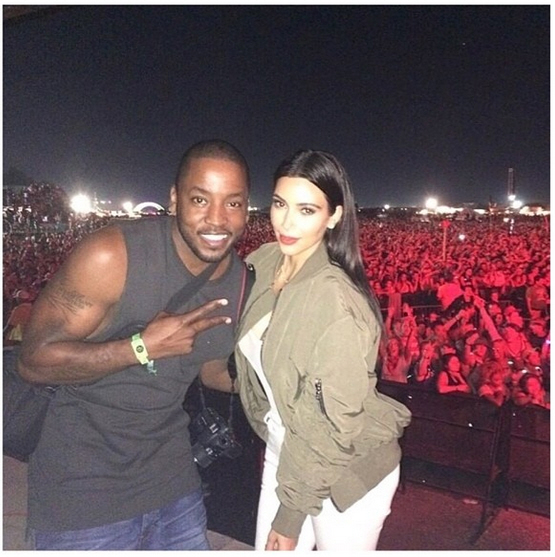 Photos courtesy Kim's IG, Fame/Flynet.