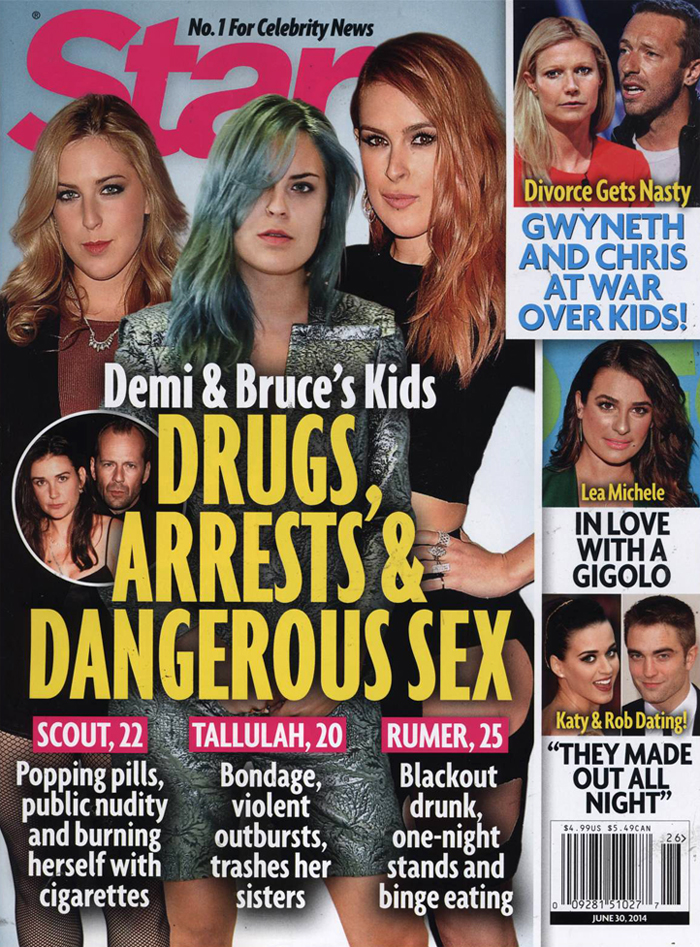 This week's cover of Star is all about the Willis sisters, Rumer, Scout, and Tallulah. The gist of the story is that they're all behaving like Demi Moore by binge drinking and showing off their bodies. Their loved ones (besides Demi) are all worried sick about their out-of-control behavior. Demi is vaguely aware that something is amiss, but "she's more of a friend than a mom." This story probably contains some true information, but it seems like a slam piece that was sparked by Scout's recent shirtless jaunt through NYC. I have more to say on that later, but here are some highlights from the Star piece:
* An insider says of Rumer, Scout, and Tallulah: "They are being destroyed by fame and fortune. They were given anything they wanted growing up, and now they still have the mind-set of spoiled kids."

* Things have gone downhill since the girls lost Saint Ashton Kutcher from their lives. Now that he's impregnanted Mila Kunis and is "starting a family of his own," the Willis sisters are "acting out because they're desperate for attention."

* Rumer is mimicking her mother. They're both part of the same L.A. party circuit. She stays out all hours and doesn't come home until the sun comes up. She binge drinks and hooks up with "random men." She also veers between drinking "nothing but green juices and coffee" and says when "she'll suddenly binge on fast food because she's so hungry." During and after live shows with her budding band, she'll refuse to socialize with fans.

* Scout is begging for attention and throwing away her college education (from Brown university). She's not interested in finding a job and would rather walk topless through the streets of NYC for the #FreeTheNipple campaign. Scout is very upset that Bruce Willis has two new baby daughters and doesn't have time for his older daughters.

* Tallulah is only 20 years old but has been partying her booty off since age 17. Tallulah "has no regard for anyone or anything and doesn't know right from wrong because she wasn't given boundaries." She's a regular Coachella attendee and may or may not have some nude photos floating around on someone's hard drive.
[From Star, print edition, June 30, 2014]
I don't know much about Tallulah. There were stories about her (along with Scout and Rumer) getting fed up with Demi's desperate behavior after the Ashton divorce. Tallulah seems like a little hipster chick who spends her time at music festivals. She's not in college and is probably living off her trust fund. All three sisters have trust funds, but Rumer was rumored (ha!) to have invested hers in a night club.
Scout seems most likely find trouble. She had a legal scandal a few years ago where she was arrested for underage drinking and using a fake ID. She graduated from college, but this whole #FreeTheNipple business is a mess. I guess Scout is upset that Instagram doesn't let women (including Rihanna) post photos of their bare breasts. Scout sees this as a great injustice worth fighting against.
Here's how I see the nip issue: Instagram is a private company that can run their free service any way they like. A lot of websites (including this one) try to maintain a SFW atmosphere. If Scout feels so strongly about the nip, maybe she should use her trust fund to set up a social media service for nip photos. She won't do that. She'd rather soak up the attention by walking the red carpet in completely sheer tops like she did at last month's Nylon party. See? This is all about attention for Scout.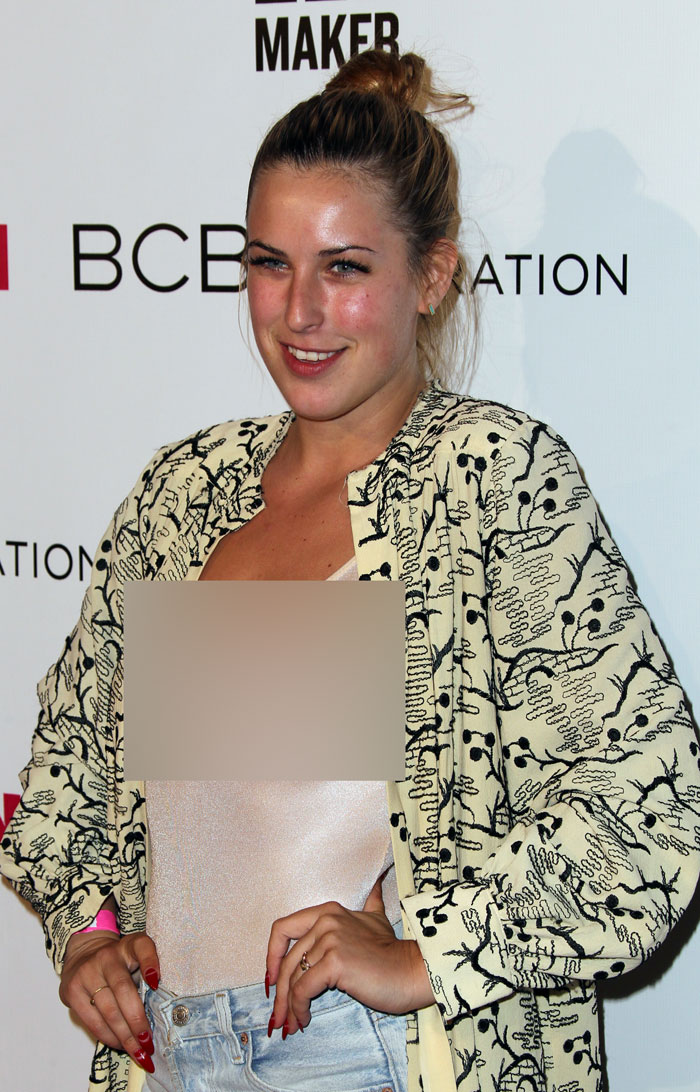 Photos courtesy of Star, Fame/Flynet & WENN