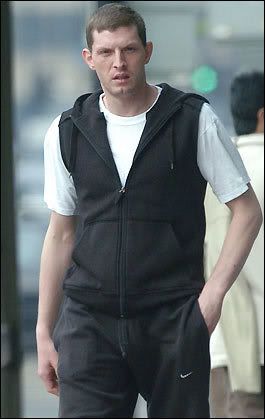 The male prostitute, Auden Carlsen, 28, who says he was just at George's place for "pictures"
Is it wrong of me to be incredibly amused by this story? Grumpy former gender-bending pop star Boy George called a male prostitute he found online to come over to his apartment at midnight and "pose for pictures" at a rate of almost $800 USD.
George and another man were there and did take some pictures of him in fetish gear. Afterwards they handcuffed the strapping 28 year-old Norweigan escort to a hook on the wall. The other guy left George alone with the terrified prostitute, who claims that George took out a box of whips and sex toys and snarled "Now you'll get what you deserve."
The escort pulled the hook out of the wall, escaped and called the cops. I wonder if he fled into the night wearing just his t-shirt and underwear or if he was naked? This story is woefully incomplete:
Carlsen revealed he met George on the Gaydar website, but only agreed to go to his flat at midnight as a £400 photographic model and not as an escort.

The ex-Culture Club star took pictures of him in kinky gear.

Carlsen said: "George said he was popping out for milk at 5am. I heard him come back and I walked into his bedroom wearing just my white underpants and a T-shirt. I was jumped on by George and another man.

"George handcuffed me to a hook by the bed as they held me down."

He said George got rid of the blond man then produced a box of whips and sex toys — telling him: "Now you'll get what you deserve."

Carlsen pulled the hook from the wall and fled — then alerted the police from a nearby newsagent's at 6.30am on Saturday.

George — real name George O'Dowd — was taken to a police station.
[From The Sun]
Boy George was questioned by police for false imprisonment and was released on bail.
Last year he did a week's worth of community service in NY after cops found cocaine in his apartment when they were called to respond to a robbery. I doubt anything will come of this latest situation. Given my limited knowledge of the British justice system, which is almost entirely based on Pete Doherty's multiple run-ins with the law, they're a bit more lax than the states.
Pictures from The Sun, Rickey.org and Celebritology.