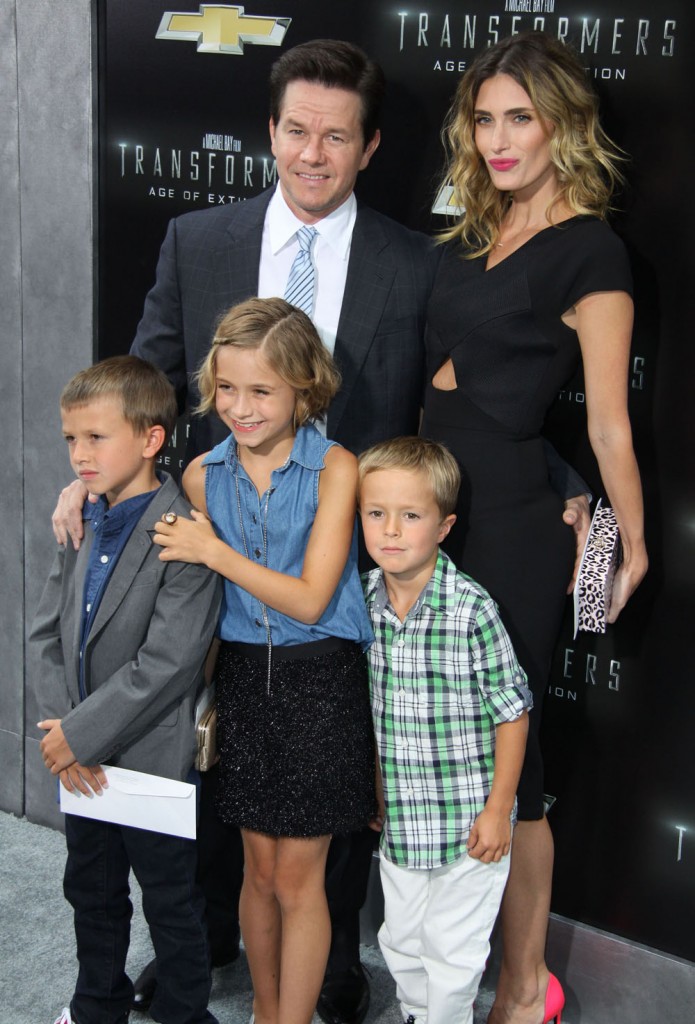 People Magazine has a new interview with Mark Wahlberg ahead of the release of Transformers: another excuse to blow sh*t up with giant robots. It's all about his family and how he sees life as a dad, which isn't unlike his Esquire cover and profile last month, for their Fatherhood issue. Mark shares some of the same sentiments with People. He tries to be there for his kids and he's conscious of his role as a dad. Mark has four children with his wife, Rhea: daughters Ella, 10 and Grace, 4, and sons Michael, 8, and Brendan, 5. I like some of what he said about trying to be an involved parent, but his thoughts about his daughters sounded antiquated to me. Here are some excerpts from Mark's interview.
He tries to teach his kids humility
I want to give them all the things I never had but make sure they understand it's not normal and that it takes hard work to get what you want. You have to provide them with the tools that will make them good people. Material things aren't going to make them good people; education and being active in the church will. The kids are in Catholic school.

On having boys vs. girls
The boys will be difficult in some ways that the girls won't, but I'm dreading the teenage years with my daughters; it's not going to be easy for them to go on a date. But I'm hoping one nice, nerdy boy will come into each of their lives at the right time when they're twenty something and they'll be with that person forever.

He wants his kids to go to college, not act
Ella already says things like "I want your job!" As long as the kids know they need to get a college education first, and after I teach them all the pros and cons of the business, if it's something they still want to do, I'll support them 110 percent.

How they stay involved with their kids
Rhea and I want to be a team and involved in every aspect of the kids' lives that we can. Rhea is an incredible mother and wife and so hands-on. I took our three older kids to school this morning, and she was taking Grace shopping, and then she'll pick up the kids from school. We have help, but we don't want the kids doing their activities with other people. It's not easy, but it's how we always pictured things.
[From People Magazine, print edition, July 7, 2014]
I like what Mark said about feeling like it's his job as a parent to step up and go to his kids' events and not foist it off onto the staff. He admitted that he has help but said that he still tries, which is nice to hear. It did bother me that he honed in on his daughters dating in the future as problematic and didn't seem to worry at all about what his boys would be doing. Shouldn't he be concerned about his sons dating too? That sounds short-sighted to me, but I guess a lot of parents worry about that.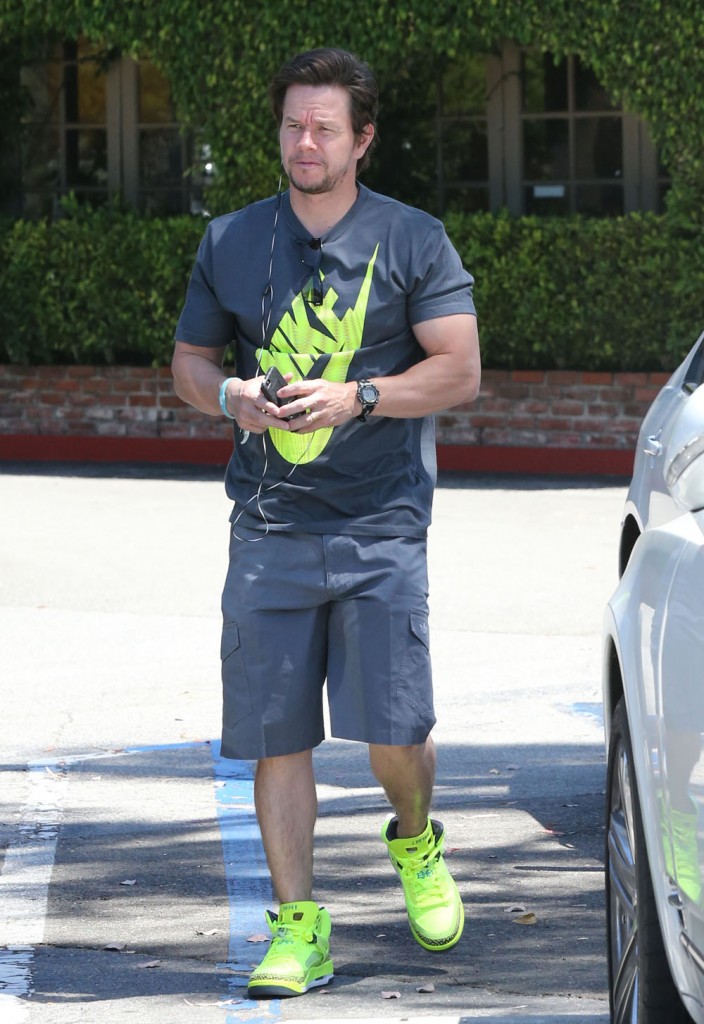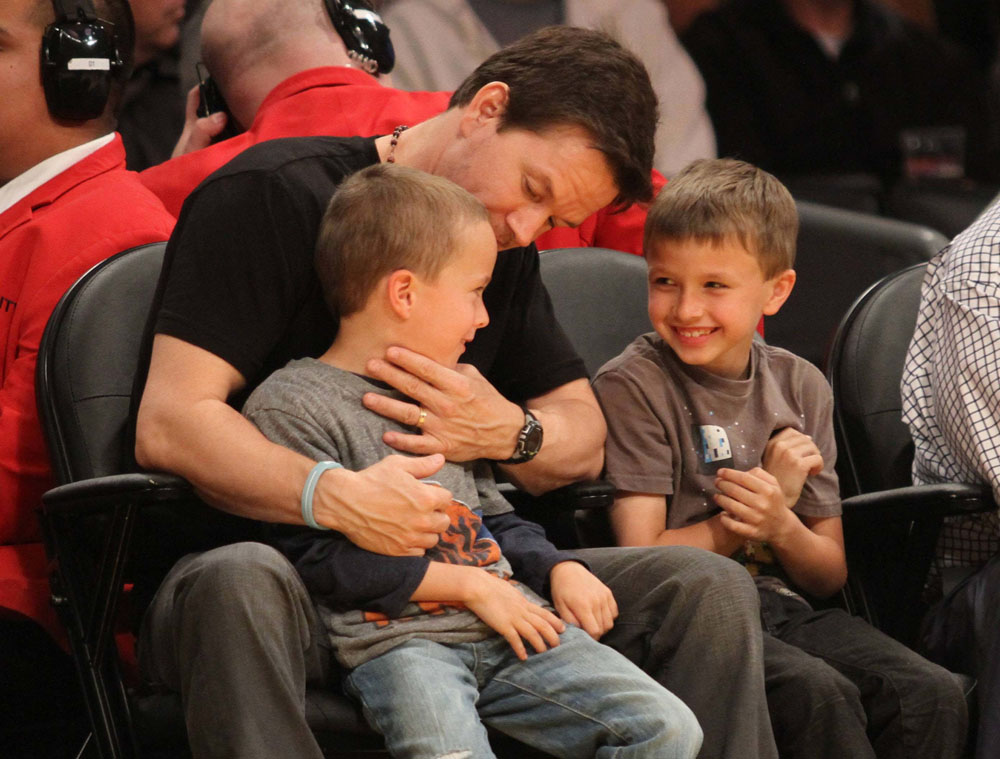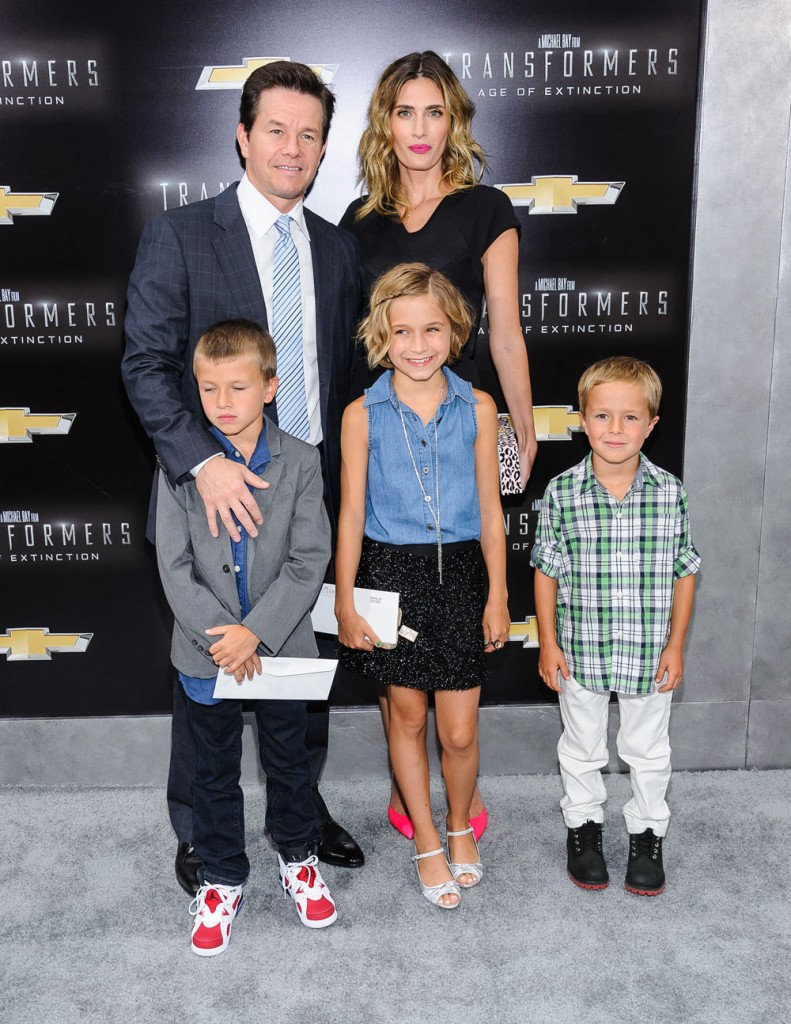 Photos are from the Transformers: Age of Extinction premiere on 6-25-14 and of Wahlberg with his boys at a Laker's game in March. He's also shown out on 6-2-14. Credit: WENN.com and FameFlynet