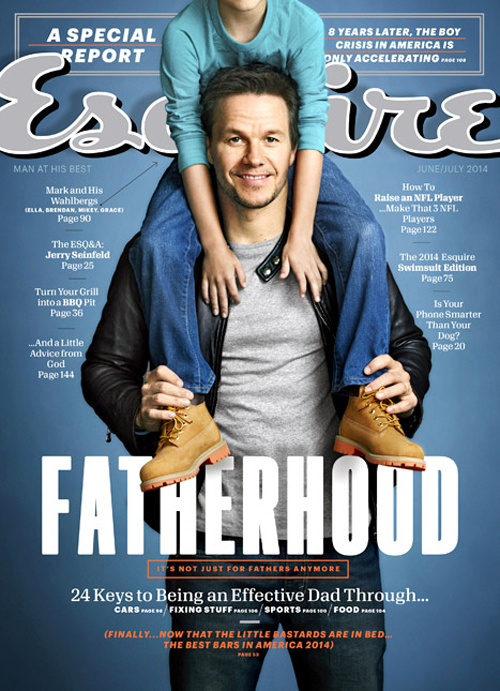 Mark Wahlberg covers the June/July issue of Esquire to promote Transformers: Age of Extinction. This will hopefully be the last movie in what Mark called, "the most iconic franchise in history." Esquire's interviews have steadily gone downhill over the past few years. They attempt to replicate a "day in the life" of a given celeb, but the gimmick has worn thin. Like … they're visiting the doctor with Wahlberg in this interview. He had strep. The doctor prescribed a shot in the rear, and Mark dropped his Calvins. The journo commented on the paleness of Mark's bum. So weird.
This interview is all about Mark's experience as a father of four young children (all under age 11). Why not? Actresses ramble on parenting all the time, so it's nice to see a dude do it. We know that Mark is pretty religious and tries to forget his law-breaking past. He went back and graduated from high school at age 42. He talks about setting a good example. The guy is completely pompous in most interviews, but he's not so bad here. The part about punching Harry Styles? He's joking. Maybe:
Why he went back & finished high school:
"I can't tell my kids to go to school and get an education if I don't have a diploma. They'd start thinking, Why do we need to go? You didn't go and you turned out all right. But I'm proud to have it. If I want to go on and further my education and study film or whatever, I can do that."

On parenting: "I think the most important thing is to always be involved in every aspect of their life. To give them enough trust that they can share things with you. I don't want them to be terrified of me, you know?"

His two daughters crush on Harry Styles: "I'm like, 'Well I'm gonna punch Harry in the nose when I see him.'"

He grew up in a crowded house, all the boys shared a room: "Which was great at times and pretty traumatic at times when you were really young. You had brothers that were teenagers and they were doing sh-t that teenagers do, and you don't understand what it is or why they're doing it."

Why did he once say he "didn't feel safe as a child"? "I don't know why I said that or where it came from. It probably had to do with how I was feeling at the time or what I was talking about in particular. I think, for the most part, I had a pretty good childhood. It wasn't until we got older that we realized we didn't have what a lot of other people had."

Did Wahlberg ever go hungry? "No, it worked out because my dad drove a truck delivering school lunches, so that meant we got a lot of school lunches. We ate a lot of bologna sandwiches, but they also had those little Oreo packs in there sometimes."

His newfound dilemma: "The biggest thing for me is, you know, as quickly as I was able to turn it around, to get from there to here, from me having nothing as a kid to me here now, providing everything for my kids, it's like, I worry that maybe they won't appreciate things. I worry that maybe they'll have a sense of entitlement. You don't wanna give your kids everything without giving them the tools to be great people."

A nurse gives Mark a shot in the rear: "Yoooowwwwwww."
[From Esquire]
Mark is appealing to the parents who played with Transformers toys as a child. He wants them to get all riled up and take their whole families to see this movie. That's the only reason I can see for him using an Esquire cover to talk about parenting. It will probably work. Mark's parenting struggles are real and will ring true with most parents. Most of us do worry about staying close to our kids but maintaining the "parent-child" dichotomy instead of being best buds. We also want to give our children what we didn't have as kids, but we want them to appreciate the difference too. It's hard.
Mark also talked to the Mail about how he hopes Rhea will allow them to see daddy in his silly robot movie. But Mark adds, "I hope they never see Entourage." Good luck, Marky Mark. Say hi to your mother for me!
Here's a photo of Mark at the Sydney Transformers premiere.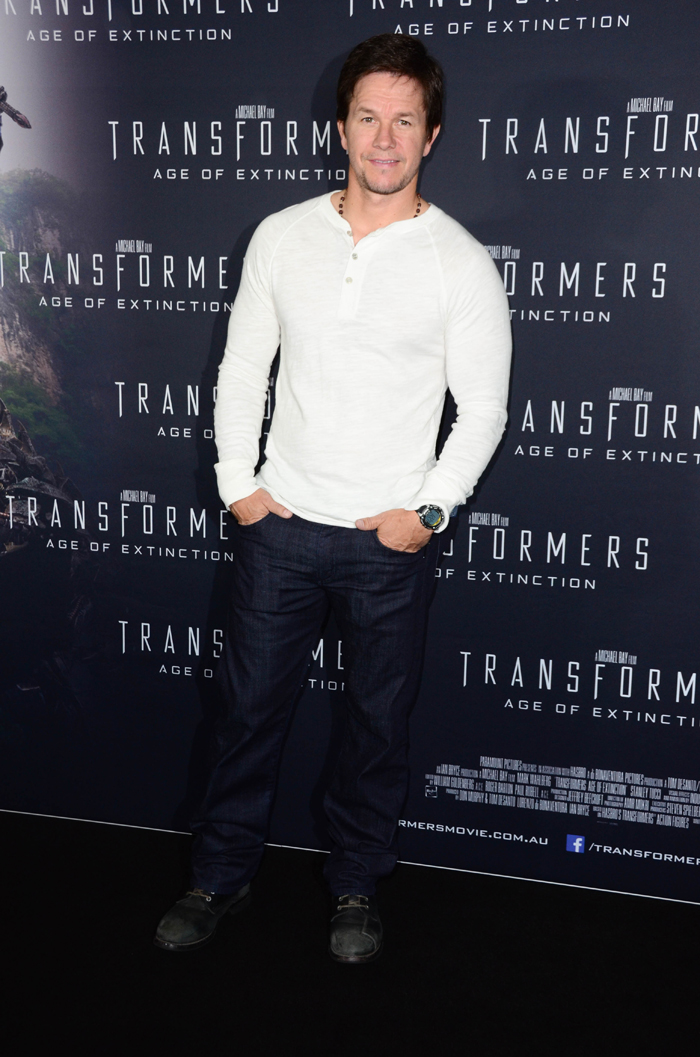 Photos courtesy of Esquire & WENN