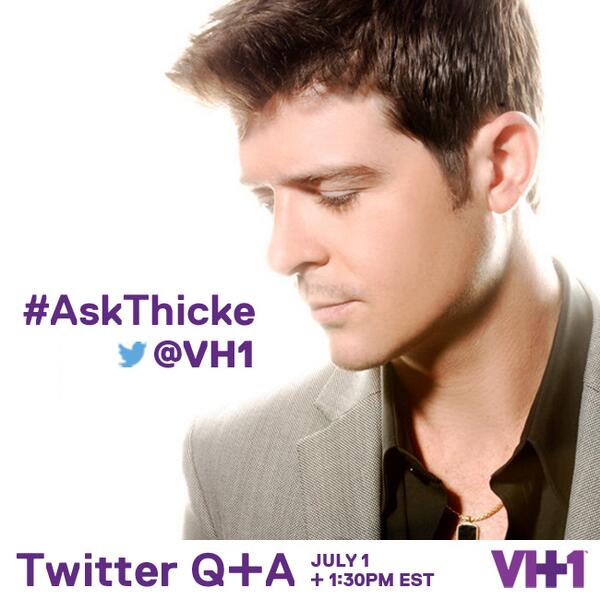 There are days when Twitter feels like a raging abyss. This feeling has been heightened by this week's Supreme Court rulings, but that's all I'll say about that mess. Hashtags fly everywhere on Twitter, and Bieber madness still rules. Twitter has now redeemed itself. Robin Thicke's team decided that Twitter was a good game for their man and hosted a VH1 #AskThicke discussion yesterday.
Here's the problem: Robin devoted his entire new album, Paula, to his estranged wife, Paula Patton. I've already questioned the quick turnaround on this skeevy career move. Robin spent a great deal of his marriage groping random blondes as his team fed stories about his "functional dysfunctional marriage" to the tabloids. Now Robin is surprised that his woman left him and isn't paying attention anymore.
Robin waged a massive campaign to win Paula's heart again. He dedicated concerts to her, and she said nothing in response. Robin also filmed a stalky "Get Her Back" video that featured creepy text messages and threats of violence. The crowning touch on this douchey madness was Robin's performance at Sunday's BET Awards. I won't post that video, but you can see it here. Robin cried throughout his performance. He introduced himself like this: "Good evening, my name is Robin Thicke, I'd like to dedicate this song to my wife, and say, 'I miss you, and I'm sorry.' This is called 'Forever Love.'"
Vom.
Then came the Twitter Q&A. God, this was such a bad idea, but I really enjoyed the results. People do not like Robin at all. You can see a thread of the overwhelmingly negative Twitter responses here, but these are some of my favorites:
Train A leaves the station at 40mph and train B leaves at 55mph, how far is the judge going to order you to stay away from Paula #AskThicke

— Tristan (@AyoTristan) July 1, 2014
Will you retract your statement of "I know you want me" now that you know beyond a reasonable doubt that she does not? #AskThicke

— Lily Bolourian (@LilyBolourian) July 1, 2014
#AskThicke If you ever have a daughter, will you teach her that when she tells a boy "No", it's okay for them to think she means "Yes"?

— azza (@TheRealArijana) July 1, 2014
Robin Thicke says he doesn't want any more abuse on Twitter. I know he wants it really. #AskThicke

— Lee Kozlowski (@Kazinierez) July 1, 2014
The @robinthicke twitter Q&A is going exactly how you'd expect it to. #askThicke

— AKA (@anniekaze) July 1, 2014
Not too pretty, right? I don't know what Robin's team expected. Maybe they thought women would pile on and feel sorry for poor Robin since Paula is ignoring his pathetic declarations of love. Since that hasn't happened, Robin's Twitter account is ignoring all of the questions. Robin (or whomever) is only tweeting about "#SongsToGetHerBack." #delusional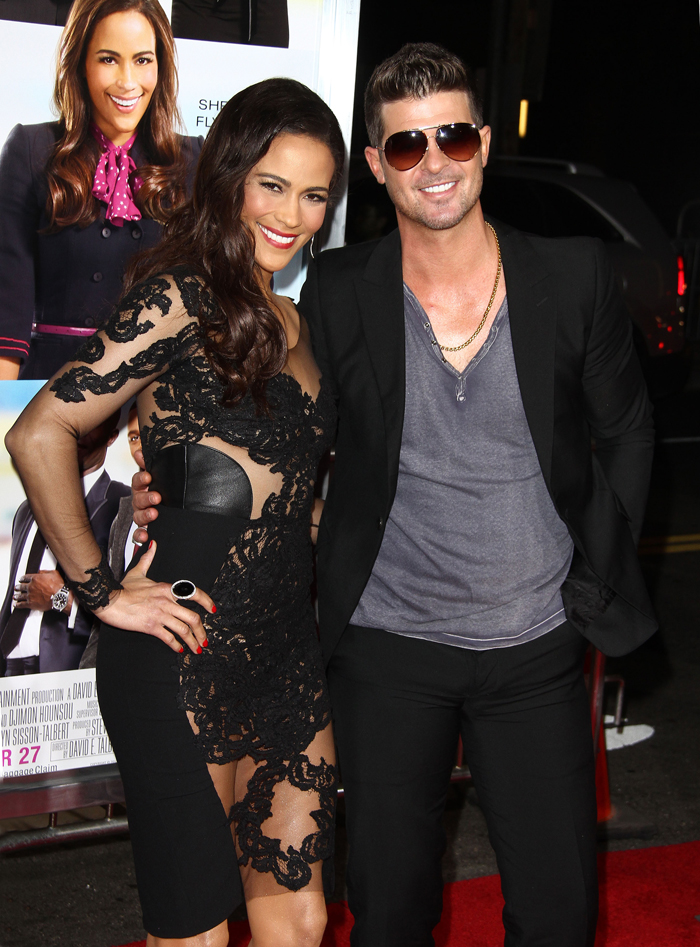 Photos courtesy of Fame/Flynet, VH1, Getty & WENN