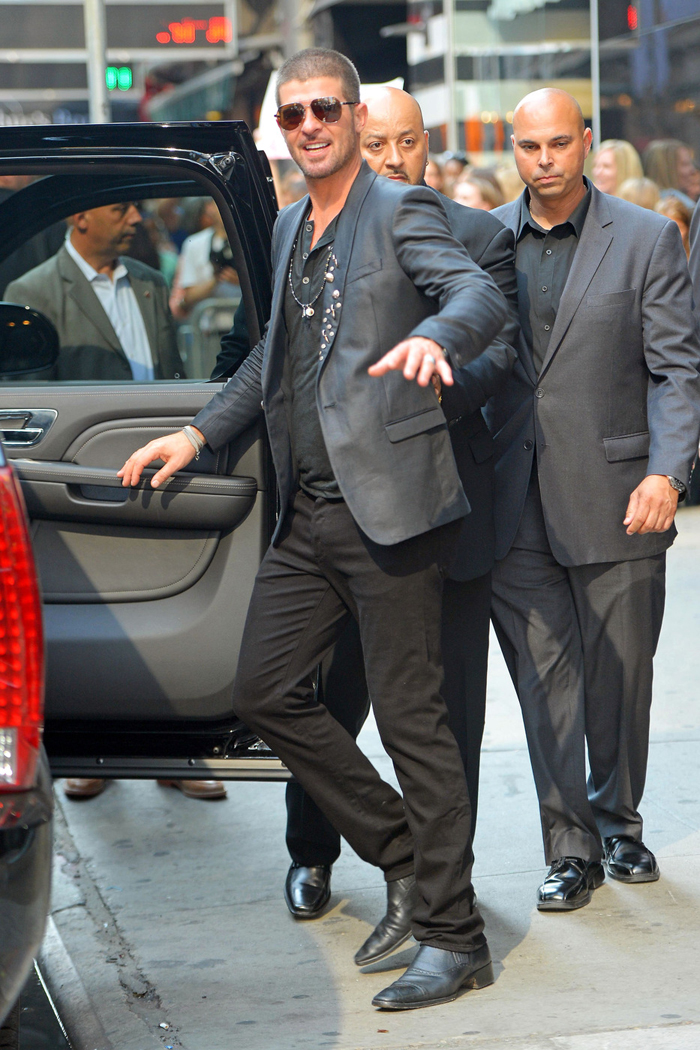 These are photos of Robin Thicke in NYC yesterday for a "GMA" appearance. Robin smiled for the cameras, but that douchey grin covered up a deep, burning pain within his soul. Oh, never mind. Robin Thicke may not even have a soul. He's still continuing his sob story promotion of Paula, the stalker-y album based entirely upon losing wife Paula Patton. I'm still laughing about Robin's PR disaster of a Twitter Q&A. He really had it coming after his creepy "Get Her Back" video that included threats of violence and suicide. Plus the BET performance. Plus everything that Robin has ever done to Paula.
Some people have floated theories about how the album and Thicke's separation from Patton could be a publicity stunt. If it is a stunt … it ain't working. Paula is only projected to sell 20-25k copies in its first week. It definitely won't even come close to a #1 spot. That's a far cry from "Blurred Lines," which sat at the top of the charts for several weeks last summer. This record hasn't been called "rapey," but the consensus is that it's a really inappropriate album.
The Atlantic called Paula "one of the grossest, most manipulative records ever made." E! Online piles on with a huge collection of uncomfortable lyrics. Jezebel has set some lyrics to photos of pathetic, soaking wet animals. Go read them ("Don't leave me out here in the cold/At least open the doggy door/Throw a friend a juicy bone/Baby please give me a little hole") to see how gross Robin Thicke is for recording this album.
Robin is still talking #songstogetherback. He sat down with Hot 97 & GMA to pour out his misery and tries to explain why he's stalking his wife with a record:
Does Robin think this album will bring Paula back? "I actually have no idea what I'm doing. I'm just kinda flying by the seat of my pants on this one."

Why is he being so public about his marriage? "I just wanted to make something artistic out of a very difficult period."

Has he seen Paula lately? "I haven't seen her in four months. And you know what, we're cool. She's the best girl in the world, a great mother and still a good friend … But because we weren't ever together anymore and I still had so much I wanted to apologize for and things I wanted to take responsibility for. So that's pretty much what the album is about."

What happened anyway? "I'm a man. I messed up. And I had to lie for a while, and then I stopped lying. That was actually good for me, because I was tired of lying. So this whole album is me revealing everything."

Did he cheat? "We're apart because we just couldn't be together anymore for a while. There's a hundred different reasons, there isn't just one."
[From Hot 97]
Yeah, he cheated. A lot. And this album isn't about apologizing like Robin claims. It's pretty much, "Bitch, I wrote a whole record for you in four months. That means you take me back, no questions asked." For real.
Robin's not done with his creepy games. He just released the video to "Still Madly Crazy," and it features a bunch of children (!) helping him serenade Paula.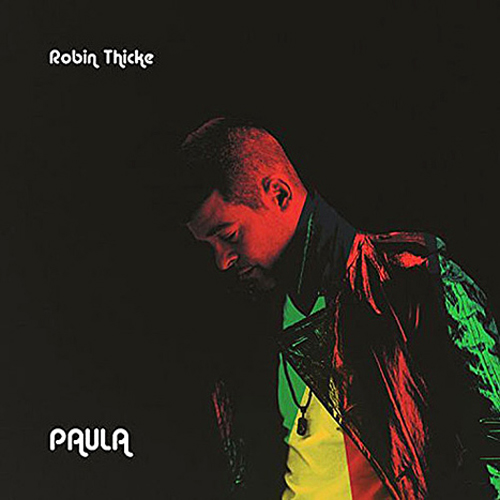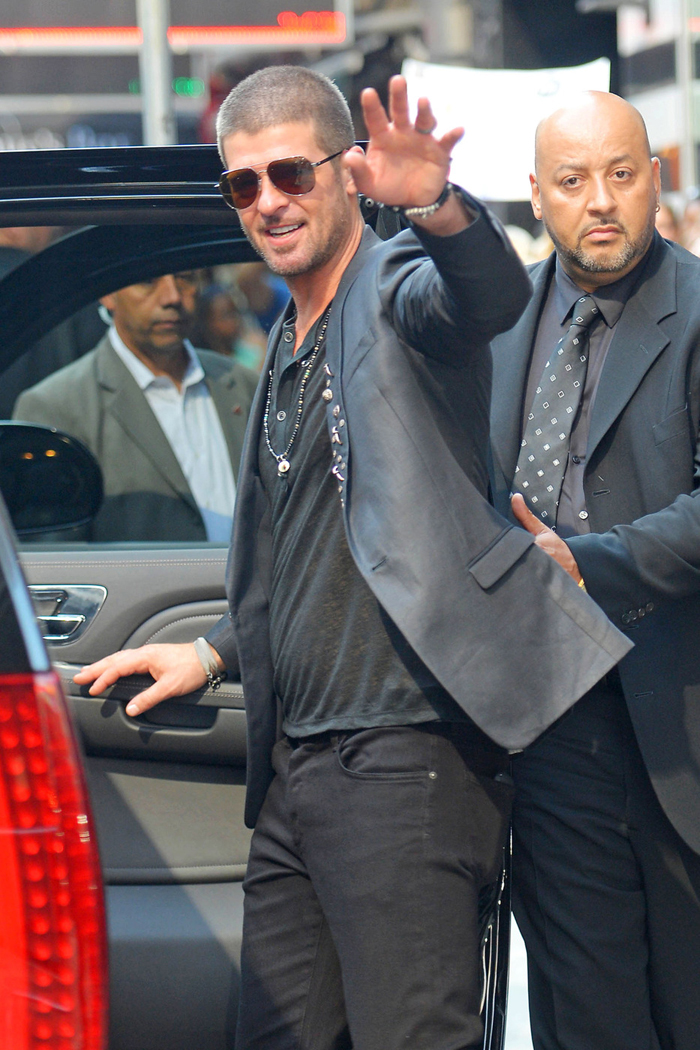 Photos courtesy of Pacific Coast News, Fame/Flynet & Interscope Records