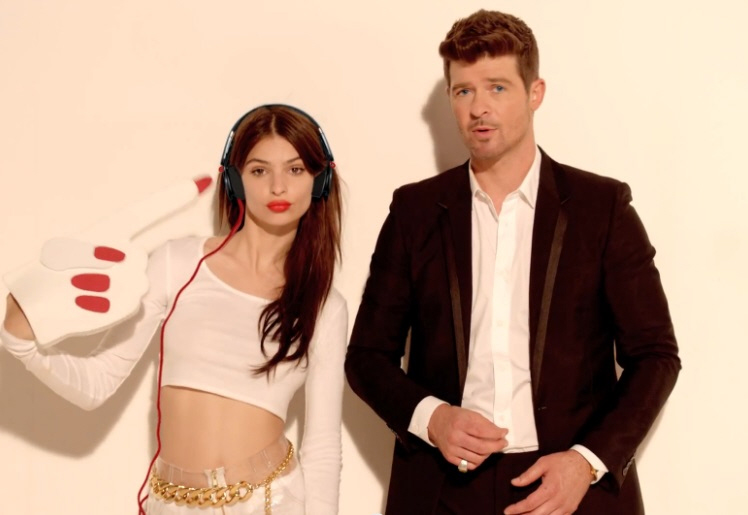 By now, I'm sure everyone had heard Robin Thicke's new song "Blurred Lines". It's everywhere these days, on the radio, on MTV and skyrocketed up the charts. The song features T.I. and Pharrell, and I really understand why everyone compares Robin to Justin Timberlake now – only I would argue that with "Blurred Lines," Robin has overtaken JT in a big way. This is the kind of catchy summer song that Justin Timberlake could have been doing if he didn't take himself so seriously.
Anyway, there's been a lot of controversy about the song and the music video. I'm including the less-gross version, the rated version of the video below, and you can see the extremely NSFW unrated version here. In both versions, there are attractive young women dancing around and acting sex-kittenish. Of course. The unrated version makes me feel kind of sleazy, with all of the undressed women dancing in a drugged-out way while Robin, Pharrell and T.I. are fully clothed. But is the problem JUST with the videos? Or is there a problem with the "rapey" lyrics too?
Here's a sure-fire way to get the No. 1 record in the country: engineer a fake controversy by making an unrated version of your video featuring strutting, mostly naked supermodels. That's the route blue-eyed crooner Robin Thicke took with his single "Blurred Lines," which sits atop the Billboard charts this week, ending Macklemore's long reign.

The video, which was banned from YouTube at the end of March, continues to live on in its full naked glory on Vevo—coincidentally, a partner of YouTube—where salacious viewers can view three models, Emily Ratajkowski, Jessi M'Bengue, and Elle Evans, wearing nothing but shoes and nude-hued thongs, as they cavort and dance and flirt with Thicke, Pharrell, and T.I., who are all fully clothed. The group play with weird, nonsensical props—a needle, a lamb—and in between the screen intermittently flashes hashtags (i.e., #Thicke).

At one point, the sentence, "Robin Thicke has a big d–k," is displayed in large Mylar balloons.

So far, so … sexy? Depends on who you ask.

The nudity might be fine if the song was called, "Let's All Have Some Fun," but it's called "Blurred Lines," and the subject itself is enough to make some female music fans uncomfortable. The song is about how a girl really wants crazy wild sex but doesn't say it—positing that age-old problem where men think no means yes into a catchy, hummable song.

"Good girl, I know you want it," sings Thicke, who has all of his clothes on, as one of the near-naked models dances and pouts next to him. "Talk about getting blasted, I hate these blurred lines, I know you want it, but you're a good girl, the way you grab me, must want to get nasty."

Not surprisingly the combination of the lyrics and the video's nudity has irked some female music fans.

"Has anyone heard Robin Thicke's new rape song?" Lisa Huyne wrote in a post on her blog, Feminist in L.A. "Basically, the majority of the song (creepily named 'Blurred Lines') has the R&B singer murmuring 'I know you want it' over and over into a girl's ear. Call me a cynic, but that phrase does not exactly encompass the notion of consent in sexual activity … Seriously, this song is disgusting—though admittedly very catchy."

Canadian model Amy Davison also took issue with the clip. In a YouTube video titled "Robin Thicke is a dick," she explained why the women showing so much skin got under her skin.

"The women are clearly being used as objects to reinforce the status of the men in the video. The men have all the control and status because they are not vulnerable—they are completely covered. Whereas the women have no status and are totally open to be exploited ogled and used," she said. "It doesn't jibe with me."
I can totally see their point. The lyrics could definitely be interpreted as "rapey" especially taken with the grossness of the unrated video. I'll admit that I've been listening to it for a few weeks (yes, I downloaded it because I thought it would be a good workout song) and my interpretation of the lyrics (for what it's worth) is not so much that Robin is singing about forcing himself on a woman, but that he's trying to sweet-talk a girl at a club who is dancing provocatively. I take the "you're a good girl" as a tongue-in-cheek joke, like Robin is just playing to the girl's ego while he's hitting on her. That's my interpretation, for what it's worth. It's still kind of gross, but my interpretation is less rapey and more "guys will say anything to girls at the club".
Also – Robin has said that he was trying to do a "Terry Richardson kind of video" but before he agreed to it, he had to get permission from his wife, Paula Patton.
PS… If you're looking for another Pharrell-related summer song for your workouts, try this. It's amazing.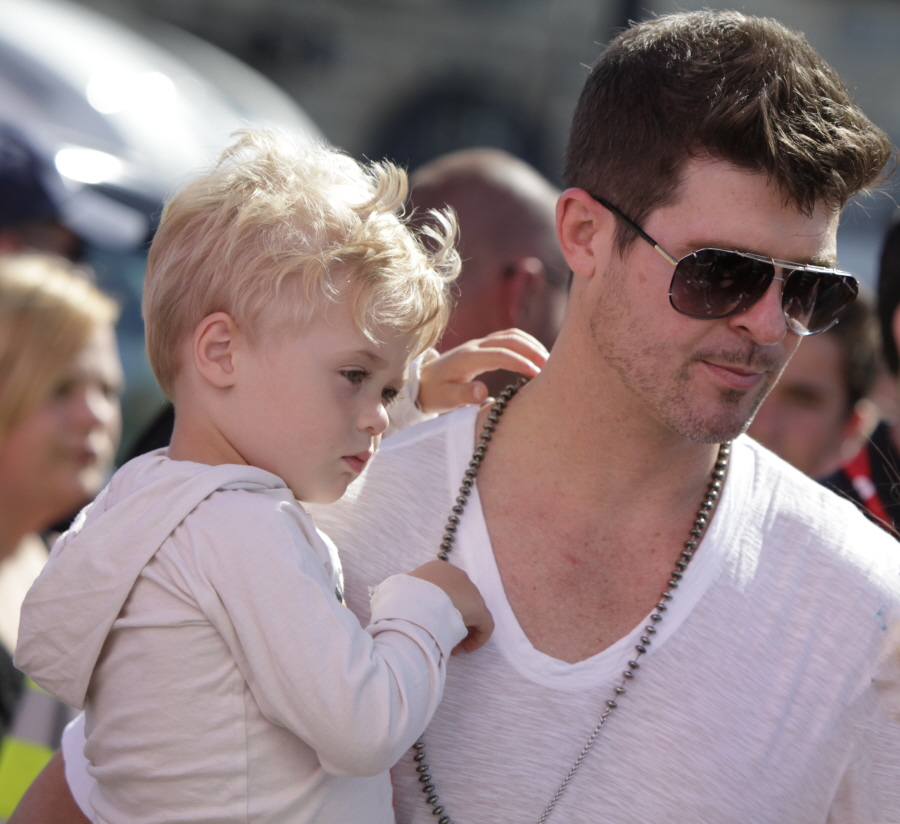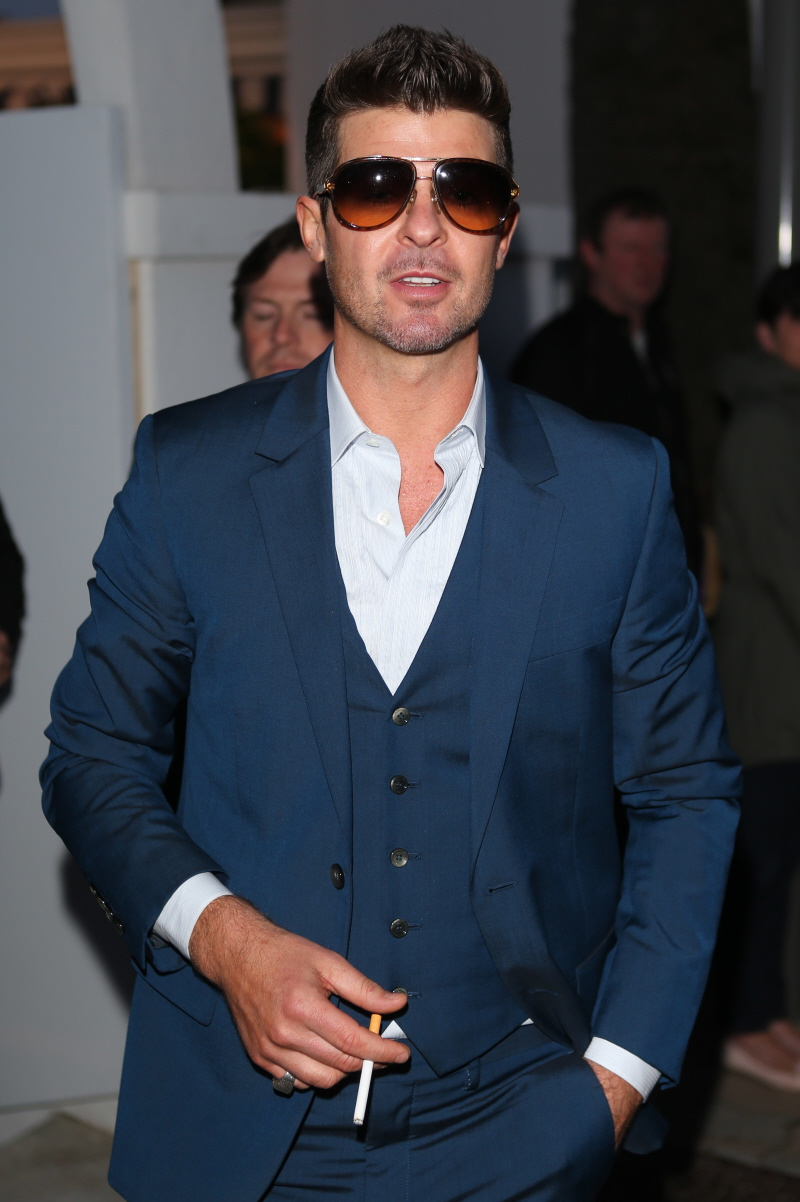 Photos courtesy of WENN.