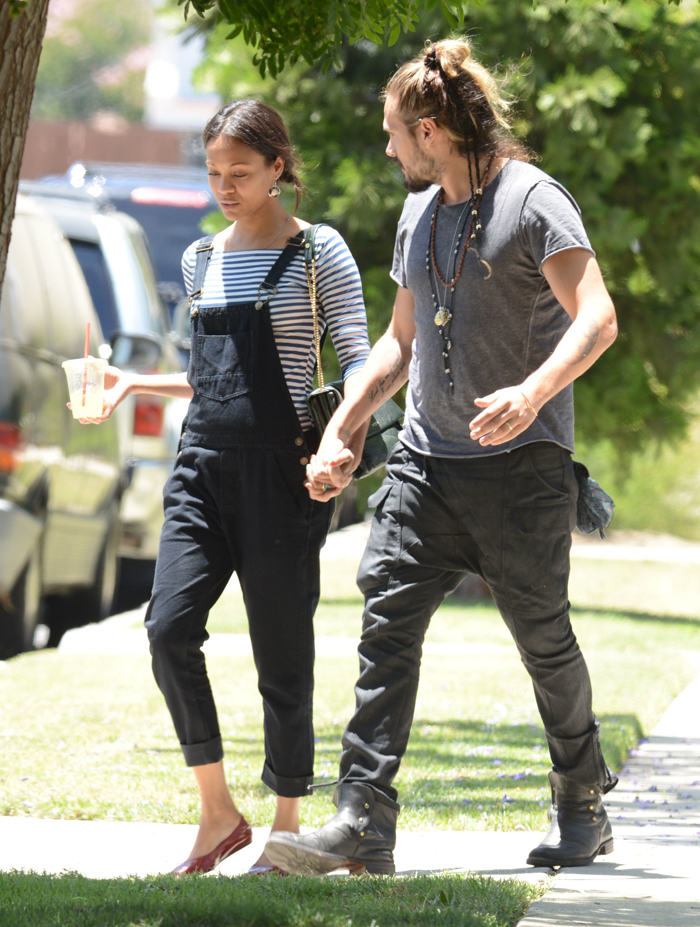 Zoe Saldana will soon dive into promotion for Guardians of the Galaxy. She hasn't worked since Cannes (where she wore a bunch of tight dresses), and she's been sporting loose-fitting clothing over the past few weeks to run errands in Los Angeles. She also Instagrammed a picture of herself wearing baggy jeans (with clown makeup).This means she's knocked up, according to the media. Zoe does look vaguely "bumpy" in this photo with husband Marco Perego and his outstanding man bun, but I don't know. Zoe usually favors unfitted casual clothing when she's not on the red carpet. She could be pregnant If she is, it will be interesting. Zoe will educate the world about the whole pregnancy experience. I can't wait.
For now, we'll have to make do with Zoe's discussion about how "space roles" are the most empowering roles of all for women. Zoe plays the green-skinned, most powerful assassin in the universe in Guardians, and she's also enjoyed success with Avatar and Star Trek. Why does she do it?
"I like being in space because there are better parts for women in space. I don't have to subject myself to just being the love interest or playing a character that doesn't feel relevant to the story or playing a woman that doesn't feel like an actual depiction of a real woman. When I read films in space and I'm working with these kinds of filmmakers there's a neutral sense to the way they develop characters. It makes me feel very significant, very relevant and very excited."
[From Badass Digest]
You know, she's correct. Zoe's not in any danger of falling into romcom tropes when she plays warriors in space movies. These movies are full of adventure and don't feature silly characters stumbling around in high heels and miniskirts. Not that there's anything wrong with wearing high heels, but it's not very practical for intense physical activity. In space, no one can hear the high heels clacking, and no one is sitting around and waiting for Mr. Right to text them.
More bumpwatch: Here's a photo of Zoe looking tiny in Cannes (plus more in the gallery).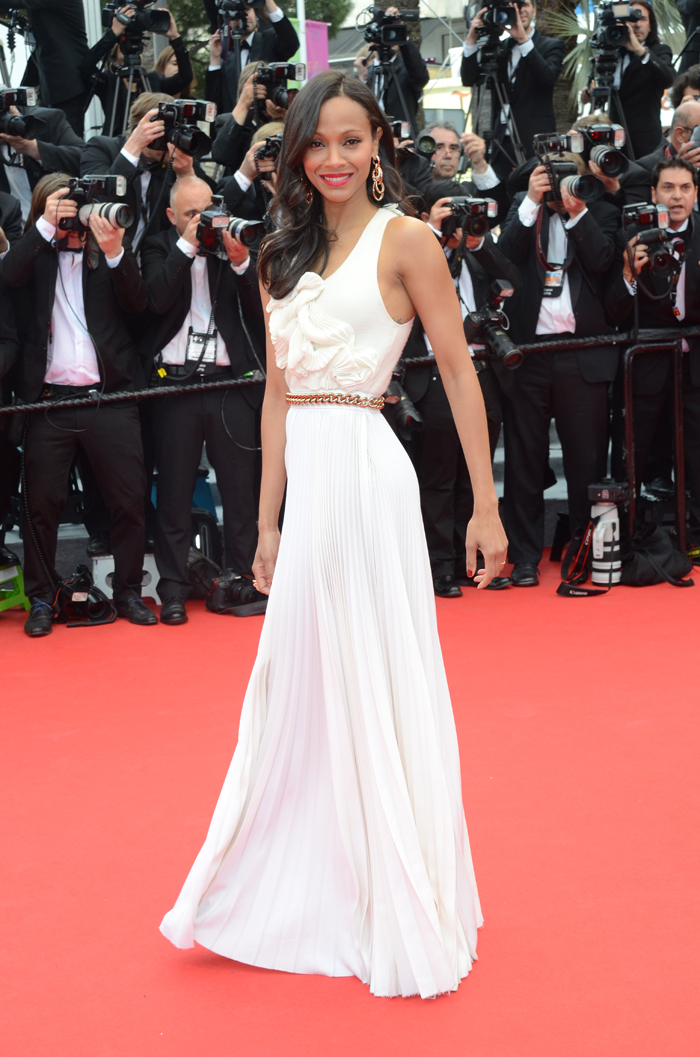 Here's some photos of Zoe in "floaty" clothing over the past few weeks in LA.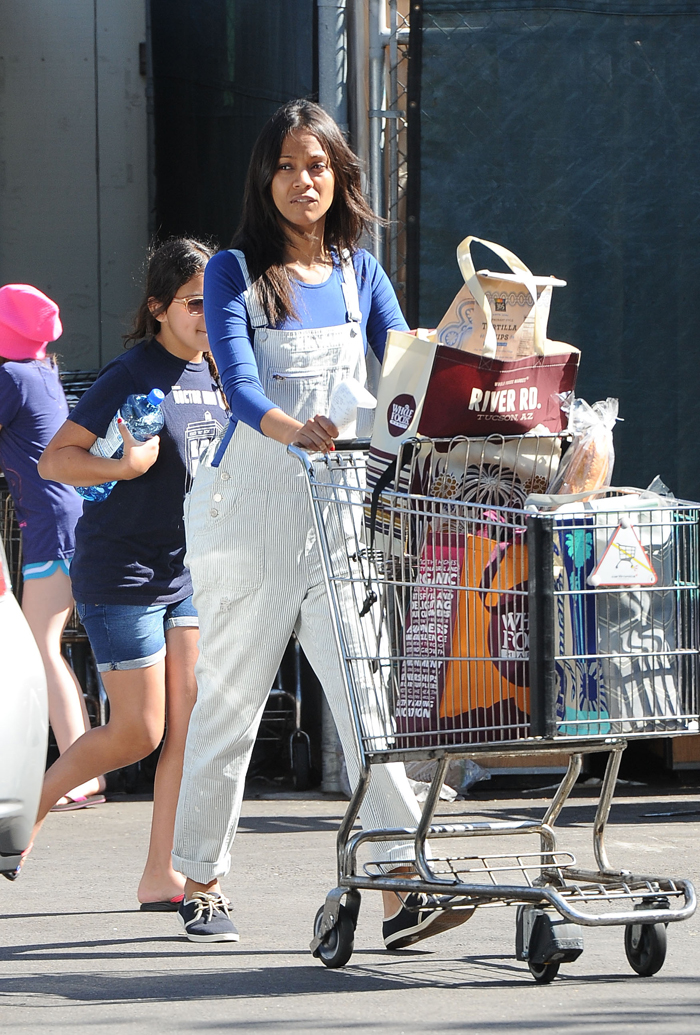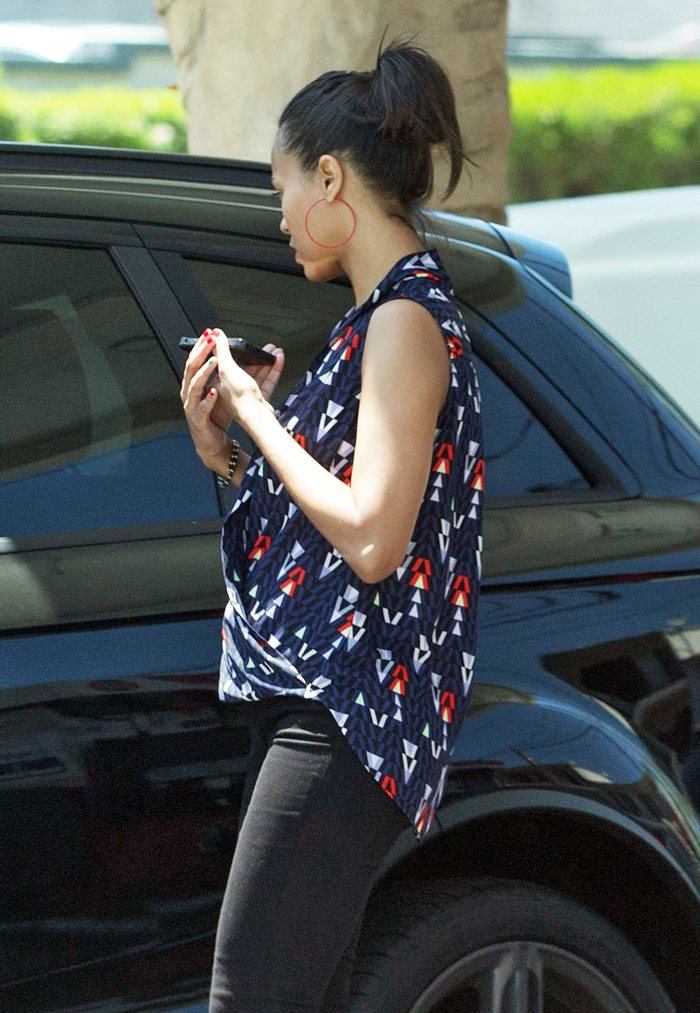 photos courtesy of Fame/Flynet, WENN & Zoe Saldana on Instagram