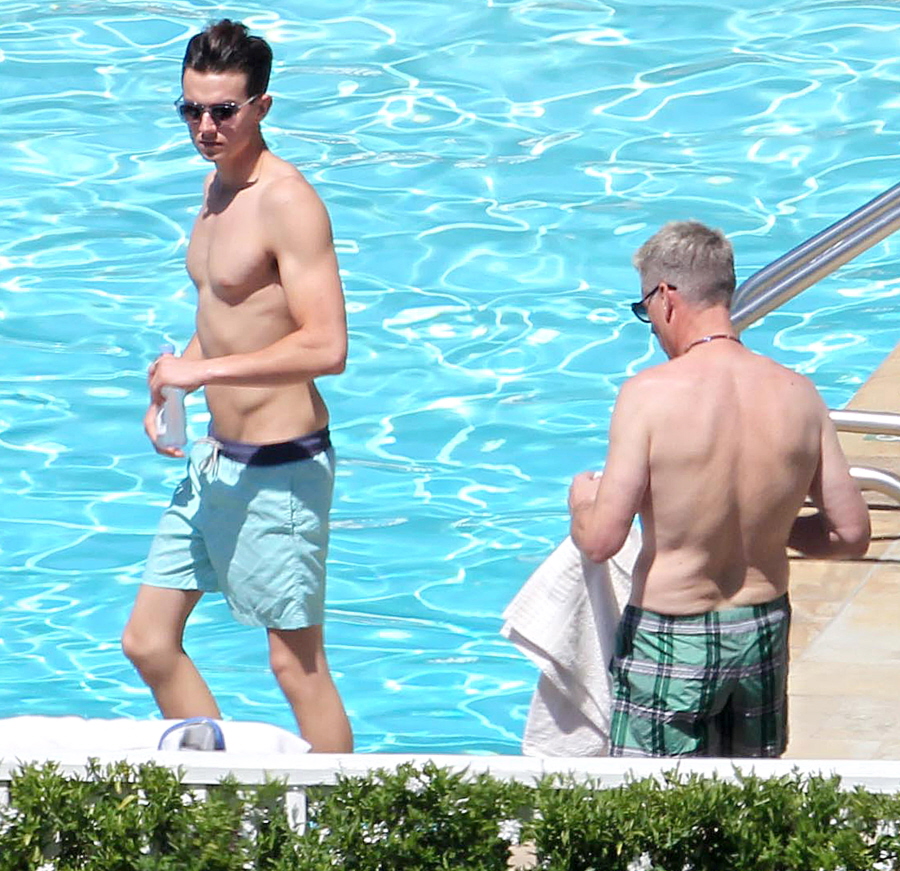 Here are some photos of Joe Simpson relaxing at a pool just a day before his daughter Jessica's big wedding. If you remember correctly, back in 2012, Joe and Tina Simpson split up and eventually divorced. The reason for said divorce was allegedly (or not so much) that Joe had been having undercover affairs with very young men. He might have had a year-long relationship with a 21-year-old hustler. Papa Joe later denied those stories, but… they stuck. And I totally believe them. Anyway, I'm using these photos because Fame/Flynet claims the young man in the same frame as Joe in some of these pics is Joe's boyfriend. Fame/Flynet says:
"Joe walked around wearing his swim shorts with sneakers and was accompanied by a much younger mystery man. The pair kept a safe distance away from each other the whole time but were seen chatting at one point while Joe laid out and worked on his tan."
[From Fame/Flynet]
According to Radar, this guy is named Jonathan Keith and he's like 21 or thereabouts. Jessica gave her approval for Jonathan to join Joe for the wedding. According to sources, Jessica "doesn't care what people say about her dad, she loves him and wants him to be happy… she wanted Joe to bring his special pal." But what about Tina? Well, In Touch Weekly says Tina was upset. They also say that Jessica and Eric were both really hungover for the wedding.
Jessica Simpson and Eric Johnson really let loose during their three-day wedding extravaganza! The couple planned a big July 4 rehearsal dinner, and the day after, the bride and groom – sporting matching hangovers — had to rally for the 5 p.m. ceremony. "While she was getting ready," an insider admits to In Touch, "Jess kept joking about how much her head hurt!"

"Jessica was socializing and having the time of her life" a second insider exclusively tells In Touch of the San Ysidro Ranch in Montecito, California, celebrations. "She wanted everyone to celebrate as rowdily as possible. She got her wish — it was the party of the year!"

But the big day didn't go off without a hitch: Jessica's manager dad, Joe, brought his client and rumored boyfriend, model Jonathan Keith.

"Jess' mom was hurt," a source reveals to In Touch.
I feel sorry for Tina Simpson. I mean, I'm sure she's getting a cut of Jessica's empire so she's crying into her 1000-count Frette sheets or whatever, but still. It's bad enough when your ex has moved on quickly. It's quite another when your ex is now living large as a newly-out gay man with a 20-something boy-toy.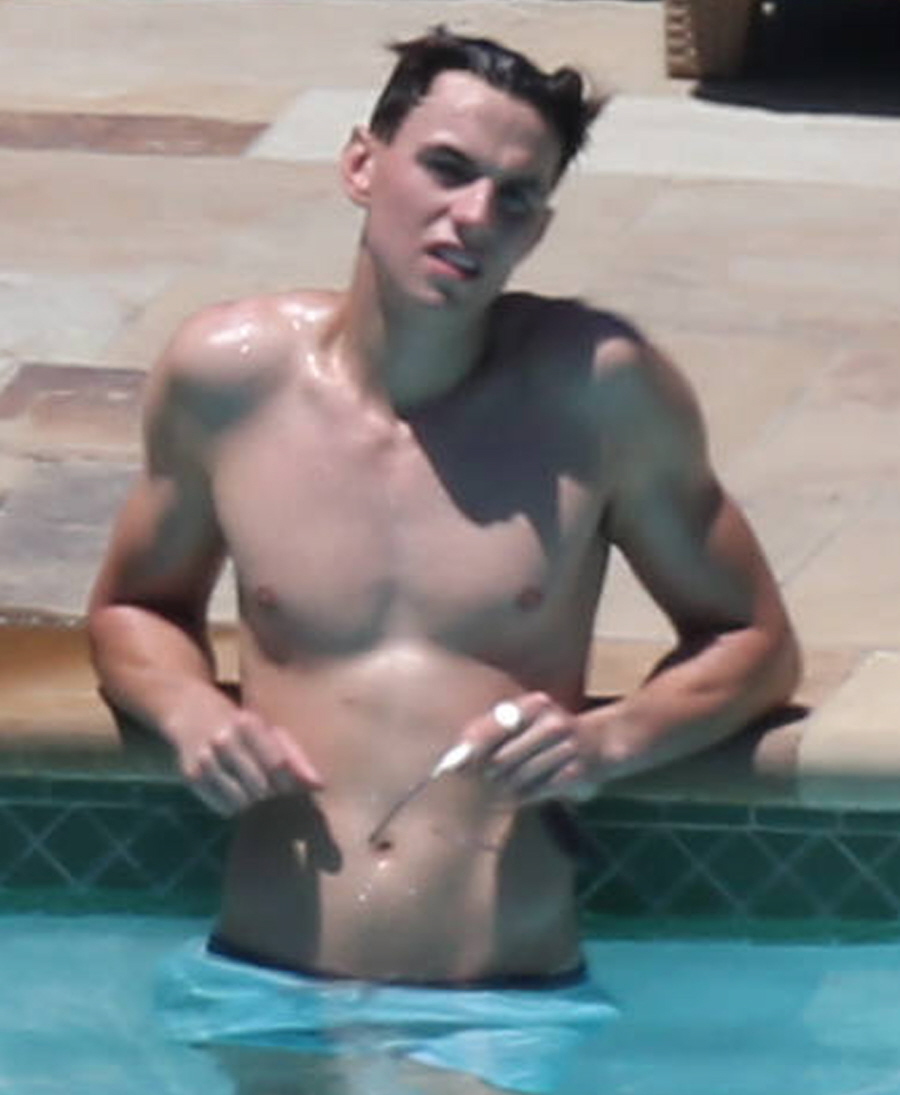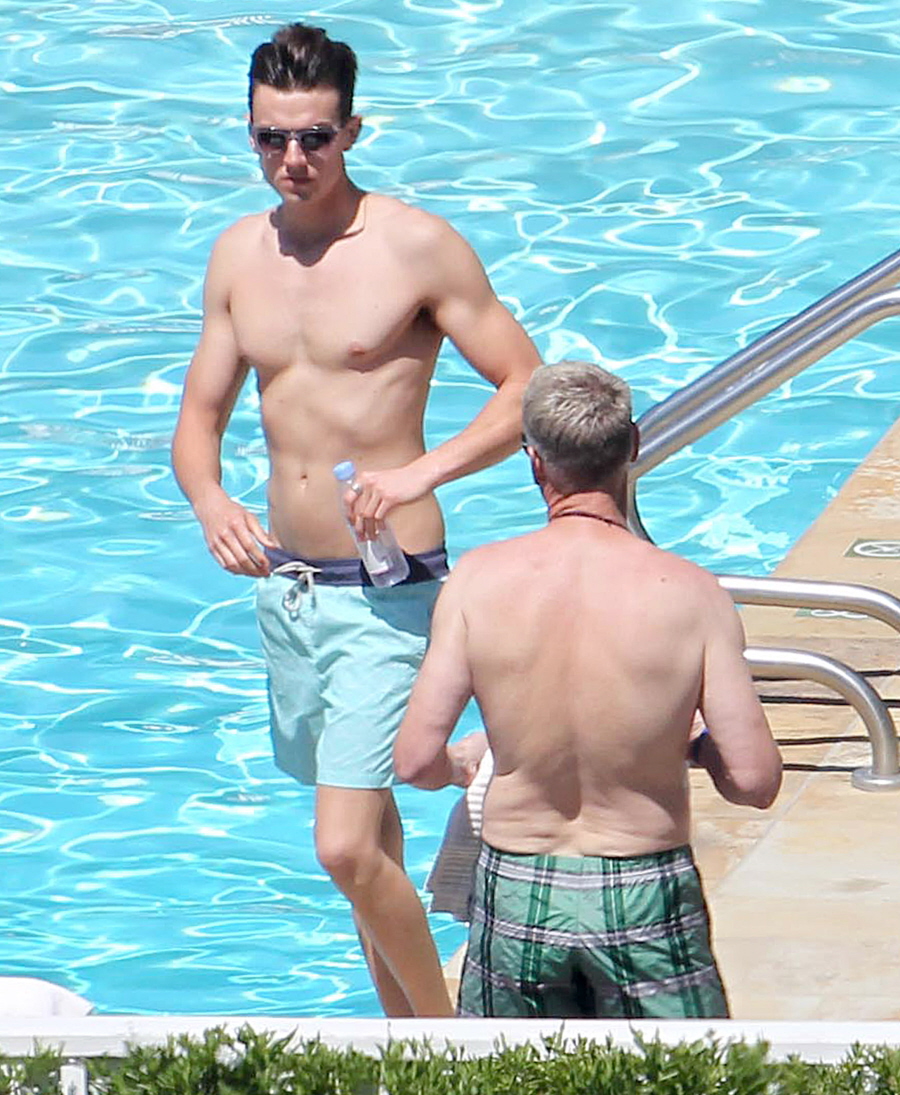 Photos courtesy of Fame/Flynet.